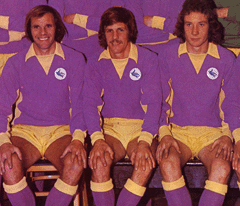 Cardiff City do not have many celebrity supporters and we have one less now following the death last week of poet Dannie Abse at the age of 91 – many City fans will be aware of this poem, published in 1959;-
The Game
Follow the crowds to where the turnstiles click.
The terraces fill. Hoompa, blares the brassy band.
Saturday afternoon has come to Ninian Park
and, beyond the goalposts, in the Canton Stand
between black spaces, a hundred matches spark.
Waiting, we recall records, legendary scores:
Fred Keenor, Hardy, in a royal blue shirt.
The very names, sad as the old songs, open doors
before our time where someone else was hurt.
Now like an injured beast, the great crowd roars.
The coin is spun. Here all is simplified
and we are partisan who cheer the Good,
hiss at passing Evil. Was Lucifer offside?
A wing falls down when cherubs howl for blood.
Demons have agents: the Referee is bribed.
The white ball smacked the crossbar. Satan rose
higher than the others in the smoked brown gloom
to sink on grass in a ballet dancer's pose.
Again, it seems, we hear a familiar tune
not quite identifiable. A distant whistle blows.
Memory of faded games, the discarded years;
talk of Aston Villa, Orient and the Swans.
Half-time, the band played the same military airs
as when The Bluebirds once were champions.
Round touchlines the same cripples in their chairs.
Mephistopheles had his joke. The honest team
dribbles ineffectually, no one can be blamed.
Infernal backs tackle, inside forwards scheme,
and if they foul us need we be ashamed?
Heads up! Oh for a Ted Drake, a Dixie Dean.
'Saved' or else, discontents, we are transferred
long decades back, like Faust must pay the fee.
The Night is early. Great phantoms in us stir
as coloured jerseys hover, move diagonally
on the damp turf, and our eidetic visions blur.
God sign our souls! Because the obscure Staff of
Hell rule this world, jugular fans have guessed
the result half way through the second half
and those who know the score just seem depressed.
Small boys swarm the field for an autograph.
Silent the Stadium. The crowds have all filed out.
Only the pigeons beneath the roofs remain.
The clean programmes are trampled underfoot
and natural the dark, appropriate the rain
Whilst, under lampposts, threatening newsboys shout.
I never met Dannie, so I'll leave it to someone who did to deliver a, fitting, tribute – here is regular correspondent Dai Woosnam's take on the man he calls "the finest writer to ever call himself a Cardiff City fan";-
"Dannie Abse was a fine poet and a lovely man.
I recall meeting him one evening in Caerphilly Library circa 1989, where he had come to do a reading and a Q&A.  Afterwards, he did not seem in a hurry to get home to Ogmore-by-Sea, and was happy to chat to anyone who was interested.
I had asked him two questions on literary matters in his official presentation, so now with most of the 20 strong audience exited into the night, we were able to talk Cardiff City.
And I was delighted that he had the same Cardiff hero that I had: Danny Malloy.  I think (from my slightly hazy memory) that he said that only Alf Sherwood had a greater place in his affections.
A lovely man, so sorely missed.
Particularly sad that his last decade would be so terribly blighted by that tragic car accident which claimed his wife Joan on the M4 near Pyle in 2005: a crash which he survived.  Ironically he was returning home to Ogmore-By-Sea from another similar poetry reading.
It was no consolation to him that he was deemed blameless, and the other driver involved got heavily fined for careless driving and banned for a year.
He was not a vindictive man.
Pity he should have gone with City at such a low ebb.  I loved the man and his gentle way of speaking."
by The other Bob Wilson with
Following on from the loss of a City manager from the nineties in Eddie May back in April, one from the seventies left us on Wednesday when Jimmy Andrews died after a long illness at the age of 85. Andrews was born in Invergordon in Scotland  just about three months before City won the FA Cup and began his playing career at Dundee just after the end of the Second World War. His performances on the left wing eventually earned him a move to West Ham when the London team paid a fee of just under £5,000 to secure his services. Andrews spent five years at Upton Park, scoring twenty one times in one hundred and eighteen appearances, before moving on to neighbours Leyton Orient before finishing his career at Queens Park Rangers.
By the time Jimmy Andrews retired in 1962, he had scored a total of forty nine goals in two hundred and sixty two appearances for his four clubs, but , having been part of a group of players who used to meet up after training at West Ham to discuss all aspects of the game, there was never much chance that he would be lost to football once he stopped playing. In fact, he was soon working as a youth coach at Tottenham and then as Tommy Docherty's assistant at Chelsea before having his first stab at management when he returned to QPR for a short spell in 1965.
Andrews spent a while out of the game after that, but his ex West Ham colleague Frank O'Farrell appointed him as his Assistant after accepting the manager's job at Cardiff in November 1973. O'Farrell didn't stay long at City and had gone off to manage Iran before the season was out, but Andrews  didn't go with him and was given the manager's job (initially on a caretaker basis). The Scot managed to keep City up and was rewarded by being given the job on a permanent basis – in truth though, Andrews had been handed something of a poisoned chalice and, after years of battling against the drop into the Third Division, the team succumbed to the inevitable in his first season and so Cardiff faced up to lower division football for the first time in nearly thirty years for the 1975/76 season.
I had been supporting the club for twelve years at that time and, apart from those three seasons between 1968 and 1971 where we almost made it into the old First Division, had got used to watching City teams struggle near the bottom of the table for most of the time. Therefore, it was fantastic for supporters around the same age as myself to watch a successful, and better still, entertaining Cardiff team challenging at the top of the table throughout most of the season before finishing with a charge which saw them concede just one goal while winning six and drawing three of their last nine games to secure the second promotion spot behind Hereford United. Jimmy Andrews deserved tremendous credit for City's promotion that year because he rebuilt the side on the usual Cardiff shoestring budget by blending the likes of Mike England, Doug Livermore, Alan Campbell, Tony Evans and Adrian Alston with  John Buchanan, Albert Larmour, Phil Dwyer, Clive Charles and Willie Anderson (all of whom performed better than they had done previously) to create a side which were too good for most of the opponents they came up against.
Just as before though, City found life in the Second Division difficult on their return and they only stayed up in 76/77 courtesy of a nail biting last game draw with Carlisle, but at least Andrews could point to a great FA Cup run which saw marvellous wins over Spurs and Wrexham that featured prominently on Match of the Day before being unluckily beaten 2-1 by Everton in the Fifth Round. Another season of struggle followed and when City found themselves down near the bottom again in November 1978 (after Andrews had been given a fortune to spend, by Cardiff standards, during the summer), the Board decided to terminate his contract after a 4-1 home defeat by Charlton. Andrews continued to live in South Wales for the rest of his life and did some scouting work for Southampton, but, apart from that, he had finished with the game and it's a sobering fact that you would have to be into your 40's (at least) to remember his time at Cardiff now.
Often described as too nice a man to succeed in football management, Jimmy Andrews didn't really prove that description wrong during his time at Cardiff because the brutal truth is that he only had one good season in his four at the club. However, those of us who can remember Tony Evans walking on water, Adrian Alston shooting from the halfway line against Brighton, Willie Anderson reducing Third Division full backs to gibbering wrecks and 5-2 wins over Peterborough.1-0 thrashings of Crystal Palace and a crowd of 35,000 (that's the official figure!) for a home league match will remain forever grateful to the man who provided many of us with their first City promotion – thank you and rest in peace Jimmy Andrews, my commiserations to your family and friends.
by The other Bob Wilson with