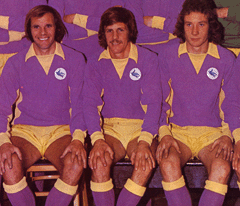 The death was announced yesterday of former City centre half Danny Malloy who spent six years with the club after signing from Dundee in 1955. I'm too young to have seen Danny play for City, but he is someone whose name nearly always crops up when I discuss great City players with those old enough to have seen him turn out for us.
Under the circumstances, it seems best that I leave it to one of those who grew up watching Malloy play for us, so here's what regular correspondent Dai Woosnam has to say about him;-
"I saw every home game that Danny Malloy played, and a fair smattering of his away games too. Along with John Charles, Ivor Allchurch and Graham Moore, he was one of the only 4 TRULY GREAT players I saw in a City shirt…I was a bit too young to see Alf Sherwood, other than a couple of games.
Best memory? Not the promotion game against Villa when he spoke from the grandstand to us kids who had spilled on to the pitch in delight. But that amazing game on 28 December 1957 when City were beating LIVERPOOL 5-0 at half time! We kids in the Boys' Enclosure could not believe it. Nor could manager Trevor Morris as he warned City at half time that "we have not won the game yet!"
And captain Danny famously replied "Och, but we are slight favourites though boss, eh?!"
I remember how after every game, we would run after him for his autograph as he emerged into the car park. His big black car was always gleaming and some boys would put their sweaty fingerprints on it to get their balance, as they jostled for position to get his autograph. And Danny would always sign every one. But the fingerprints would exasperate him. And he would be unable to contain his slight annoyance: he would raise his voice slightly and say "Och, get away from the CAR please laddie!"
Ah, halcyon days indeed.
And the staggering thing is this: for a tenner a week Cardiff let their star player go after the first of the two seasons in the top flight. He was on the then maximum wage of £20 which was abolished that year. He wanted a 50% increase. Bill Jones turned this down by saying "No player is bigger than the club". (Ah but it turned out that Danny almost WAS !!)
Johnny Haynes was also on the same £20, but that same summer got a staggering 400% increase to become the first £100 a week footballer …and Malloy was every bit as good a footballer, and just as VITAL to the Bluebirds, as Haynes was to Fulham. He wanted a tenner pay rise, not EIGHTY.
We went into the second season with Splott-born Frank Rankmore, who was a decent centre half who looked a bit like Burt Lancaster. But he wasn't the commanding centre half that Malloy was, and more importantly, was not the LEADER of MEN.
Cardiff have never had such a leader since.
And you know, I genuinely believe that City would have stayed up that second year were Danny at the helm. And who knows? They may then have consolidated and consolidated and done an Arsenal or Everton and never left the top flight since!
All for a tenner! Half a century in the wilderness resulted. Let it be a warning to us all, not to be too parsimonious."
by The other Bob Wilson with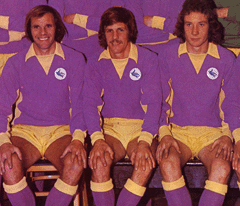 Cardiff City do not have many celebrity supporters and we have one less now following the death last week of poet Dannie Abse at the age of 91 – many City fans will be aware of this poem, published in 1959;-
The Game
Follow the crowds to where the turnstiles click.
The terraces fill. Hoompa, blares the brassy band.
Saturday afternoon has come to Ninian Park
and, beyond the goalposts, in the Canton Stand
between black spaces, a hundred matches spark.
Waiting, we recall records, legendary scores:
Fred Keenor, Hardy, in a royal blue shirt.
The very names, sad as the old songs, open doors
before our time where someone else was hurt.
Now like an injured beast, the great crowd roars.
The coin is spun. Here all is simplified
and we are partisan who cheer the Good,
hiss at passing Evil. Was Lucifer offside?
A wing falls down when cherubs howl for blood.
Demons have agents: the Referee is bribed.
The white ball smacked the crossbar. Satan rose
higher than the others in the smoked brown gloom
to sink on grass in a ballet dancer's pose.
Again, it seems, we hear a familiar tune
not quite identifiable. A distant whistle blows.
Memory of faded games, the discarded years;
talk of Aston Villa, Orient and the Swans.
Half-time, the band played the same military airs
as when The Bluebirds once were champions.
Round touchlines the same cripples in their chairs.
Mephistopheles had his joke. The honest team
dribbles ineffectually, no one can be blamed.
Infernal backs tackle, inside forwards scheme,
and if they foul us need we be ashamed?
Heads up! Oh for a Ted Drake, a Dixie Dean.
'Saved' or else, discontents, we are transferred
long decades back, like Faust must pay the fee.
The Night is early. Great phantoms in us stir
as coloured jerseys hover, move diagonally
on the damp turf, and our eidetic visions blur.
God sign our souls! Because the obscure Staff of
Hell rule this world, jugular fans have guessed
the result half way through the second half
and those who know the score just seem depressed.
Small boys swarm the field for an autograph.
Silent the Stadium. The crowds have all filed out.
Only the pigeons beneath the roofs remain.
The clean programmes are trampled underfoot
and natural the dark, appropriate the rain
Whilst, under lampposts, threatening newsboys shout.
I never met Dannie, so I'll leave it to someone who did to deliver a, fitting, tribute – here is regular correspondent Dai Woosnam's take on the man he calls "the finest writer to ever call himself a Cardiff City fan";-
"Dannie Abse was a fine poet and a lovely man.
I recall meeting him one evening in Caerphilly Library circa 1989, where he had come to do a reading and a Q&A.  Afterwards, he did not seem in a hurry to get home to Ogmore-by-Sea, and was happy to chat to anyone who was interested.
I had asked him two questions on literary matters in his official presentation, so now with most of the 20 strong audience exited into the night, we were able to talk Cardiff City.
And I was delighted that he had the same Cardiff hero that I had: Danny Malloy.  I think (from my slightly hazy memory) that he said that only Alf Sherwood had a greater place in his affections.
A lovely man, so sorely missed.
Particularly sad that his last decade would be so terribly blighted by that tragic car accident which claimed his wife Joan on the M4 near Pyle in 2005: a crash which he survived.  Ironically he was returning home to Ogmore-By-Sea from another similar poetry reading.
It was no consolation to him that he was deemed blameless, and the other driver involved got heavily fined for careless driving and banned for a year.
He was not a vindictive man.
Pity he should have gone with City at such a low ebb.  I loved the man and his gentle way of speaking."
by The other Bob Wilson with