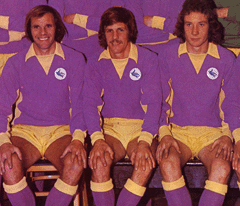 The week started with an announcement that Simon Lim had become the latest CEO to leave Cardiff City under Vincent Tan's reign. Lim's departure prompted a reshuffle with Chairman Mehmet Dalman ending doubts about his future at the club by taking on many of Lim's old duties under his new job title of Executive Chairman and Ken Choo coming in  as General Manager to, in Dalman's words, run the non football side. The announcement also confirmed the departure of a group of three joining Swiss side Servette Geneva. The identities of two of those involved was not new news because there had been talk of Commercial Director Julian Jenkins and Development team manager Kevin Cooper moving to Geneva for a few weeks, but they will also be joined by long serving physio Sean Connolly – another departure is Dick Bate who was in charge of the club's Academy.
Following the shambolic situation last year where a series of transfers that Messrs Tan and Lim were very critical of, despite, it seems, them having been signed off by someone in authority at the club (i.e. not Malky Mackay or Iain Moody whose departures were heavily linked to the overspending in these deals), a much needed change of procedure has also been introduced. A four man Committee will now discuss possible new signings before giving the go ahead for the deal to be completed.
Some reports I've read say Vincent Tan will be attending these meetings and others that he will have an, as yet, unnamed representative present, but definitely involved will be Messrs Dalman, Choo and Solskjær with it being emphasised that no deal will go ahead without Ole's approval. For the signings so far this summer it seems Ole has worked in conjunction with Tan and Dalman, but it seems pretty certain that there will be more new players joining the club this summer despite us having bought in a fifth one since the end of the season this week.
Mehmet Dalman mentioned the possibility of another signing before the end of the week when talking about the staff changes outlined above a few days ago and commented that the emphasis would be shifting to the defence and midfield areas following the arrival of three new strikers in the past few weeks. Therefore, it did not come as too much of a surprise when the Bosman signing of Crystal Palace defensive midfield man Kagisho Dikgacoi on a three year deal was confirmed on Thursday.
Dikgacoi had been linked with City in the last fortnight or so as well, but, that said, given that my thinking on possible deals where we are in competition with teams who will be in the Premier League next season has tended to be that we stood little chance of completing them, I must say that the identity of the player did shock me a bit. In this case, the Premier League club involved were Palace themselves who had talked to Dikgacoi about a new deal, but with his agent making some critical comments about the London club's attitude towards his client on completion of his move to Cardiff, I presume the length of contract offered and and wages agreed were better than theirs.
With the Bosman signing of Javi Guerra completed while we were a Premier League club and now another new arrival where we seem to be paying someone more than a top flight club was prepared to, I'll admit to a few concerns about the size of our wage bill for the coming season. However, it seems fairly certain that we are going to be losing some high earners in the coming weeks (for example, Dikgacoi would appear to be a replacement for Gary Medel who is, increasingly, being linked to a return to Spain with Valencia), so I suppose the time to try to make a realistic judgment on the wage bill is on 1 September when the transfer window has closed.
One pretty high earner who appears to be close to the departure door is Fraizer Campbell who was reported a few days ago to be in Leicester for discussions with the winners of the Championship about an £800,000 move. If Campbell does go, then, despite the presence of Kenwyne Jones, Nicky Maynard, Joe Mason, Jo Inge Berget and Rhys Healey as forward options to go with new signings Guerra, LeFondre and Macheda, perhaps Ole  feels we need still another striker, so maybe the reports of us being one of a number of Championship clubs chasing Chelsea's Islam Feruz on a long term loan deal are not as wide of the mark as they may appear to be at first?
Another name linked with City recently is Ferencvaros defender Muhamed Besic. Twenty one year old Besic is in the Bosnia and Herzegovina squad for the World Cup and has been singled out by coach  Safet Susic as the man to mark Lionel Messi in tonight's game with Argentina.  Besic has plenty of admirers, reported to include Anderlecht, Borussia Monchengladbach and Fenerbahce, so, on the face of it, he's another who falls into the category of "unlikely" as far as I'm concerned, but, given some of our deals so far this summer, I'm certainly not going to say impossible.
One other bit of City related news, I can imagine how "old school" Cardiff fans will feel about this, but we were voted the best in the Premier League when it came to entertaining away fans last season (I'll avoid the obvious jokes!) – indeed, only Plymouth Argyle of the ninety two clubs making up the Premier and Football Leagues were rated above us.
Finally, just a few quick words on the opening days of the World Cup in Brazil. Yes, there have been some shocking decisions by officials in the first few games, but, overall it has been a very promising start to the competition. England's campaign began with defeat by Italy last night, but it was a much more open affair than I was expecting and, as such, continued a trend that has seen twenty six goals scored in eight matches. Chile, with Gary Medel at centreback scored three of them in their win over Australia, but at the moment the South American side that has impressed me the most is probably Columbia who beat Greece 3-0. Brazil were pretty good in beating Croatia 3-1, but they benefited from home town decisions and the scoreline flattered them, while Uruguay came a cropper against unfancied Costa Rica.
Of the European teams, Croatia aren't out of it by any means, neither are England on their showing last night, but the result which towers above all others so far is Netherlands 5 Spain 1. The Netherlands (who I was pretty dismissive about in my piece on their warm up win over Wales!) were excellent with Van Persie in great form and Robben absolutely brilliant in the second half, but they were helped on their way by a woeful defensive showing by the team that has won their last three major tournaments. Spain looked like a side with important players in decline. Some of them are simply coming to the end of their careers, but others, notably their centrebacks and one or two in midfield, gave the impression that they were struggling to get themselves up for yet another competition after all the success, at club and country level, they'd enjoyed in the past six years – I think they may well not get past the group stage.
* pictures courtesy of http://www.walesonline.co.uk/
by The other Bob Wilson with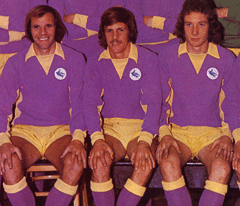 I've watched all of Cardiff City's home pre-season friendlies for the past decade or more, but once the Football League's opening day of the season fixtures came out with a game as evocative (for people of a certain vintage at least – even this advert which introduced a younger generation to the name Accrington Stanley is twenty four years old!) as Newport County v Accrington Stanley, City's encounter with Chievo yesterday was always taking second place to a game selected as one of six fixtures (two in each division) to celebrate the 125th anniversary of the League's full season.
Although the two club's have barely played each other down the years (the days of the old Third Division North and South ensured that both sides would only have met in Cup competitions until the late fifties). Accrington FC were one of the twelve original members of the Football League in 1888, but only stayed in the competition for five years and league football did not return to the town until 1921 Accrington Stanley (a different club from the original League members) competed in the newly formed Northern Section of Division Three. County were voted into the Third Division a year earlier (before it became regionalised) and the clubs do have a fair bit in common – an existence of struggle in front of small crowds being the main connection between the two sides.
The following forty years saw far more poor seasons than good for both teams and they only earned one promotion between the pair of them during that time. It was typical of the bad luck both sides endured that the County side which made it into the Second Division in season 1937/38 had only played three games at that level before the outbreak of the Second World War curtailed the season and when the competition resumed  in 46/47 they were, hardly surprisingly, relegated. At least County had their, all too brief, moment in the sun, there were no such bright spots for Stanley and they eventually gave up the unequal struggle when their financial problems prevented them fulfilling their fixtures in 1961/62 – the club played on for another few years at non League level but folded in 1966.
It took twenty six years longer for County to lose their Football League status after they finished bottom of the old Fourth Division in 1987/88, but less than a year later, with the team marooned at the bottom of the Conference, Newport County went out of business and, effectively, ceased to exist. Almost immediately, a new club was set up and although the route back has been a tortuous one at times which included a spell where they had to play their home matches in Moreton in the Marsh in Gloucestershire, yesterday's game marked the culmination of a twenty four year journey which reflects great credit on all of those who fought so hard to keep a football team in Wales' third biggest city.
Accrington Stanley made it back to the Football League seven years earlier than County and did reach the promotion Play Off's in 2010/11, but, generally, the objective at the beginning of each season appears to be retention of their league status – with an average home attendance of just 1,539 last season, how could they aim for anything better? The people of Newport and the Gwent Valleys have been more prepared to support their team and, very occasionally, they have turned out in very large numbers – for example, I was in a crowd of over 16.000 at Somerton Park on Easter Monday 1983 to watch a top of the table Third Division Newport v Cardiff clash and two years earlier, there were over 18,000 in the ground to watch a Cup Winner's Cup Quarter Final with Carl Zeiss Jena.
However, the locals have normally needed an awful lot of persuading to come along and watch their team in the flesh – gates normally were around the two to three thousand mark and, given what happened at Wembley less than three months ago, I thought yesterday's gate of 4,641 (including a decent 105 from Accrington) was disappointingly low and does not bode too well for the next nine months for County.
Those that did turn up though saw a marvelous return to the Football League by their side. In modern parlance, County "bullied" their opponents all over the park yesterday and the 4-1 scoreline did not flatter them at all – County were more dynamic, more powerful, more motivated and more pacey than Acrrington. While the football might have been a bit basic at times (Accrington struggled to cope with a bombardment of long throws from either side of the pitch and County had already had a goal disallowed from one before the honour of scoring the first goal in their return to league football fell to defender Harry Worley who volleyed in on twenty three minutes after the visitors failed to cope with David Pipe's throw to the near post), County did play some nice stuff as well – none more so than when a slick counter attack ended with Chris Zebroski knocking in Christian Jolley's low cross to double the lead just before the break at a time when the visitors were having their best spell of the first period.
Jolley looked too good for the Conference at the back end of last season to me and he looked too good for League Two on fifty nine minutes when he cut in from the right wing to curl a great left footed shot past Dunbavin in the Accrington goal to make it 3-0. Home man of the match Zebroski then volleyed in crisply seven minutes later for a fourth and County were able to take their foot off the accelerator in the last quarter – they would have been disappointed to have conceded a goal to former Man United, Watford, Sheffield United, Portsmouth and Leeds striker Danny Webber, but that couldn't take the gloss off what was a great day for the club and their fans.
Whether it all represented the start of a campaign which will see a tilt at a second successive promotion remains to be seen – Newport were good, but Accrington were pretty awful and, on this evidence, the bookies got it right when they rated them one of the pre season favourites for relegation,
Meanwhile, fifteen miles or so down the road at Cardiff City Stadium, seven and a half thousand home fans saw their side record a 1-0 win over Serie A opponents Chievo in a match where they upped the ante after a low key first half performance to score the decisive goal in the fifty seventh minute when Craig Noone's shot was beaten out by keeper Squizzi to Bo-Kyung Kim who easily scored from close range. Kimbo's goal was his third in three pre-season games as Malky Mackay continues to use him as the most advanced of a midfield five in a 4-5-1 formation.
Kimbo was nominated as City man of the match by many on the messageboards, but there were other strong performances from a team that was a long way short of the strongest they could field – Ben Turner cleared a shot off the line in the first half, David Marshall made some decent second half saves and, encouragingly, young Declan John played the full ninety minutes at left back and was generally adjudged to have coped splendidly. Minor injuries or illness kept Cornelius, Mason and Bellamy out of the squad while Jordon Mutch was down to start, but was replaced by Don Cowie after sustaining an injury in the pre match warm up and with  a stronger than expected Development team selection for the game at Hereford (Lewis, McNaughton, Lappin, Connolly, Kiss, Maynard and Conway all started with Maynard and Kadeem Harris getting the goals in a 2-0 win) Malky Mackay was left a bit short of options on the bench against Chievo.
One man he did have available was record signing Steven Caulker who came  on to replace Mark Hudson for the last half an hour, whilst another newcomer John Brayford was at right back for the ninety minutes  which saw City keep a most welcome clean sheet after their defensive stutters at Forest Green and Brentford.
Finally, no news of anything imminent as far as new signings or departures are concerned – rumour has it that both Filip Kiss and Joe Ralls may be loaned out to Championship clubs and, interestingly, it's been reported that us and West Ham ere in competition for the services of Real Madrid's Russian winger/full back Denis Cheryshev in a loan deal. Malky Mackay has dropped pretty heavy hints that our transfer activity could go on right to the end of the current window on September 2, but, hopefully, there will be one or two newcomers arriving before the season opener at West Ham in just under a fortnight's time.
* pictures courtesy of http://www.walesonline.co.uk/
by The other Bob Wilson with