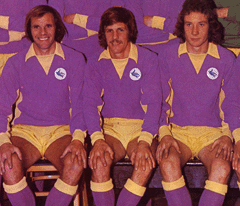 Don't ask me why I remember this, but back in 1975/76 while we were getting promoted from the old Third Division, I recall there being much scratching of heads forty miles down the coast at Swansea.
The jacks finished the season halfway up the old Fourth Division and baffled as to why there was such a huge contrast between their performances at the Vetch Field and in their away games as they visited places like Workington, Southport and Stockport.
Their manager at the time Harry Griffiths was at a loss to explain how a team that were blowing away sides at home would become so timid on their travels and, having done some checking, it's easy to see why he was so frustrated.
Swansea scored fifty one times in winning fourteen and losing just one of their twenty three home matches, but there were only two wins to go with fourteen defeats in away games with a paltry fifteen goals scored.
Swansea in 75/76 is just one example of a problem that tends to afflict at least one team every season and the concern for Cardiff City fans after another feeble away performance in losing 1-0 at Millwall, is that this season there are increasing signs that their team might be the Championship's number one soft touch away from home.
Having been able to watch (or should that be endure?) six out of our seven away games so far, I suppose it could be argued that there has been an improvement of sorts in the last two of them. Unlike at Blackburn, Wolves, Fulham and Derby, it didn't look like we could collapse at any time and end up being on the end of a thrashing at Blackpool and Millwall.
However, it wouldn't have escaped the attention of many of our supporters that we were up against a side who had not won all season and another that had not won in eight in these matches. When all three of your away defeats have been by 1-0, there will be some bemoaning of your side's luck, but two of them have come in exactly the sort of game where a potential top six team would be expected to make their alleged superiority count.
Sadly, just like Blackpool before them, Millwall wanted the win more than we did and yet this is the same bunch of players who have recovered from a trio of bad results at home by beating a Sheffield Wednesday side that was defending an unbeaten away record, a Forest team that hadn't lost a game and an Ipswich who scored first while being unbeaten in eight.
Millwall manager Ian Holloway referred both before and after yesterday's game to the pressure Russell Slade is under because of the high expectations at Cardiff. Yet, with the transfer spending seen since summer 2013 and the current wage budget at the club, I think it's reasonable for the man who is bankrolling the whole thing and the fans who spend hard earned cash to watch their side to expect a lot more than we've seen so far.
There's a trend developing here I'm afraid – despite our continuing inability to keep clean sheets, we are quite good defensively away from home, but five goals from seven games is a woeful figure for a team that was supposed to have a potent strike force following Ole's summer spending.
While questions still remain about our midfield on all sorts of levels, it has to be said that our army of strikers do not look quite as good now as they did back in June when they didn't have to play football – Nicky Maynard is making little impact, his misses yesterday showed that Adam LeFondre is still struggling in front of goal, Federico Macheda still does not convince, Kenwyne Jones is too static and Javi Guerra seems to be on his way out of the club.
Meanwhile, leaving Jones aside for now, Joe Mason, who looked such a great prospect for us back in 2011/12, and Rhys Healey, who has shown himself to be a very good finisher at Under 21 level, have both scored as many league goals as the other four put together in their loan spells at Bolton and Colchester respectively.
With our defence doing a so so job, our midfield looking very ordinary and, Jones apart, our strikers not scoring on our travels, a pattern is emerging in City away games and it is one which needs to be addressed and sorted out as soon as possible if we are going to come close to mounting the bid for a Play Off place that I'm guessing is seen as a minimum requirement by Vincent Tan.
It's possible that upcoming opponents in away games (particularly of the type we have faced in our last two and will do in our next two) might have looked at our squad and our wage bill and felt a bit intimidated at one time. However, they now know that if they play typical Championship football (i.e. put the effort in) and score once against a team that doesn't do clean sheets, then they are very unlikely to lose and there's a good chance they'll win given our lack of firepower on other team's grounds.
Taken in isolation, 1-0 defeats at places like Blackpool and Millwall go with the territory in a league like the Championship – the one about anyone being able to beat anyone else in this division may be a cliché, but it doesn't make it any less true.
However, where are those times in away games that you used to get with Cardiff sides of the recent past at this level when you felt the team was in control? There have been the odd few minutes here and there where that has happened this season, but the overwhelming impression I get is of a side that is almost constantly under pressure and struggling for both inspiration and confidence.
So, Russell Slade's first away game in charge turned out to be as fruitless and flat as the ones under Ole and Gabbidon/Young. Predictably, our manager looked for positives after the match and subsequent results tended to support the view that this defeat had not done any great harm to our cause as the Championship lived up to it's reputation as a barmy league.
While Bournemouth managing to score almost twice as many away goals as we've managed all season in their 8-0 win at Birmingham took the headlines, only Wolves out of the top six yesterday morning won – we just dropped one place and are still only four points off sixth position.
None of this changes the fact though that we have to get out of the routine that was bemusing Harry Griffiths nearly forty years ago. I've seen it said that we suffered yesterday because of the effects of playing three matches in eight days. I daresay there is an element of truth in this (after all, Russell Slade has identified a lack of fitness as one of the things he is working on to put right), but, for me, the problems we have in away games are at least as much psychological as they are physical – the belief seems to drain out of us as soon as we leave South Wales.
* pictures courtesy of http://www.walesonline.co.uk/
by The other Bob Wilson with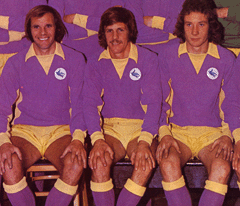 May is usually the quietest of the close season months when it comes to signing new players at any British football club, but the signs are that this is not going to be the case at Cardiff City this year, with two new arrivals already confirmed, a bid accepted for a player and reports of another having taken a medical at the club late last week prior to signing for us tomorrow.
Strictly speaking, one of the confirmed signings does not become a Cardiff player until 1 July, but, understandably, the club wanted to confirm that the deal to sign Spanish striker Javi Guerra from Valladolid, that was originally struck in January/February, was still going ahead – I'm pretty sure that I wasn't the only City fan who believed stories that appeared in the media a few weeks later saying that Guerra would not be coming to Cardiff if we got relegated from the Premier League. Well, manager Ole Gunnar Solskjær partially reassured us doubters about ten days ago by stating that the contract Guerra had signed for us was "watertight" and, sure enough, the official site confirmed the deal on Wednesday.
With Guerra being out of contract this summer at Valladolid, no transfer fee is involved, but the fact the deal was struck while we were still a Premier League club must, surely, indicate that the Spaniard is going to be receiving a sizable signing on fee plus a hefty salary and this goes straight to the heart of the doubts I have about this signing. At 32, Guerra is certainly in the autumn (or, even, early winter) of his career and, although I suspect that offering him a three year deal was the only way we were going to get him, it's hard to avoid a suspicion that he is at Cardiff, primarily, for the big pay day he was looking for before hanging up his boots and not to do all he can to get us back into the top flight.
To balance things up though, it's only fair to both the player and his new club to state that, 32 or not, if Guerra's attitude is spot on then we seem to have made a fine signing. Guerra's goalscoring record, particularly in recent seasons, is very impressive and, it's worth pointing out that he only scored one goal less in what is, arguably, the better league  than Swansea's Wilfreid Bony did in the Premier League – Bony was the only reliable goalscorer in the bottom half of that division during the season just finished, just imagine the difference us having a striker that scored the fifteen goals Guerra did might have made to our season.
So, I'd like to think that Guerra can be a potent striker in the Championship, but I honestly haven't a clue how Guido Burgstaller will fare for us. Burgstaller, who can play anywhere in midfield, but seems to have been used primarily on the left, has said his biggest asset is his commitment and work rate and the obligatory you tube video (yes I know!) looks pretty good. Looking for negatives, seven caps by the age of twenty five for a country rated below Wales in the FIFA rankings doesn't suggest someone who is going to take the Championship by storm, but it needs to be said that Austria are an improving side and those caps have all come in the last two years.
Furthermore, that you tube video doesn't include anything from last season when Burgstaller scored twelve times for a Rapid Vienna side that finished runner's up in the Austrian league, so it's probably true to say that we have signed someone who is playing the best football of his career so far.
The player who is, apparently, signing for us tomorrow is Fredrico Macheda who was recently released by Manchester United. Since making a sensational impact with goals in his first couple of appearances at the back end of the 2008/09, Macheda struggled to hit such heights again at Old Trafford and his subsequent loan spells at various clubs around Europe have not really been too successful either, apart from the recent one at Birmingham where he managed ten goals in eighteen appearances for a struggling team.
Looking at Macheda's career, the ability definitely seems to be there, but recent years have seen a gradual decline in performance that Ole will be hoping to turn around. All of that sounds suspiciously like the Kenwyne Jones situation to me, but I suppose the fact that our manager has worked with Macheda at Manchester United offers hope that he can get something out of the player that others have not been able to – always provided the stories about him coming to Cardiff are true of course.
If Macheda really is signing for us, then it may indicate that our £3 million bid for Lewis Grabban of Bournemouth is dead in the water. That sum met the release clause in the striker's contract, but we were not the only club after Grabban by any means and if one of those happens to be in the Premiership then the new reality for City is that we are, almost certainly, going to lose out to them in any battle for the player's signature.
I suppose one way in which Guerra, Macheda and Grabban could all end up playing for City next season is if there are wholesale departures from the club during the summer. It's generally accepted that players such as Steve Caulker and Gary Medel are going to be leaving and I'll be very surprised if David Marshall is still with us come September as well – Jordon Mutch, Craig Noone, Kevin Theophile-Catherine are others who may well attract interest through the summer and, although Chairman Mehmet Dalman (who last week denied he was on the verge of leaving the club) has spoken of the club's desire to keep Fraizer Campbell, there are rumours that the striker has a sell on clause in his contract which enables him to speak to clubs which meet the value of that clause in the event of us being relegated (Leicester are already reported to have offered £1 million for the striker) – there have been stories of possible interest from Newcastle in Kenwyne Jones as well.
Tommy Smith and Simon Lappin have both been released, while Don Cowie has not made a decision yet on the new contract the club have offered and  with Craig Bellamy having, unsurprisingly, announced his retirement (thanks for some great memories Craig), there are going to be plenty of players leaving during the summer even if Ole decides to keep all of the other ones he inherited (which I doubt – for example, it wouldn't surprise me much if Nicky Maynard became another striker to leave the club).
Before finishing on the transfer front, I should just mention that we've been linked with moves for a couple of midfield players with Championship clubs in Huddersfield's Adam Clayton and Middlesbrough's Grant Leadbitter – whether something should be read into the fact that City immediately issued a denial of the Leadbitter story, but not the Clayton one remains to be seen.
Although the cynic in me can't help thinking that all of these early signings may be a reaction to poor season ticket sales, it must be said that it has to be a good thing that we are trying to get players in quickly. However, I've not seen anything yet about the club addressing what I believe is the biggest on field problem we have at the moment – that is, making us more secure defensively.
We were hopeless at keeping out the opposition in the second half of the season especially (and that was with Marshall, Caulker and Medel in the side). We've become too nice a team to play against under Ole and, no matter how many strikers and attacking midfield players we bring in, we are not going to get anywhere until we get back to a situation whereby conceding more than one goal a game becomes a rarity rather than the norm. Just expecting things to improve because we are playing at a lower level is asking for trouble in my view because nothing I have seen so far from either our manager or the coaching staff he brought with him encourages me to believe that the expertise needed to provide us with a defence as organised as the one we had for most of the decade we spent in  the Championship before our promotion is there at the moment – bringing in a respected defensive coach would be as important as any on field signing we make this summer in my book.
Returning to the theme of poor season ticket sales, work on the extension to the Ninian Stand (from hereon referred to as "Tan's folly" on here), continues in preparation for the European Super Cup to be played between Real Madrid (congratulations to Gareth Bale for his goal last night by the way) and Sevilla on 12 August. Hopefully, the ground will be full that night, but there is the real prospect that when Cardiff City play there next season, the 33,000 capacity stadium will only be just over half full .
Finally, QPR's extremely fortunate 1-0 win over Derby yesterday in the Championship Play Off Final sent them back into the Premier League and the winners in today's League One Final between Rotherham and Leyton Orient (come on you O's!) will complete the line up in the second tier for next season. Credit to QPR for sneaking a win after having former City loan player Gary O'Neil sent off with half an hour left, but the result was something of a travesty as, the first twenty minutes or so apart, Derby were the better team throughout. Still, I suppose QPR's promotion offers some hope to City because it shows that a club that gets relegated in last place in the Premier League whilst becoming a national laughing stock can make an immediate return to that division despite being almost as much of a shambles in the Championship – there's hope for us yet!
by The other Bob Wilson with