It's been a while since I did a top ten, so, rather than write about some obscure basement battle with Doncaster Rovers from twenty years ago, I thought I'd do another one on the best Cardiff City debuts since 1963. My original intention was to restrict it to matches that |I was actually at, but, as this would not have included my number one (which, for me, has to be in any list of best City debuts), I decided to expand it to any game played over the past forty eight years – as it is, I make it that I was there for six of the ten matches featured.
One other thing before starting, it's a very subjective list and, to be honest, I'm not sure some of them should really be as high as they are (e.g. the one I place at number two), but, in some cases, I've gone for the impact they had on me as an individual rather than what it did for the club, the player etc.
10. 7 October 1989 – Cohen Griffith (Huddersfield Town 2 Cardiff City 3)
At the time we signed him, I would guess that the only knowledge City fans had of Griffith was because of his outstanding solo goal for Kettering Town in an FA Cup tie when he beat about five players in a run from halfway. The goal he scored at Huddersfield twenty minutes into his debut was a fine effort, but not quite in that class and was a great way for someone who became a popular and effective servant of the club to introduce himself to his new team and their supporters. Griffith's goal, along with two more from Chris Pike, was enough to give City the win as manager Len Ashurst rebuilt the side with the cash raised by the sale of Jimmy Gilligan to Portsmouth with £65,000 being spent on Griffith, £25,000 on midfielder Leigh Barnard, who made his debut in the same game, and £15,000 on Jeff Chandler who signed shortly afterwards – the less said about him the better!
9. 11 September 1982 – Billy Woof (Cardiff City 3 Wigan Athletic 2)
There's two minutes left in your first match for your new club and the game is level at 2-2. All of a sudden, the ball is loose in front of goal and you hammer it in for the matchwinner – it's the stuff of players who become club legends! In a way, Billy Woof, a former Middlesbrough striker on trial at Cardiff, is a City legend, but only because of his weird surname and the fact that he had a bust up with the manager a few days later and never played for us again! So, what sort of player did we miss out on because of Len Ashurt's quick temper – well, a not very good one if this is to be believed (see number 11 in the list).
8.  13 November 1965 – John Toshack (Cardiff City 3 Leyton Orient 1)
If I was there to see it (and I don't think I was), I've long since forgotten about this game and the goal that a sixteen year old John Toshack scored after coming off the bench for his first ever appearance for his home town club. However, I thought I should include someone who has had such a huge impact on the game over the past forty five years or so. I'm not sure that anyone who can actually remember any details from Toshack's first match will have thought they were watching someone who would win so many trophies as a player and a manager in the next four decades either. However, the fact he scored two more in his first league start (a 4-3 win at Middlesbrough) a week later must have got people thinking that City had unearthed someone a bit special and the shadow cast by his controversial departure was a very long one indeed.
7. 14 January 2006 – Steve Thompson (Cardiff City 3 Burnley 0)
If Thommo's first goal on his debut, as he profited from a fumble by keeper Brian Jensen, was nothing special, his second a couple of minutes later certainly was as he showed the sort of quick feet not normally associated with the type of player he is, to instantly control the ball and then smash it in from around fifteen yards out. I'll never forget the brilliant piece of skill he produced against Birmingham in front of a full house at Ninian Park as he flicked the ball over Matthew Sadler's head and was off away from him before the full back had a clue what was going on either – okay, he didn't score enough goals, but I don't think we've ever really replaced Thommo and Cardiff City is certainly a duller club without him!
6. 3 February 1968 – Brian Clark (Derby County 3 Cardiff City 4)
£8,000 wasn't much to spend on a player even back in the late sixties and when Huddersfield Town accepted City's bid to allow Brian Clark to move to a club much nearer his native Bristol, we ended up getting one of our best bargain signings ever. A couple of goals on his debut on the mudheap that was Derby's old Baseball Ground pitch was an early sign of what he had to offer and a goal on his first home appearance a week later, against Preston, offered further proof that Jimmy Scoular had found the final piece in the jigsaw which transformed us from strugglers into one of the best sides in the old Second Division.
5. 9 January 1993 – Kevin Ratcliffe (Carlisle United 1 Cardiff City 2)
With just two goals to show from nearly three hundred and fifty league games for Everton, Eddie May was hardly bringing the veteran centreback to Cardiff for his goal scoring pedigree when he signed him in January 1993 on wages far above what you would expect from a basement club. However, with City level at 1-1 at Brunton Park, Carlisle in his first game,  Ratcliffe ran on to a corner to power an unstoppable header into the net to give the team only their third away win of the season up until then. Although Ratcliffe was not to repeat his goalscoring heroics during his short time at Cardiff, he did give the team the defensive poise and organisation it needed to ensure that an expensively put together squad won the Championship that year (as well as the Welsh Cup)  - I always say Danny Gabbidon is the best defender I have seen play for us, but Kevin Ratcliffe in his prime was twice the player Danny was at Cardiff.
4. 21 August 2010 – Craig Bellamy (Cardiff City 4 Doncaster Rovers 0)
If this list was for the most hyped Cardiff City debuts, then I'd say this would just edge out Robbie Fowler's. Craig Bellamy's stay at Cardiff hasn't exactly seen them sweeping all challengers aside like many hoped they would, but it has to be said that, unlike Fowler, he measured up to all the pre-publicity on his first City start. After a quiet opening half an hour or so, Bellamy created our first and third goals, picked up a trademark booking for dissent and then brought the house down late on with a free kick hit from fully thirty five yards out – thinking about it, apart from John Buchanan's against the jacks, I'm struggling to think of a goal we have scored with a shot from a free kick further out than that one.
3. October 31 1975 – Adrian Alston (Cardiff City 4 Chesterfield 3)
Before West Germany played Australia in the 1974 World Cup, their coach Helmut Schoen  said "We have nothing to fear from Australia…apart from Adrian Alston" and there were times during Alston's spell with us when you could see exactly what he meant! One such occasion was Alston's first game for us after he signed from Luton for £25,000 when he lit up a Halloween night game with a couple of first half goals as City played some superb stuff to go into the break 3-1 up. Okay, there was an edgy second half to be endured before the points were secured as Alston faded out of the game (as he was wont to do), but he transformed a side that had been bumping along close to the bottom following it's relegation from the Second Division the previous season into eventual runners up in 1975/76 with his tap in at Bury being the goal that took us up.
2. 9 August 2005 – Jason Koumas (Cardiff City 2 Leeds United 1)
City fans had been put through the wringer in 2005 as Black Friday was followed by the departure of most of our best players during the summer and new manager Dave Jones was mostly consigned to raiding the free transfer market as he tried to put together a competitive side for the new season. Darren Purse would provide leadership and quality at the back, but where was the attacking flair  and where were the goals going to come from? The loan signing of the maverick that was Jason Koumas offered a possible answer to those questions, but he had been on "strike" against his West Brom manager Bryan Robson during 04/05 and, anyway, as the season kicked off, he needed more time yet to get fully fit. Nevertheless, Dave Jones thought City could do with Koumas' services as they trailed 1-0 to Leeds well into the second half of the opening home game and, within three minutes of coming on, he had cut in from the right to deliver a tremendous left footed shot from twenty five yards which never rose more than a yard off the floor as it flew into the corner of Neil Sullivan's net. Purse's penalty completed the comeback and, all of a sudden, what had promised to be a slog against relegation turned into one of my favourite seasons of recent times.
1. 3 April 1968 – Richie Morgan (Cardiff City 1 Moscow Torpedo 0)
City had reached the Quarter Finals of the European Cup Winner's Cup for the second time in 67/68 and had been paired with the Russian Cup holders Moscow Torpedo. In those pre-penalty shoot out days, 1-0 wins in their home matches for both sides meant that the tie would have to go to a third game, played at a neutral venue (Augsberg in West Germany), to be decided. It was thought that City had done well to prolong the tie against what was generally reckoned to be a far superior side, but their hopes had been dealt what looked to be a killer blow by the news that centre half Don Murray would miss the replay through injury. Into Murray's place stepped Cardiff born Richie Morgan who, at 21, was making his City debut and what was a daunting situation for the youngster was made all the more so by the fact that he would be marking a convicted rapist! Although it appears that Eduard Stretsolv's conviction was, possibly, politically motivated, that doesn't alter the fact that Morgan did a superb job on the night (whatever else he was, Stretsolv was a very good footballer). Helped through the game by the shrewd Brian Harris alongside him, Morgan played a full part in keeping out the Moscow Torpedo attack as City clung on to the lead given to them by Norman Dean to clinch a place in the last four.
Morgan played one more game before the fit again Murray replaced him and he was only to make a total of eighty seven first team appearances during more than a decade of service to the club as a player (he later did a decent job as City manager as well before being, unfairly, sacked in 1982) – it's almost certainly true to say that his career highlight at Cardiff came in his very first game for us.
Just to finish, I'll list some of those who came close to being included in my top ten – Frank Parsons at Leicester (an amazingly good debut considering what a disastrous signing he was!), Jeff Eckhardt v Brighton (only goal of the game while playing in an unfamiliar striking position), Deon Burton and Richie Humphreys (a couple of goals each on their City debut) and Trevor Lee (a goal against the jacks in his first game).
by The other Bob Wilson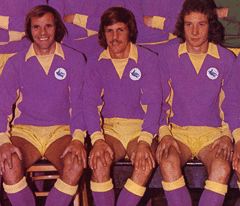 I soon realised when putting this list together that, perhaps, a top five rather than a top ten would have been more appropriate in this case because I was hardly spoilt for choice. In the end, I decided to stick with a top ten, but the inclusion of a couple of cases where we won one game in a two leg tie but still went out on aggregate does rather tend to prove that giantkilling acts haven't really been a forte of Cardiff City's in the past half a century or so! Anyway, in reverse order here"s my top ten underdog City wins since 1963;-
10. 5 September 1979 – Cardiff 1 Everton 0 Second Round League  Cup (Second Leg)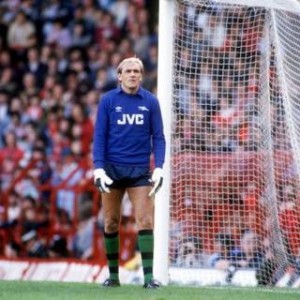 A couple of Brian Kidd goals gave the First Division side a comfortable looking 2-0 lead to take into the Second Leg of this League Cup tie at Ninian Park, but City had a decent team that year and Everton were to have an uncomfortable night of it before they edged through to the Second Round. Not for the first or the last time, City found themselves denied by the heroics of goalkeeper George Wood – the man who would sign for us some nine years later produced a string of fine saves and was only beaten three minutes from time by a shot from substitute John Buchanan. Everton scraped through 2-1 on aggregate, but it was hard not to wonder if the outcome might have been different if normal penalty taker Buchanan had been on the pitch in the first half to take the spot kick which Wood saved when BillyRonson took what I'm pretty sure was the only penalty of his Cardiff career.
9. 15 January 1972 – Sheffield United 1 Cardiff City 3 FA Cup Third Round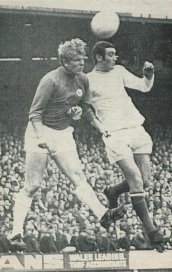 I suppose the 5-1 defeat at Sheffield United in a promotion shoot out in April 1971 is one of our most famous games of the past half century, but it tends to be forgotten that a few months later City went up to Bramall Lane and gained at least a modicum of revenge for that devastating loss. City were big underdogs going into the match, because although the home side's very impressive start to the life in the top flight after pipping us to promotion had all but petered out, we were in the midst of a shocking decline which saw us finish nineteenth in the Second Division that year compared to the previous campaign's third. On the day though, City showed form which belied their league position to pick up a thoroughly deserved win in which, incredibly, both Don Murray and Dave Carver found the net (Bobby Woodruff got the other one).
8. 28 October 1986 Cardiff 2 Chelsea 1 Third Round League Cup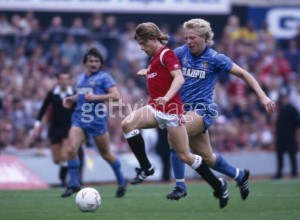 City owed their place in the Third Round to the fact that, in the previous round, they were awarded the tie when Luton refused to relax their ban on away supporters at their Kenilworth Road ground. As City were in the Fourth Division and Luton the First at that time, it's likely that we would never have got the chance to face top flight strugglers Chelsea if it had not been for the Hatter's intransigence. City made the most of their luck though as they came back from a half time deficit of 1-0 (courtesy of a Keith Jones goal) to win 2-1 thanks to a couple of goals from Nick Platnaeur who was making his first start for the club after signing from Birmingham. Platnaeur later made a successful switch to left back, but, at the time of this game he was still operating as a striker and he showed good goalscoring instincts to equalise with a fine header and then be in the position to bundle home the winner from point blank range.
7. 8 January 1977 – Cardiff City 1 Tottenham Hotspur 0 – FA Cup Third Round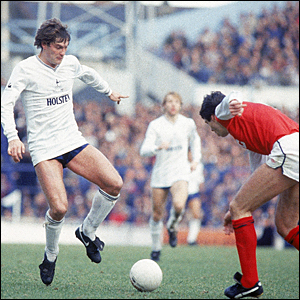 Although Spurs had the likes of Pat Jennings and Glenn Hoddle in their side and City were in the middle to lower reaches of the old Second Division at the time, this was perhaps not the huge shock that many made it out to be later. After all, Spurs were a poor team destined to finish bottom of the First Division and,even without the recently signed Robin Friday (who was cup tied), City had the forward players to cause their very dodgy defence a lot of problems. The goal which completely changed Peter Sayer's career came very early in the game and the youngster from Pentrebane took all of the post match headlines, but, my recollection is that Tony Evans terrorised Spurs all afternoon with his pace and ability. The second half saw the visitors dominate possession, but, although there were some hairy moments for them to survive, City held on to their narrow lead relatively comfortably.
6. 3 April 1968 Cardiff City 1 Moscow Torpedo 0 European Cup Winners Cup Quarter Final replay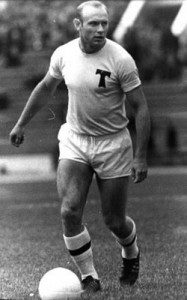 City were a mid table Second Division side when they met Russian Cup winners Moscow Torpedo for a place in the last four of the European Cup Winners Cup and they took a handy lead into the second leg of the tie thanks to Barrie Jones' header at Ninian Park. However, with the Russian winter making it impossible for the return leg to be played in Moscow, City faced a round trip of almost 7,000 miles to Tashkent (now the capital of Uzbekistan) near the Chinese border. Despite a  resolute defensive effort and some fine saves by Bob Wilson, City were 1-0 losers leaving the sides level over the two games at a goal apiece. The rules of the tournament in those days deemed that a replay at a neutral ground should be played under such circumstances and so it was that City made it through to what would be a heartbreaking Semi Final clash with SV Hamburg courtesy of a solitary Norman Dean goal in a game played in Augsberg West Germany with Wilson, once again, heroic in goal.
The close scores in all three matches suggest that the sides were evenly matched and it has to be acknowledged that the tie was played in Torpedo's off season, but City had to be play all three matches without a trio of cup tied first team regulars (Fred Davies, Les Lea and Brian Clark). Furthermore, the replay saw 21 year old local boy Richie Morgan make his first team debut at centre half in place of the injured Don Murray. Morgan found himself up against Russian International centre forward Eduard Strelstov (above) who just happened to be a convicted rapist (there is speculation that this was a politically motivated conviction though), but came through what has to have been a huge test with flying colours as City enjoyed one of their great nights in Europe.
5. 10 March 1971 – Cardiff City 1 Real Madrid 0 European Cup Winners Cup Quarter Final (first leg)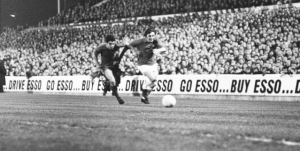 I'm sure it will surprise many to see this game as low as fifth in my list, but it has to be remembered that City lost the tie overall – having quite recently been able to watch the second leg for the first time, I can say we were quite unlucky to go out (it surprised me how comfortable City looked in the Bernabeau until a couple of quick goals around the hour mark knocked us back, but, even after that, we had one or two opportunities level the tie). Besides Brian Clark's goal, my main memories centre around Nigel Rees' distinctive running style which saw his head bobbing up and down a little like Paula Ratcliffe's does now, Ian Gibson proving once again that he was a surpemely talented player and maybe the most ridiculous booking ever for Peter King.
The Real Madrid team of 1971 was nothing like the side they had ten years earlier or the galacticos filled outfits of recent years – it definitely was one of the more beatable Real sides of the last fifty years and with us at the top of the Second Division seemingly on the brink of a return to the top flight, it wasn't anything like as big a shock as a Cardiff win over Real Madrid would be today. In saying that though, Real were third in the Spanish League when they beat us and they did manage to reach the Final of the Cup Winners Cup that year (Chelsea beat them in a replay), so the win has to be recognised as a genuine candidate for the title of our  most historic ever and it certainly was a never to be forgotten night for those of us lucky enough to have seen it.
4. 29 January 1994 – Cardiff City 1 Manchester City 0 FA Cup Fourth Round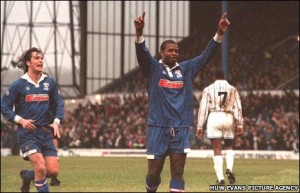 City's reward for a notable replay win at Ayresome Park against Second Division Middlesbrough in the Third Round was a home tie with Premiership side Manchester City. At that time we were a pretty ordinary outfit in the third tier of the league system, but Manchester City have nearly always been the sort of side that lower division teams would quite fancy their chances against in a one off match on their own ground and I remember that one or two pundits beforehand were tipping us to cause an upset. In the event, City were the equal of their more illustrious opponents while the game was goalless and Nathan Blake's superb effort was a goal fit to win any game. The visitor's response to Blake's beauty was quite impressive and the rest of the match became something of a backs to the wall struggle, but when Mark Grew saved Keith Curle's harshly given penalty, it became one of those matches that brings about a feeling where I just know we are going to win – it's been proven plenty of times that this feeling isn't infallible mind!
It was always on the cards that City's matchwinner wouldn't be at Ninian Park for long and his goal only accelerated his departure. However, it would have been nice to have at least had Blake there to help reach the Quarter Finals for the first time since 1927, but, instead he was sold a few days before the home tie with Luton in a ridiculous deal in which much of the possible transfer fee was dependant on his new club (Sheffield United) avoiding relegation from the Premiership – being Cardiff City, the result was inevitable of course, Luton beat us with a dodgy goal and Sheffield United went down!
3. 9 March 2008 – Middlesbrough 0 Cardiff City 2 FA Cup Quarter Final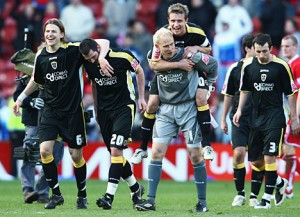 I can never understand why some City fans try to write off the achievement of reaching the FA Cup Final two years ago by saying we didn't beat anyone worthwhile in getting there. Middlesbrough were a mid table Premiership side who must have thought they would never have a better chance of winning their first ever FA Cup, there was a full house inside the Riverside Stadium and the general consensus amongst the "experts" was that we were like lambs to the slaughter. What we got instead was, quite probably, the most complete performance I have seen from a Cardiff City side given the occasion and what was at stake.
We didn't beat Middlesbrough that afternoon by relying on the desperate defending and fine goalkeeping which played a large part in many of the ten games I am recalling here, we gave them a football lesson from the first minute to the last. There wasn't a weak performance in our side as a wonderful goal by Peter Whittingham and a well directed Roger Johnson header gave us a comfortable first half lead which Middlesbrough never threatened to claw back – the closing minutes being played out in front of empty home stands where previously there had been so much anticipation and confidence is an abiding memory of one of my favourite ever City matches.
2. 15 December 1964 – Sporting Lisbon 1 Cardiff City 2 European Cup Winners Cup Second Round (first leg)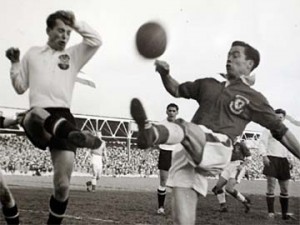 Season 1964/65 saw City's first ever sortie into European club competition and after a solitary Peter King over two tight games was enough to see off the Danes from Esjberg in the First Round, a Second Round pairing with holders Sporting Lisbon surely spelled the end of their adventure. This only seemed the more certain because of the fact that the first leg was going to be played away from home against opponents who had only a few months earlier turned around a 4-1 first leg deficit by hammering Manchester United 5-0 in Portugal.
Instead though, City went to Lisbon and pulled off an amazing 2-1 win – unpredictable winger Greg Farrell got the first goal, while veteran Derek Tapscott came up with the winner from out on the right touchline with an effort which looked more like a cross than a shot. Even so, there was till much to be done at Ninian Park in the return game before a place in the Quarter Finals could be claimed. Being so young at the time, I can't remember much about the game which was played two days before Christmas, but, by all accounts, it was a fractious affair with the Portugese side not taking their imminent elimination from the competition they had won the previous season well at all. The game finished goalless and City progressed through to face Real Zaragoza – once again, City got a great result away from home as they came back from 2-0 down to draw, but a solitary goal defeat in the return leg marked the end of what had been a great first season in Europe for us.
1. 6 January 2002 – Cardiff City 2 Leeds United 1 FA Cup Third Round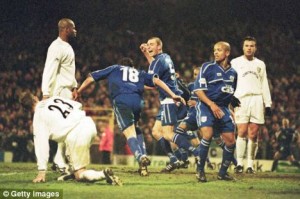 I'm not sure I agree with those who claim that Leeds' demise can be traced back to that fantastic Sunday afternoon (the seeds for the financial meltdown of that club were sown in the two years before the match in my view), but there is no doubt that their team were never quite the same after an experience that, clearly, left many of the household names in their team badly shaken. At the time, Leeds' very expensively assembled and very highly paid team were doing the business – they were top of the Premiership and looking nailed on certainties for the Champions League qualification which had become essential if the books were to be balanced at the club.
By contrast, our very expensively assembled and very highly paid team (by non Premiership standards anyway) were inconsistent under achievers whose manager would be sacked within six weeks, but, for those ninety minutes, they gave the then best team in the land a hell of a game. Okay, playing against ten men for all of the second half helped and the old ground was intimidating enough without all the missiles and after match stupidity, but City were already causing Leeds problems when Spencer Prior gifted Mark Viduka a goal and their response to going behind was to play some great football which culminated in Graham Kavanagh's equaliser. City were never able to recapture their earlier quality after it became eleven against ten, but Scott Young's career defining moment was enough to earn a victory which, sadly, was never given the credit it deserved because of all the furore about our former owner's headline grabbing antics and the after match violence.
by The other Bob Wilson