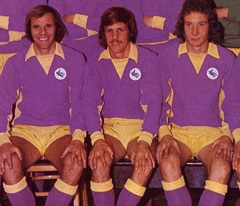 In my piece on Cardiff City's Under 23 side's 1-1 draw with Watford last Thursday I had remarked upon their unfortunate habit of not being able to hold on to leads in recent home matches – the Watford game was the fourth consecutive home game they had failed to win after being one or two nil ahead.
Well, yesterday afternoon at Leckwith they came very close to the most embarrassing giveaway yet as they ended their game with Queens Park Rangers clinging on desperately for a 3-2 win despite them having deservedly been three goals ahead at the half time interval.
This was a much more open game than the one four days earlier had been and, after the initial quarter of an hour or so of sparring, chances came along on a regular basis for a City side which included two of the three trialists who I thought had done well against Watford in Jacob Evans and Scott McLean, but not Danny Rowe who was, arguably, the best of the trio.
A QPR side featuring a name from our past in Jay Emmanuel-Thomas were more enterprising than Watford had been and so play swung from end to end with the visitors including a couple of lively wingers who helped create threatening situations which tended to be wasted by wayward shooting or poor passing in the final third.
City carried the greater threat though and Kadeem Harris, making his way back from injuries that have surely made this season the most frustrating of his career so far, did well to create a great opportunity for himself and then not so well to blaze over the top from ten yards. Within seconds, Rhys Healey had eluded his marker to fire over a cross that Mark Harris was inches away from converting and the striker, who had played in the first team match against the same opponents recently, was then not far away with a shot across the face of the visitor's goal.
A City goal was coming, but when it arrived, it owed a great deal to some distinctly dodgy QPR defending as they got in a right mess trying to deal with a Cameron Coxe throw in and Mark Harris was able to fire through keeper Dieng's legs from about ten yards out.
City were playing well at this stage, but they then lost the unlucky Lloyd Humprhies, another who has had a rough time of it with injuries this season, as he walked off with what did not seem to be too serious a knock and was replaced by Ogo Obi. This switch left us top heavy with attacking players, so Mark Harris dropped back into central midfield alongside Evans – Harris did okay in his unfamiliar role, but Humphries' ability to "knit" things together in the middle of the park was missed.
However. this did not stop us creating chances and the second goal should probably have arrived earlier than it did – again, poor defending cost the visitors as they had a couple of opportunities to clear the ball but failed as Kadeem Harris shot home from an angle from similar range to his namesake when he had opened the scoring.
QPR were now looking less of a threat as their main priority appeared to be to get to half time only two down. They were unable to do so though, because the referee awarded a penalty for a foul on McLean (who had been playing better than he did on Thursday) and Mark ignored Rhys Healey's pleas to take the spot kick to keep the scoring among the Harris' – after his insistence on taking the penalty himself, he really needed to score and he did so confidently as he sent Dieng the wrong way.
The half time whistle blew straight after this and signaled the end really of all that was good in Cardiff's performance, because they fell away completely in the second half and I find it hard to believe that this was down to anything other than complacency. Certainly the way that the attacking players seemed to want to take things on themselves rather than look to pass to better positioned colleagues on the rare occasions that we offered any threat going forward hinted at a feeling that the team thought the game was already won.
Of course, credit also has to go to QPR for a fightback which was led by former City loannee Emmanuel-Thomas – never the most mobile of players, the ex Arsenal man was on the edge of things in the first half, but, after the break, he once more showed the natural ability that contributed towards making him such a frustrating player when he was with us.
The way Emmanuel-Thomas made space for himself to shoot from twenty five yards five minutes into the second period and the side footed finish which followed, was pure class and, for a while, he was the most influential player on the pitch as he prompted a revival by the visiting side who were suddenly winning all of the second balls and pushing forward constantly.
However, Emmanuel-Thomas gradually faded back into anonymity and, while still playing poorly, City were, seemingly, seeing the game out fairly comfortably with Paul McKay and Rhys Abbruzzese both defending well, when the visitors were given a penalty after sub Alfa was fouled – Emmanuel-Thomas beat Warren Burwood from the spot and City had to endure a final six or seven minutes that was much more fraught than it should have been before their victory was confirmed.
Finally, an apology to the two regulars on here who commented on the Watford match and did not get a reply from me. I was asked "do you think the endless revolving door of trialist have an adverse effect on those on contracts, does it effect thier development ?" by one of them and so I'll finish by answering his question.
Yes, I do not think City players between the ages of, say, nineteen and twenty one have been helped much by the constant use of trialists – for me, players such as James Waite and Jamie Veale (who, to be fair, has been absent through injury lately) have not progressed as I would have expected them to this season, while someone like Abbruzzese has had to move from his favoured position into a completely unfamiliar one for him to accommodate trialists.
The problem is though that anyone trying to defend the change to the way the Development team has operated lately only has to point to the lack of young home grown players breaking into the senior team in recent years to justify an argument that the system was not working previously, so something needed to change. I also have to say that, for now at least, the recently signed Paul McKay and Ciaron Brown (who captained the team yesterday) look to be improvements on what we had – if either of them, or another of the trialists who have now signed contracts, break into the first team, then I suppose the new system will have to be considered a success.