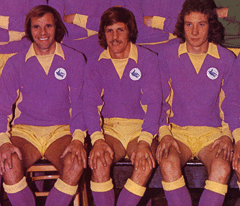 Who'd have thought it back in the autumn? Shot shy Cardiff City are now able to hold their own "goal of the game" competition after four super efforts, and one decent finish, helped them demolish the doomed Rotherham United in the sort of "should win" home game that has, even under the improved Neil Warnock version, tended to expose limitations, rather than show strengths, previously.
After a first half of no great sustained quality, City clicked into gear in a second half that was, to be frank, one way traffic and, by the end, the 5-0 victory margin was a fair reflection of the gulf between the two sides. Albeit, as Neil Warnock was quick to acknowledge after the match, our opponents were very hard hit by injuries and couldn't include their two City loanees, Tom Adeyemi and Semi Ajayi, who got their goals in the 3-2 midweek loss to Huddersfield.
In August, City scored two stunning goals in their 2-2 draw with next week's opponents Fulham, so, even when things were so bleak under Paul Trollope, they had it in them to score quality goals. However, back then, all those goals at Craven Cottage by Joe Ralls and Anthony Pilkington tended to do was lay bare the paucity of goalscoring potential that was so evident for 99 per cent of the time – we only seemed to be capable of scoring if Shane Duffy was around or we were hitting and hoping from twenty five yards.
However, before continuing with the goalscoring theme, I wanted to turn to the other end of the pitch for a while to point out that Cameron Jerome's winning goal for Norwich a fortnight ago is the only league goal we've conceded at Cardiff City Stadium so far this year. We've played six Championship matches at our ground in 2017 and the five which we have won have all been without the opposition scoring.
When you consider how porous we were at the back at Cardiff City Stadium before the turn of the year (only one home clean sheet and eighteen conceded in just eleven matches), the transformation has been amazing. Actually, Rotherham threatened to score up at the Canton End more than most visiting teams have done in the first half this season, but, like he has in all of his home appearances really, Allan McGregor had a fairly quiet time of it in all.
Despite keeping Leeds out last Saturday, we've yet to really take our new found defensive solidity with us on our travels, but Neil Warnock and his coaching staff have definitely managed to do something which is often not given the credit it deserves when rating how good or bad management teams are – they have improved the performance levels of players who were already at the club.
Now I think the likes of Sean Morrison and Matt Connolly are good quality Championship defenders, but they weren't showing it when Neil Warnock was appointed. Although Lee Peltier was still pretty reliable in the early weeks of the Warnock era, Sol Bamba was far and away our most effective defender – now, he's still playing well, but I don't think he's standing out so much because those alongside him have stepped their games up.
Even a week ago, I think it would be fair to say that the defensive improvements of 2017 had not been replicated in attacking areas, but, in our last two games, our manager's frequently heard view that we don't have many goals in us has been blown out of the water.
Of course, you need more than two matches before you can come to any definite conclusions and, a look at Rotherham's truly appalling away record (it's now one point from seventeen matches, with forty eight goals conceded) shows that a sense of proportion needs to be kept. I think it's fair to say though that some of the promise that I first truly tuned into during the Villa match on 2 January is now being fulfilled and it has to be said again that this is primarily down to Warnock and co improving players who were already at the club when they arrived.
I mentioned in my piece for the Villa game that, after so long where our lack of pace among our forward players stood out like a sore thumb, our attacking threesome that day of Zohore, Hoilett and Kadeem Harris bore comparison in the pace department with any that our Championship rivals could field.
If the comparison with the man Warnock brought in at the back compared to the others playing in his part of the pitch is a more equal one now, this applies even more so with the other one of the quartet of signings he made before his City team had kicked a ball that can be said to have been a success, Junior Hoilett.
I can remember the victory over Huddersfield (which, increasingly, can be seen as an outstanding win) where Hoilett was, probably, the difference between the two teams. Back then, Hoilett looked a cut above the other wide attacking players at the club and, certainly in that Huddersfield match, he compared favourably with any of those who play more centrally up front.
Now, I don't think Hoilett's level of performance has declined to any great degree since then, but it's fair to say that we are currently in a position where he faces real competition for one of those places on the wing.
It's emerged that a few weeks ago our manager "welcomed back" Craig Noone to the club after his performance on the training ground picked up following a period where he had been disappointed with the winger's efforts – Noone had also been the same forlorn figure on the pitch that had, increasingly, frustrated fans over a period of years during Warnock's early months in charge, but, since his recall to the team for the Leeds match, Nooney's been a changed man.
He may not quite have the pace of a Hoilett or Harris, but he's no slouch and now he has started to remind us all of why he was, at times, a very effective Premier League winger for us, he is a full member of a City attacking unit that better sides than Rotherham (e.g. Preston and Derby) have failed to cope with.
Right up until about a second before he hit the ball, I was convinced that Noone was going to take his shot for his goal with his right foot. In the end, his finish put me in mind of this famous goal scored from an assist by a former City player. Okay, it was not in the DeCanio class, but Noone's goal was an example of a confident player trusting his technique – maybe he would have scored from that chance a month ago, but I don't think he would have done with the flourish he did yesterday.
Something has got Noone performing like he is currently and, given the other examples around him, I think it's reasonable to assume that our manager and his coaching staff have at least played a part in that.
If the trick with Noone has been to get him playing to a standard he has shown in the past again, it's been different with Kadeem Harris, who, arguably, has come on more than any other player under this manager.
For the second time in a row, Harris was many people's City man of the match and, like Noone, there was an eye catching goal to cap an eye catching performance, as his instant control and beautifully placed curler gave City the early goal that offered hope that this would not be another Wigan or Burton type struggle.
It was Hoilett's goal just before the half time whistle that I thought was our most important though because we hadn't really kicked on after going 1-0 up and I'm sure Rotherham would have gone in at the break thinking they could still get something from the match, but they must have known that their task was, probably, beyond them at 2-0 down.
Although he finished neatly, Hoilett's goal owed an awful lot to visiting left back Ben Purrington and it didn't bear comparison with the ones that came either side of it. However, it could be argued that the two Kenneth Zohore scored were better again.
At the time, I thought Rotherham keeper Richard O'Donnell was at fault with the Dane's first goal and I daresay he will feel he could have done better with it, but, having now seen it on video a few times, I feel he was beaten for pace as much as anything – the ball was past him before he was able to react.
So, our fourth goal is also a candidate for the goal of the game prize (which, in the time honoured tradition of Mauve and Yellow Army, will be the satisfaction that you might be a winner!), but I have to inform you that our manager's favourite was Zohore's second one when he burst onto a Connolly pass, then lobbed the helpless O'Donnell and, certainly at the moment, who's going to argue with anything Neil Warnock says!
I've seen the word "elegant" applied to the way Zohore scored that goal and, certainly, there are times when he shows an elegance which marks him out as being different to so many who take on the target man role – at such times, the Jay Bothroyd comparison, that is being heard with increasing frequency, does not seem as outlandish as it once did.
I still feel it's some way off yet before I have to revise my opinion that Bothroyd is the most naturally gifted target man I've seen play for the club, but, what I will say for now is that, if I had to name one single on field reason for the turn around in results at the club in 2017, I would say it was the impact Kenneth Zohore has had.
Zohore and Harris are probably the two best examples of Warnock's ability to improve the players he inherited, but, behind them, Aron Gunnarsson, after a Noone like few years of under achievement, is consistently playing to a level as good, or maybe even better, than the one he showed in our Championship winning season, while Joe Ralls, another who was struggling in the autumn, is in his best form of this campaign.
All of this good on field news only sharpens the focus on the decision Vincent Tan and his lieutenants are soon going to have to make. Maybe "battle" is too strong a word for it, but there is another game going on behind the scenes where Neil Warnock wastes no opportunity to up the pressure on the club's money men as he talks about the relatively modest amount he believes he needs to spend in the summer to give us a real chance of contesting for the top six in 17/18.
I'm surprised it's taken as long as it did for a story like this to come out following our manager's comments in mid week – in particular, "I know that Vincent and Mehmet want us to do well but they know there are other clubs who will need managers between now and the end of the season."
This, surely, has to be seen as Warnock upping the stakes in the poker game that is being played against Messrs Tan, Dalman and Choo and, with every win, it must become harder for them to risk losing the man who has done so much, not only to turn fortunes around on the pitch, but also to transform how many supporters are now feeling about their club.
This time last year Warnock was performing miracles at Rotherham and look what's happened to them since they were unable to convince him that they could match his ambition. Make no mistake about it, if Warnock was to walk away from City, there can be no doubt who would be blamed and, with the players being virtually unanimous in their praise for the job our manager is doing, you have to wonder what impact his departure because of a perceived lack of ambition at the club would have on them – if City couldn't keep Warnock, it would really feel like going back to the square one that was the league table as it stood before we played Bristol City in that televised Friday night match .
That is not to say that I don't have sympathy for Tan and co, because it really must be hard to stay within the FFP rules at a club that doesn't have great gates, is not producing quality young players or first team players that other sides are willing to pay serious money for, apart from stalwarts like David Marshall whose departure has been so sorely felt in the past six months or so.
However, that ability of the current management team to improve players already here may offer a solution, because there have to some in our ranks now who will begin to interest those who are prepared to try and buy their way out of the Championship and it may be that one or two already in the promised land that is the Premier League could be starting notice what some players are doing at Cardiff as well.
Perhaps one big money departure this summer could be the way that the funding Neil Warnock wants could be found and, if that were to happen, then I'd say he has earned the right to be trusted to spend some of the proceeds wisely. There could also be a pleasant surprise for the money men in the form of increased revenue from season ticket sales if it was felt that City were "having a go" during the summer months – yesterday's attendance of 15,650 was disappointing given those wins at Leeds and Derby, but I would say that there were a lot less empty seats than normal around by me and what was, almost certainly, the smallest number of visiting supporters seen at Cardiff City Stadium this season didn't help matters on the attendance front.
Anyway, to finish, I'd like to talk about yesterday lunchtime's Under 18 game with Queens Park Rangers at Leckwith. A few hours before the match started, I posted the following on a City messageboard;-
"So, that's a definite plus point for the recent shake up and change of personnel at the levels below the first team at Cardiff, but this has to be balanced by what's been happening at Under 18 level in recent games. Results aren't everything at age group levels of course, but the four defeats they've suffered in their last six matches have been by 5-0, 6-0, 7-0 and 4-0 respectively (albeit the first of these losses was by a "senior" Academy team in the Youth Cup match at Chelsea).
Now I think the idea of, effectively, moving each team up one age group level, as we did recently, is a good one in theory and accept that, inevitably, it's going to mean more defeats for all of our youngsters. However, it could become harder to justify if a side that were doing well at their own age group level, like our Under 16s were before Christmas, then start suffering a series of thrashings when they step up a level to face players who are, sometimes, two or three years older than them. I'm hopeful that a few will get stronger for the experience and it won't do their development any harm, but basic human nature tells you that there will be some talented lads who will be the worse for the experience.
I'm going along to the Under 18 match with QPR at lunchtime believing that Craig Bellamy and the others at the Academy can start producing first team players for us pretty soon, but I hope for their sake's, that our lads can give a good account of themselves and show that it doesn't have to be heavy defeat after heavy defeat for them until the end of the season."
Therefore, in view of the above, I took almost as much pleasure as I did from the first team game a couple of hours later from watching the Under 18s (or should that be Under 16s because the team really is barely recognisable from the one that was turning out before Christmas) deservedly win 3-1.
I got to the game a quarter of an hour late and was told that it was still goalless, but it soon became clear that City's pressing high up the pitch was paying dividends and they were certainly dominant in the minutes before they took the lead through a goal which I thought was scored by Isaak Davies at the time. However it was in fact expertly put away by Keenan Patten, the younger brother of Robbie, who is a long term injury absentee from the Development team squad I'm afraid.
QPR came into the game somewhat without really threatening as City's intensity faded a bit, but they were fortunate to get to half time just the single goal down when right winger Cai Williams' shot was cleared off the visitor's goal line.
Lone striker Davies is an important player for this younger side and it looked ominous when, first, he failed to appear for the second half after receiving treatment for a knock and second when, very shortly after City had a goal disallowed for offside, the visitors equalised.
City responded excellently though to these setbacks and were soon in front again as Williams got the goal he was denied earlier as he finished well after being played into space by a good ball.
As often tends to happen at this level, the match opened up an awful lot after the break and, for about ten minutes there was a definite feeling that, although it was difficult to tell at which end, a goal was coming. For example, City survived by the skin of their teeth when keeper George Ratcliffe made a fine save from a header and then a defender was well placed to clear the follow up effort off the line.
City cashed in on that good defensive work shortly afterwards, when a fine solo run was brought to an end by a foul inside the penalty area and the resultant penalty was put away, despite the keeper guessing right and getting something on the ball, to give them a pretty comfortable last fifteen minutes or so.
If this team has a "star", then I suppose it's Sion Spence who is one of the very few in it who featured regularly in the Under 18 side in the first half of the season and has been used regularly as a substitute by the Development side in recent games.
Yesterday, playing in a number ten type role in the first half and then almost as a striker in Davies' absence in the second, Spence showed why he is so highly rated. Usually when I see him play, I'm struck by how unspectacular he often appears to be – there aren't too many eye catching passes, twenty five yard screamers or runs past three or four opponents from him, just an all round competency.
It's tempting to think at times that he should be imposing himself on games more, but I prefer to think that, at just over sixteen, he has something which I didn't acquire until I was twice, or maybe even three times, his age – the knowledge that in football, simple can be beautiful.
It was Spence who played the pass to Patten for the first goal, Spence who played the pass for Williams for the second goal, Spence who was brought down for the penalty and Spence who scored from the resultant spot kick. Besides that, he was often able to win the ball cleanly from bigger opponents and then, as QPR tired, demonstrate that he does have those eye catching abilities in his locker which us punters love so much – all of the team did well yesterday (for example, although he'll no doubt come a cropper now and again in the next couple of years, Ratcliffe looked as a good a keeper with the ball at his feet as I've seen at the club), but Spence's quality shone through the most.
*picture courtesy of http://www.walesonline.co.uk/
+picture courtesy of http://www.rotherhamadvertiser.co.uk/
%picture courtesy of http://www.cardiffcityfc.co.uk/