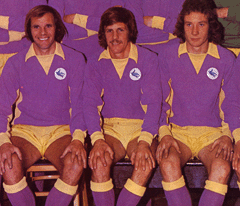 Actually, I think I might be doing last night's match a disservice by saying that the win over Real Madrid thirty nine years ago rates above it, because in terms of sheer, gut wrenching tension and a roller coaster of conflicting emotions, I am struggling to remember a night that tops Leicester 2010.
In saying that though, the fact has to be faced that the reason it turned into such an epic encounter was, to a large degree, down to frailties within the team. First, a fantastic start during which we constantly ripped Leicester apart never got the reward it deserved and then, when we finally did get the breakthrough, the visitors were allowed back into the tie within minutes. I am sure I was not the only City fan who thought before the game that the tie would swing decisively in our favour if we could increase our aggregate lead to 2-0, but I always qualified those words with something like "this is Cardiff City we are talking about mind" – you don't have to have been watching us play for too long to recognise our knack of snatching defeat from the jaws of victory!
In my opinion, the foundation for our fine run since March had been the improvement we had made defensively, but, now when it counted most, it all fell apart as a complete failure to deal adequately with Leicester's aerial game had the visitors ahead on the night within a quarter of an hour of us scoring and then leading the tie five minutes after the break. Now, it would be wrong to say that all Leicester did was pump high balls towards Steve Howard, but that very basic approach represented their main attacking threat and the truth is that they didn't have to work very hard to score their three goals.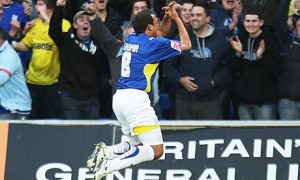 Apart from remarking that it seems to me that Howard should always have been picked up by Mark Hudson at set pieces and yet our captain was yards off him when the striker met the long free kick from the halfway line which led to their second goal, I am not going to blame individuals for the amazing turn around in the tie – we defended very poorly as a team and it could be have been all over if Peter Whittingham had not cleared off the line after we had, yet again, failed to cope in the air. From the way they have played this season, Blackpool should present a different type of threat in the Final, but if Ian Holloway was watching last night's game then I wonder if he is considering changing his approach because of our inadequacies in dealing with the aerial stuff?
Anyway, that's enough downbeat stuff because there was an awful to enthuse about in City's performance. In some ways it was a weird game because it seemed to me that while Leicester were all over us when the ball was in the air, it was just as one sided in our favour when the ball was on the deck – some of City's approach play and the range of skills shown by individuals within our team was of a level that Leicester never really got close to matching in either game and, because of this, I believe that it is true to say that, although there was very little between the sides, the right team did go through in the end.
If there was tension in the stands then it didn't really convey itself to those in blue (or those in black for that matter) during the 120 minutes of football we saw. No, if City had not made it through, it would not have been because they had bottled it – indeed, you got the impression that many in the team were almost enjoying the stage they were performing on. Coincidently, it was following the Blackpool game in January where, motivated by dissatisfaction at events off the pitch rather than on it, some supporters had booed during the match, that attitudes seemed to change as, perhaps brought on by a "siege mentality" feeling, the team developed a harder edge and since then, the bottlers tag that many (myself included) labelled them with last summer has become completely inappropriate.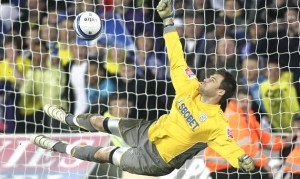 Peter Whittingham had kept his nerve from the spot to bring the teams levels again and, when it came to the nerve shredder that is the penalty shoot out, it was not Cardiff who crumbled. For example, Ross McCormack had missed the last two penalties he had taken for us and yet, with keeper Weale diving the right way, his effort was drilled unerringly into the corner of the net and Joe Ledley (who I can only ever remember taking one spot kick in his career) placed his perfectly into the side of the goal as Weale, again, guessed right.
Leicester must hate the sight of the Cardiff City Stadium – although they didn't lose the game last night, the eventual outcome must surely have left them feeling worse than they did after the two previous defeats this season at our new ground and I am sure it is no consolation to them at all when I say that they have played a big part in three of the five best matches that I think the Stadium has seen so far. Whatever we might think of our defending, Leicester showed tremendous character in fighting back from two goals down (I wonder if we could have done it if the roles were reversed?) and you cannot but be impressed by Nigel Pearson their manager – I genuinely wish them all the best for next season and, if we are still in the same division they can finish runners up to us next time around!
People will no doubt look at Yann Kermorgant's awful penalty as the moment the tie was decided, but that is to ignore the contribution of one of three City players whose individual contributions on a night where the whole team were heroes in their own way is worth mentioning. David Marshall's superb save from Martyn Waghorn's penalty ensured that Kermorgant at least has some company when it comes to contemplating penalty misses and he added to his important saves at the Walkers Stadium with another fine one to deny Howard late on – he was blameless as well with each of the goals as far as I could see.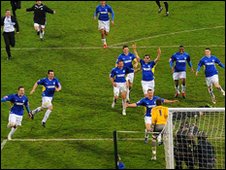 From the moment that his superb pass set up Peter Whittingham early on for the sort chance he has putting away all season, you got the feeling that Michael Chopra was "at it" last night. That hasn't always been the case in my opinion this season, but he maintained his habit of delivering when it most counts. Truth is though that it wasn't just his goal and his calmly taken penalty in the shoot out that marked out Chopra's performance as one of his best of the campaign – he was bright, sharp and confident as his movement and skill gave the Leicester rearguard no end of problems.
Mark Kennedy's gesture of consoling the crestfallen Waghorn while all of his team mates started their celebrating was one of true sportsmanship which was good to see in this more professional and cynical era than the one I grew up in and marked him down as a class act in my book. However, after starting the game with some wayward passing, I thought he did very well last night and it was noticeable to me that when some of his team mates were, justifiably, starting to flag in extra time, he was still going strong and looking as fit as men ten years his younger – let's not forget his penalty either.
All in all, a genuine "I was there" occasion which we all hope will be followed by another one in nine days time, but there is plenty of time yet to concentrate on the Blackpool game, now is a time to savour what happened twelve hours ago – I still feel physically and emotionally drained but I am beginning to realise just what we achieved last night!