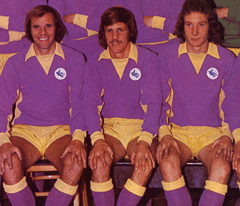 I'll probably comment on this more in a future piece on here, but there is an online campaign on Titter or whatever it's called advocating that City fans do not renew their season tickets next season - here's the story that appeared in the local press yesterday about it.
All I'll say for now is that, based on what I've seen this season, I would find it much harder to make a complete break from watching the matches below first team level than I would with the seniors – right from day one of this season I have, for some reason, found it harder to relate to this season's bunch of first team players than the ones of previous years and that feeling has only multiplied as the dismal, and.occasionally gutless, performances have mounted.
"Going to games has become a chore" is a line I'm reading and hearing increasingly and I can understand where those who express such a sentiment are coming from – following your football team should be about enjoying yourself and getting a release from everyday life, but, for a small percentage of people, that's not been the case for two and a half years and, more than in any time since the rebrand, there are signs that significant numbers are beginning to feel the same way.
However, last night I watched our Under 21s beat Crystal Palace 1-0 and, as is normally the case with this side and the under 18s, came out of the game having enjoyed it. Maybe the fact that there are more local boys in these teams who have a genuine feeling for the club as opposed to the "mercenaries" (again, that feeling, probably unfair in many cases, that our senior players are just a very highly paid bunch of hired guns is stronger this year than it has been in others), but, being entertained more than I am in most Championship fixtures must, obviously, play a big part in it.
Of course, your team winning always goes down well, but, even if I was a neutral, I would have found last night's battle between two very evenly matches sides a watchable one. I'm sure those of a Palace persuasion who were there to watch it, would have come away thinking that their team merited at least a draw, but I thought City just about deserved to shade it if only because they carried a bit more of a cutting edge up front than their opponents.
Palace's side contained a few names that rang a vague bell with me (e,g, Jake Gray and Kyle DeSilva) and they did have a nucleus of players with some senior experience gained during loan spells at other clubs, but, with Danny Gabbidon, Declan John, Kadeem Harris, Guido Burgstaller and Etien Velikonja in their team, it was City who had a very definite edge in senior experience.
This showed as the home team enjoyed a forceful and dominant first quarter of the match with Burgstaller and John looking particularly dangerous down either flank. Danny Johnson twice tested Palace keeper Chris Kettings as City swarmed all over the visitors early on. The striker should maybe have made more of his opportunity from the second of these efforts, but his first forced Kettings to turn the ball around the post – it was a good save, but the one the keeper made from the resultant corner to keep out Tom James' header was a much better one.
Kadeem Harris, whose withdrawal at half time suggested he will be involved in some way in Saturday's first team match with Brentford, had a shot deflected wide, but, gradually the balance of power began to change – if City had the better of the first twenty odd minutes, then the opposite was true of the rest of the first half.
Palace, with Morgan Kerrier looking a real handful up front, had both pace and power apleanty during this period with number ten Reise Allassani providing much of the former (as well as a lot of skill) and midfield anchor man Kiram Boateng (booked for a cynical foul on City captain Tommy O'Sullivan) his fair of the latter.
City rode their luck when they failed to deal with a free kick and the ball was eventually cracked against the upright with keeper Ben Wilson beaten and there were plenty of occasions when it appeared for an instant as if Palace had opened City's defence up, but, although he may have had his troubles during his only first team appearance of this season, Gabbidon was a reliable and assured presence at the back against one of this former clubs. Alongside him, James showed more of the promise and maturity that has seen him selected as a substitute a couple of times this season to go with his brief appearance against Chelsea at the back end of the last campaign.
City only threatened the once during Palace's dominant spell when Burgstaller hit the outside of the post from an awkward angle after the ball had been flashed across the face of the visitor's goal and, although it could be argued that the game deserved at least one goal, all square at half time was a fair reflection on how things had gone.
As mentioned earlier Kadeem Harris went off after half time after again not hitting the heights he showed for the Development team through much of 12/13 and the early part of last season before his loan spell at Brentford and, if anything, it could be argued that the introduction of the tall and tricky David Tutonda in his place added to the goal threat City posed on the night.
I alluded to Palace's attacking pace earlier, but with Harris, John and then Tutonda it could definitely be argued that the City team had more attacking pace down the left flank than the senior side has. Declan John was City's man of the match as far as I was concerned and he was to the fore as the home side followed their strong start to the first period up with a forceful beginning to the second one. O'Sullivan, who had caught my eye most during the first half for some untypically poor dead ball deliveries, and Theo Wharton began to impose themselves in the middle of the park and were able to ensure that City's left flank was becoming more and more of an area of concern for the visitors.
On the hour mark that threat became something more tangible when John did well to play a ball down the line that gave Tutonda space to run into, Palace centre half Michael Chambers slid in with a desperate challenge, but the City player was too quick for him and made his way to the byeline at pace. There was still a lot for the youngster to do, but he showed great composure in delivering a low cross that enabled Johnson to side foot past Kettings from about eight yards out.
This was a more straightforward finish for Johnson than the one for his goal against Bristol City a fortnight earlier, but the businesslike manner in which he put it away offered a clue as to why he scored all of those goals for Guisborough Town last season – add in the two goals he scored in last week's win at Millwall and it seems clear that he has benefited from his recent loan spell at Tranmere.
City were able to maintain their control for a bit longer compared to the first half and they looked a more likely scorer of the game's second goal if it was to come, but some wrong options and careless passes when in promising positions meant that it never did for them and the onus switched to the other end of the pitch in the last ten minutes as Palace regained the initiative.
I thought referee Steve Oakey (who booked Wharton and Johnson after the break) tended to favour the away side throughout, but when Palace appealed for a penalty following a tackle by James I think it was, he waved play on. Having got the benefit of the doubt from the official  with that decision, City were then reliant on Ben Wilson as he made a great save to deny Sonny Black and then a more routine one from another well struck shot from the edge of the penalty area.
Mr Oakey played a lot more than the signaled three minutes added time, but, eventually, he ended the game to give City their win – with the table before last weekend showing them to be two points behind joint leaders Swansea and QPR, but with three and two games respectively in hand on them, there has to be a good chance that our Under 21's will again be contesting the end of season Play Offs.
One final thing to add quickly – best of luck tonight to our youngsters in their Youth Cup match at Charlton – they'll be away to Burnley in the next round if they come through this tie.
* pictures courtesy of https://www.flickr.com/photos/joncandy/sets/