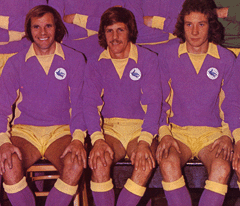 Being honest, if it wasn't for the fact I wanted to make people aware of the recently published book "The Journey Back – Cardiff City's rise through the Divisions 1991-2013″ which I have co-written with Richard Holt, the Cardiff City Books segment of the blog wouldn't exist. It does though and, in an effort to show I'm not solely obsessed with selling copies of our book, I thought I'd do a review of the City book I've been reading for the past few weeks.
"Cardiff City Greatest Games: The Bluebirds' Fifty Finest Matches" is the self explanatory title chosen by author Sean Wozencroft (a third generation City fan) for a book which I'll admit I did not have a good feeling about when I first saw it. To explain what I mean, at 206 pages it's hardly a short book, but there's fifty matches to be covered and as I opened it up for the first time I was half expecting to see the sort of large fonts used that you come across so often in sporting autobiographies as a fairly flimsy narrative is stretched to a number of pages which just about begins to justify the price being charged.
In short, I was half expecting a read that was somewhat light on detail – I could not have been more wrong. The first clue that I had misjudged things came when I saw the size of print – the smaller than normal font size meant that just over 200 pages in this book equated to something like 230 or 240 of them in most books. However, it was when I started reading that I soon realised that attention to detail was one of the strengths of Sean's book rather than a possible weakness.
You only have to get through a page or two of Cardiff City's Greatest Games to realise that this is something that has been written by a genuine fan of the club, not some opportunist looking to take advantage of City's promotion to the Premier League. The depth of Sean's research is very impressive and, in many ways, the parts I enjoyed most were the pieces on the earliest games where the use of the match reports of the day cast new light on games that I was aware of, but not to any great detail – for example, it was only after reading the chapter on our Cup Final defeat by Sheffield United in 1925 that I realised that I had known next to nothing about that match beforehand.
Again, I had known of our terrific record against Liverpool until the clubs headed in opposite directions during the last forty years of the twentieth century, so it was good to have some flesh put on the bones with chapters about two of our victories over them in the 50's (and, no, that 4-0 win at Anfield in Bill Shankly's first game in charge isn't one of them!).
From around this point onwards, the book gets into territory that I'm familiar with, but, invariably, there were little snippets in chapters on games I'd watched where I found myself saying "I'd forgotten about that". The runs to the FA Cup and League Cup Finals are given the attention they merit and I was particularly pleased to see what is my favourite City match of recent times (the 2-0 win at Middlesbrough in the 2008 FA Cup Quarter Final) get a chapter.
A couple of minor quibbles. Firstly, when I was watching us thrash the hapless P.O. Larnaca in 1970 I did not for one moment think I was looking at a game which would feature in any list of City's fifty greatest matches – on the other hand, the superb 5-1 win over FC Nantes a few weeks later in the next round of that season's Cup Winner's Cup would make it into my top fifty list. However, with the Larnaca victory being our biggest in European competitions, it has a statistical significance (just like the 16-0 trouncing of Knighton Town in the Welsh Cup in 1961 which also features) and, anyway, that's one of the attractions of books like this – no City fan is going to agree with all 50 of Sean's choices and half the fun is recalling matches which didn't quite make it into the book.
The second small criticism is the use of the term "the old lady" to describe Ninian Park – it only happens once, but, as someone who never heard our old ground described in that sentimentalised way before it was due for demolition, I must say it still grates every time I hear or read it.
That apart though, this is a book I enjoyed reading and will, no doubt, return to again in the future. If you are only going to get one Cardiff City book for yourself or as a Christmas present, then it has to be The Journey Back (obviously!), but if you are after a second one then I can certainly recommend Cardiff City's Greatest Games – eight out of ten.