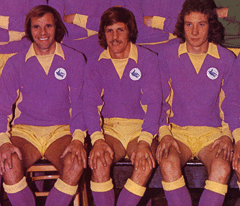 There was a programme on the BBC last year called "Back in time for Christmas" where a modern day family lived out a "typical" Christmas day from every decade from the forties onwards. My memories of Christmas Day stretch back to the sixties, so I found it very interesting to be reminded of how much it has changed and remained much the same in that time.
Anyway, the reason why I mention it here is that I just remembered something from the programme about the fifties, the decade I was born in, where the father and son went off to watch a football match on Christmas Day afternoon –  getting to the ground was easy enough, because public transport was still running on Christmas Day back then.
Now, I was aware that City had played matches on Christmas Day in their days as a Football League club and that their last such game was against West Brom at Ninian Park – I knew that it took place sometime in the mid fifties and that we won 3-2.
So, I thought I'd pass a bit of time researching City's Christmas Day matches since they were elected to the Football League in 1920/21. Here's a list of those matches with a few details as well about the next game they played ;-
1920/21
December 25 Coventry C  A  4-2 W Gill 2, Cashmore, Beare 22,000
December 27 Coventry C H 0-1 L 42,000
On the way to promotion from the Second Division in their first season as a Football League club, City had an odd pair of results as they won away, but then lost at home to the same opposition two days later. The home game was watched by their biggest crowd of the season so far, but it was bettered a month later when they entertained Bristol City and there was another 40,000 gate against Wolves for the last home game of the campaign. One other thing, George Beare who scored in the win at Coventry, also scored for City in victories over Merthyr Town on Christmas Day in 1915 and 1919.
1923/24
December 25 Sheffield Utd A 1-1 D Hardy 45,000
December 26 Sheffield Utd H 3-1 W Davies 2, Keenor 50,000
City were top of the league over Christmas in the season where they came as close as they have ever done to winning the League Championship. Again, the same team (this time from 250 miles away!) were played over the holiday period, but this time the games took place on consecutive days, with another impressive crowd (almost double the average for that season) at Ninian Park. Three huge names from City's history got the four goals against the Blades with Len Davies (the man who missed that title losing penalty of course), getting two of them.
1924/25
December 25 West Ham Utd A 2-3 L Davies L., Gill 27,000
December 26 West Ham Utd H 2-1 W Davies L., Beadles 31,000
After the previous season's heartbreak, City were more concerned with a possible relegation than league titles when they took on West Ham – their win on Boxing Day left them in sixteenth position with twenty points, but a better second half to the campaign saw them finish eleventh.
1925/26
December 25 W.B.A. H 3-2 W Ferguson 2, Davies W. 13,683
December 26 W.B.A. A 0-3 L 35,504
The defeat at the Hawthorns left City in seventeenth position and they ended up one place better off than that, but the thing that takes my eye is that Christmas Day attendance. There were only two gates lower than it in the league all season – perhaps the poor crowd was down to the weather, but it was a season where attendances looked to be a lot lower everywhere with only just over 9,000 watched City's late season 1-0 defeat at Manchester United!).
1926/27
December 25 Newcastle Utd A League A 0-5 L 36,250
December 27 Arsenal League H 2-0 W Ferguson, Curtis 25,387
The Christmas Day trouncing at Newcastle of all places was a sixth loss in seven matches for City who would drop as low as twentieth within a week, but a win over the team they were beat in the Cup Final four months later hinted at better things to come. That Arsenal match was the first of only three league appearances for City for Merthyr born left winger Percy Richards.
1928/29
December 25       Leeds Utd  A       0-3     L  20,439
December 26       Leeds Utd H       2-1     W   Wake, Thirlaway  12,554
City's eventual decline to the lower reaches of the Third Division (South) had started now and this was the season where they finished bottom of the First Division having conceded fewer goals than any of their rivals. The win over Leeds was only their second in fourteen matches and the first at Ninian Park in three months – that small crowd was fairly typical for a miserable season, with just 5,738 present for the final home game against Blackburn.
1929/30
December 25 Bristol C A 0-2 L 17,140
December 26 Bristol C. H 1-1 D Wake 25,244
City mounted a challenge for an immediate return to the top flight that was beginning to fizzle out somewhat when they faced the wurzels in a much more sympathetic pair of Christmas fixtures – they'd end the season in eighth place and that decent crowd was the second biggest of the home campaign (there were less than 6,000 present when City entertained Charlton two days later!).
1931/32
December 25 Luton T  A 1-2 L Keating  11,609
December 26 Luton T H 4-1 W Robbins 2, Keating, McCambridge 13,515
City were finding their first season in the Third Division (South) something of a struggle when they beat Luton (it was their first league win in eight games), they dropped as low as nineteenth, but, largely thanks to the goals of Jim McCambridge, they recovered to finish ninth.
1933/34
December 25 Coventry C League A 1-4 L Maidment 27,589
December 26 Coventry C. League H 3-3 D Postin, Curtis, Bisby (og) 10,729
What is probably City's worst ever team were bottom of the Third Division (South) over Christmas and they stayed there until the season's end – lowest league position, most goals conceded, most defeats and least points means that they were probably even worse than some of those teams from the eighties and nineties!
1935/36
December 25 Southend Utd A 1-3 L Everest 8,478
December 26 Southend Utd H 1-1 D Diamond 11,574
City, with Enoch Mort a regular in defence during the first half of the campaign, were still struggling, but not quite as badly as in 33/34 as four straight wins in March enabled them to reach the giddy heights of twentieth position at the end of the season.
1936/37
December 25 Torquay Utd A 0-1 L 4,582
December 26 Walsall H 2-2 D Walton, Melaniphy 31,954
City had topped the league in the autumn, but were in the middle of a run of one win in fifteen games come Christmas, so it's hard to imagine where that amazing Boxing Day crowd came from. That said, there were even more at Ninian Park for the visit of Grimsby in the FA Cup a few weeks later and there were other 20,000 plus crowds that season. Irish law student Eugene (Ted) Melaniphy scored his first goal for the club against Walsall after having made his debit for us the previous day, while Charles Turner made the first of only two starts for City on Boxing Day (the other one came in an 8-1 defeat at Luton a couple of months later).
1937/38
December 25 Mansfield T A 0-3 L 12,114
December 27 Mansfield T H 4-1 W Pugh, Collins, Turner 2 (1 Pen.) 37,726
City were right in the promotion mix when they beat Mansfield in front of a season's best crowd on Boxing Day (again, attendances were good with 35,000 watching an early season match with Notts County), but a slump in January and February saw them lose momentum to eventually finish tenth – a big improvement on what had gone previously though.
1946/47
December 25 Leyton Orient A 1-0 W Rees 12,947
December 28 Norwich C. H 6-1 W Richards 3, Rees, Allen, Clarke 36,285
No surprise that the all conquering team of the first post Second World War season was the first to record successive wins in these games. The Norwich thrashing made it fourteen wins in fifteen matches (the other one was drawn) for the side which delivered the club's first league title as they returned to the Second Division after a gap of eighteen years.
1948/49
December 25 Brentford A 1-1 D Allen 22,813
December 27 Brentford H 2-0 W Allen, Stevenson 49,236
City were recovering from a start of one win in six and then four straight losses in October when that huge crowd saw them beat Brentford and they maintained their improvement to finish fourth.
1950/51
Coventry C. H 2-1 W Edwards 2 32,778
December 26 Coventry C. 1-2 L Grant 33,194
Again, an inconsistent autumn cost City dear – the Christmas Day triumph over Coventry was a fourth straight win, lifting us to fifth and we got as high as second at the end of March, before having to settle for a third place finish.
1951/52
December 25 Swansea T A 1-1 D Tiddy 19,260
December 26 Swansea T H 3-0 W Baker, Grant, Tiddy 46,003
By now a strong Second Division team, a "proper" pair of holiday fixtures left City top of the league, but one win in seven in February/March looked to have cost them, until five wins out of their final six matches saw them finish runners up.
1952/53
52/53 December 25 Newcastle Utd A 0-3 L 36,143
December 27 Newcastle Utd H 0-0 D 52,202
The Christmas fixtures went from the sublime to the ridiculous as City tried to establish themselves at the higher level. At times it looked like there could be an immediate relegation, but six wins in eight in March/April led to a comfortable twelfth place finish. The Newcastle game saw one of three 50,000 plus attendances at Ninian Park that season.
1954/55
December 25 W.B.A. H 3-2 W Ford 2, Montgomery 22,845
December 27 W.B.A. 0-1 L 50,885
City were looking comfortable in mid table when the Christmas games were played and things stayed that way until mid March before a run of four points from eleven matches (none of which were won) saw them plummet down the table. It needed a 3-2 win over Wolves in their penultimate match, thanks to two goals from Trevor Ford and a first one ever from Gerry Hitchens, to keep City up.
And that was it, Christmas Day fixtures stopped after that. As to why, that crowd for West Brom's visit in 1954 was well under half what we were getting for Christmas games only two or three years earlier, so maybe the appetite for Christmas Day football was on the decline? However, further analysis shows that it's impossible to read too much into how Cardiff felt about football on 25 December, because, invariably, when City played that day, they were away from home.
There are eighteen seasons listed above where City played on Christmas Day, but in only three of them, was the game played in Cardiff. Only in 25/26, 50/51 and 54/55 did City not have to travel on Christmas Day and, only in the middle one of these games (nearly 33,000 against Coventry) does it strike me that there was a crowd that would bear comparison with the attendance there would have been if the match had been played a day later.
The other thing that leaps out at me from those fixtures is that while it's almost certainly right to say that the modern day footballer needs to be fitter than his predecessors because of the pace of the modern game and the amount of ground a player is expected to cover now, it's bit rich to hear all of this bleating about congested fixture lists and the lack of a winter break from so many within the game when you compare the Christmas Holiday programme now with what is was back then.
City had to travel to Sheffield, Leeds and Southend one day and play them in Cardiff the next during this time, while the authorities at least did City and Newcastle a "favour" by allowing them a days rest before they played the second part of their daft double header in 52/53 and all of this on the "maximum" wage – which I believe was around £20 before it was done away with in 1961!
A merry Christmas to all readers of this blog.