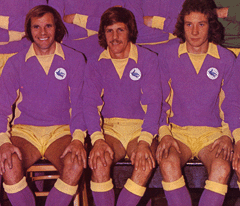 Can anyone who expressed an interest in buying this book please note that it is taking a little longer than anticipated to complete the printing process.
We are now told by the printers that the books will be sent to us on 30 October. This means that, although it shouldn't make a difference as far as selling books at the Swansea match goes (they will be on sale between 2 and 3.45 before the game and there will be someone there selling them after the game as well), we won't be able to sell them via the PayPal link on here now until early November – if we get the books on 31 October as expected, I would hope that you will be able to buy them on here within a day or two.
Apologies for the slight delay and in particular to those supporters that Creighton Harries took orders from on the Supporters Club coach on the way to the Fulham game – unfortunately, we won't have the books for the Norwich trip on the 26th, but Creighton will have some with him on the way to the Villa match on 9 November if you prefer not to buy through Paypal or at the Swansea game.