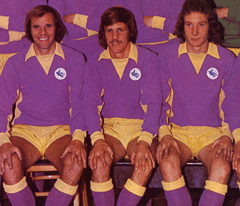 I've been sent a copy of a photo of City's promotion winning squad from 1975/76 that I'd never seen before and asked if I could identify a couple of players in it. I hope the picture is clear enough for you to see everyone because the players we need help on are both in the front row – the first is sat on the left next to Peter Sayer and the other is sat second right between Gilo and Brian Attley. I'm fairly sure that the first player is Martin Morgan, a young midfielder who was released at the end of that season after making one appearance (as a sub in a Welsh Cup tie against Sully in January 76), but I've not got a clue who the second one is – Joe Durrell was someone who played a game or two for us on the wing while on from West Ham that season, but I've seen a photo of him and it's not him (this bloke looks like a centreback or striker to me) .
Can anyone put me out of my misery by identifying the two players?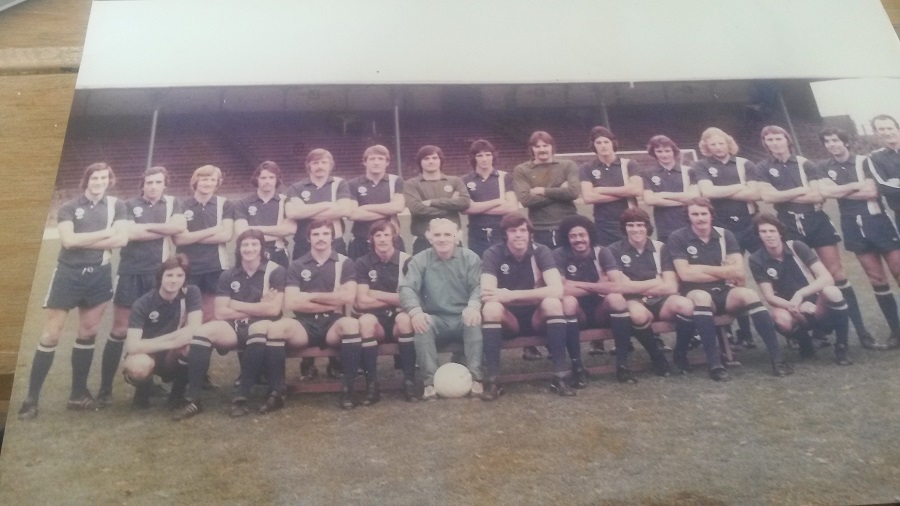 Firstly, a thank you to the people who have got in touch regarding the picture above – I think we are getting there slowly!
The first thing to say is that when I said the player sat next to Peter Sayer, I meant the one on his right, not Tony Evans. As for the other mystery player (between Gilo and Brian Attley), there have been two names mentioned – the first was John McClelland, I thought this was a fair shout, but the presence of Adrian Alston in the picture means that it must have been taken after October 1975 (Alston made his debut in a 4-3 win over Chesterfield on Halloween night) and McClelland was released at the end of the 74/75 season.
The other player mentioned was Tony Villars. Now, as someone who made 13 appearances during that season, Villars would, surely, appear in the picture and, initially, I thought he was stood between Keith Pontin and Derek Showers. Speaking as someone who was a bit too young to really appreciate Greg Farrell's performance in the famous 5-3 relegation shoot out win over Middlesbrough in 1966, I've always thought that Villars produced possibly the greatest individual showing in an important game I've seen from a City player when he almost single handedly kept us up with his display against Palace in 1974 – there have been occasional votes for a Cardiff City cult hero and Villars doesn't even get a mention, but he was a truly mesmerising dribbler of the ball when he was on his game and he's my cult hero if no one else's!
Therefore, it's embarrassing to have to admit that I'm now 99% certain I was wrong about Villars in this picture and it's even more embarrassing to say that I'm fast coming around to the view that it is him who is sat between Gilo and Attley! As I hinted at originally, the second mystery man always struck me as being too big to be Tony Villars – if you study that front row, you would think the mystery man is as tall as Mike England and there's no way that is true of Villars.
However, if you then look at Tony Evans (who was five ten at the very most), he looks as tall as England as well. Richard Hoad made the point that how a player is sitting could affect how tall they look – e.g. Evans is sat up straight, while England is leaning further forward than anyone else. Therefore, the mystery man might not be the six foot two giant that I thought he was and, if so, him being Tony Villars becomes more likely as far as I'm concerned – that said, he still seems much more of a "solid citizen" than I remember Villars being (perhaps that may explain why he never really kicked on from his great end to 73/74 which saw him capped by Wales almost entirely on the back of his Palace showing).
The trouble with saying it's Villars between Gilo and Attley is that it creates a third mystery man between Pontin and Showers. but I believe Richard may have helped solve that one when he suggested that it was Gerry Byrne next to Sayer – the Scottish defender who played about fifteen times for the first team from 1977 to 1979 signed for City in April 1975, so he was at the club when the photo was taken, even though he had not played a first team match at the time.
Here is a photo taken some time in 1978 of the City squad (Jimmy Andrews was sacked in November 78)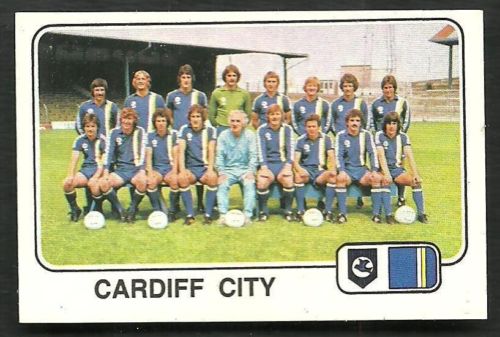 and it looks to me as if the player on the left of the front row is the same one who is stood between Showers and Pontin in the other photo. Gerry Byrne would definitely have been a first team squad member at the time of the second photo and I think it's a reasonable assumption to think that it's him sat next to Rod Thomas, so, for me, the third mystery man is Gerry Byrne – then again, he also looks quite like the bloke next to Sayer, but, whichever one he is, I'm now totally and utterly convinced that Byrne appears somewhere in the original picture!
Richard also mentions someone called Steve Wilson as a candidate – that name means nothing to me and I'm inclined to stick to my original opinion that it is Martin Morgan next to Sayer, solely because he had very likely played for the first team at the time of the photo, but it looks like I got a few things wrong originally and so I don't think my opinion counts for much on this subject!
Any more opinions and/or suggestions will be very welcome.
Nearly two years after this piece was updated, David Harries has been in touch and has suggested a new identity for the player between Pontin and Showers – he says that it looks like Martyn Morris who was originally from the Neath area and he has provided a couple of pictures which appear to back up his claim.
Here are the pictures David sent and he's put an arrow identifying Martyn – I must say it does look very like the mystery man to me – see what you think.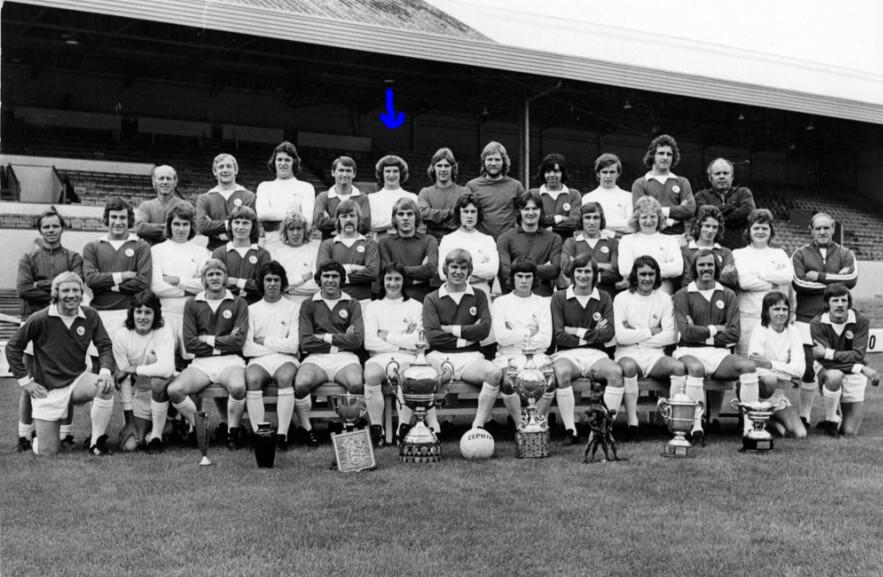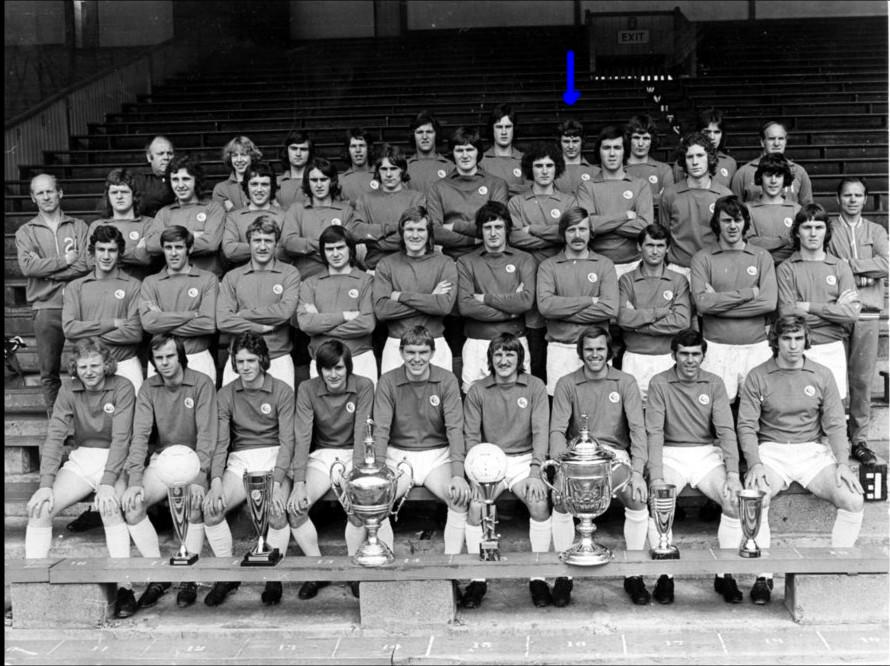 Looking at the second picture in particular, it certainly looks like the player we tried to identify nearly two years ago – got there in the end I think, thanks very much David!