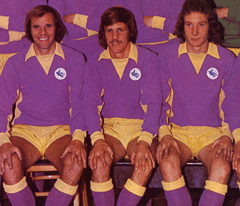 A poster on one of the City messageboards produced some very revealing stats after the Charlton defeat last weekend. Since November, City's results tallied almost exactly with where in the table their opponents were – teams in the bottom five were beaten, we tended to draw against sides placed from tenth to nineteenth and those above that always beat us.
The one exception to the rule was the Charlton match where the team in twelfth won 2-1 at Cardiff City Stadium in our last home match. Therefore, if anything, it could be argued that, by losing a game that should have been a draw,  City were not improving, as was being maintained by our manager and his dwindling band of supporters, they were getting worse.
What was being seized upon by Russell Slade as evidence of things getting better could be seen as simply a run of matches where we were facing sides from the mid table and lower table groupings as opposed to the spell through much of December and January where we always seemed to be beaten by a side in the top eight.
However, after yesterday's incredible 2-1 win at sixth placed Brentford, Slade has a result which he can point at and say his methods are working and that the changes he made to his squad in January have been effective ones that are leading to an improvement.
Our manager might well do that, but would he be justified in doing so? Well, my view is that he'd be stretching a point – yes, any team and manager that wins on the ground of a side chasing promotion deserves their fair share of praise, especially when they end the match with just nine men, but did City's performance really hit any great heights yesterday?
The match stats say no. After finally getting themselves a more than 50% share of the possession last weekend, it was back to normal against Brentford with the BBC match stats showing that City had the ball for just 33% of the time and the home side having three times as many goal attempts as we did with five of them being on target compared to our two.
Now, sporting contests don't always go the way of the team that dominates in the multitude of stats that are produced these days and sometimes the side on the wrong end of them can still fully deserve their victory – for example, I'm biased of course, but I thought Wales merited their win over Ireland in the Six Nations yesterday, despite a set of match stats that would have had you thinking the Irish had won if you looked at them without knowing the result.
Therefore, City could have ended up with the three points because, rather like Wales, they got things spot on tactically, but it seems to me that, on the balance of play and how the match panned out, it was one of those days when one side was just fated to beat the other. City could have been further behind at half time and virtually all of the good, technical, football was played by the home team.
As for the game representing a vindication of Slade's transfer dealings, the truth is that this was a triumph for the players already at the club before the winter cost cutting exercise. True, Alex Revell scored a very good winner, but all three of the January signings in the starting line up (Stuart O'Keefe, Scott Malone and Eoin Doyle were all unused subs, while Conor McAleny, along with Matt Connolly, was, presumably out with an injury) failed to last the ninety minutes – Matt Kennedy was withdrawn for Kadeem Harris at half time, Revell was replaced by Kenwyne Jones for the last quarter of an hour and Lee Peltier was an early injury victim as Joe Ralls was brought on after just twelve minutes.
Therefore, with so many of his January recruits not involved, I'd say that yesterday's win asked questions about them as opposed to vindicating them or the manager who signed them.
City, it could be argued, just got lucky yesterday. However, while there was little or no evidence of an improvement in terms of quality of football, it would be churlish and wrong not to recognise the spirit and attitude shown by the players, especially in the second half.
Inevitably, when managers come under the sort of criticism Russell Slade has received in recent months, you hear claims that he has "lost the dressing room". This has been the mantra from some over the past few weeks, but, to be honest, I've never seen much evidence of it myself. One of the frustrations for me as one anaemic performance followed another through much of the winter was that, although there were one or two individual exceptions to this rule at times, the team were probably giving of their best – this very expensively assembled group of footballers didn't have another level they could go to if someone they respected was in charge.
On a similar tack, there are those who give the impression that anything positive that happens on the pitch with City these days is down to the newly appointed Head Coach Paul Trollope and anything bad is the responsibility of the manager – to me, that's just plain unfair. I'll concede that there have been improvements in the general level of performance since Trollope came on board, but to refuse to credit Russell Slade at all for the way his side scrapped and threw bodies on the line once they had a lead to defend yesterday, just seems petty to me.
If, after five months, we are still awaiting any signs that Russell Slade will be able to eventually put together a squad with sufficient quality to challenge at the top of the the table, there are at least a few indications that he has a group of players that will fight for their manager and, in this division in particular, any team that doesn't have that quality are in deep trouble.
So, at the thirty seventh time of asking, this season has finally produced a league game that supporters will recall with affection in decades to come – beating Brentford on their own patch may not be our best win of the campaign so far (the 1-0 win at Vicarage Road against the team currently in second place out rates in my view), but it has to be the most memorable.
Of course, the reason for this is that we had two players shown a red card. So, Brentford in March 2015 will join Cambridge United in December 1999, when we escaped with a 0-0 draw despite David Elleray sending off Russell Perrett, Craig Middleton and Lee Phillips, and Leeds United in February 2007, when the man widely regarded as the best ref in the country currently, Mark Clattenburg, had an absolute mare as he dismissed Michael Chopra (the scorer of the game's only goal) and Simon Walton, in being remembered as a heroic, against the odds, Cardiff City performance.
In charge yesterday was Andy Davies who is a new name to me – he's only been officiating at league level for three years and yesterday was the first time he has done a City game. I'm not sure we'll want him back for another one any time soon  - his record so far shows that he certainly likes showing a yellow card (he has failed to produce one in only one out of the sixty or so games he's reffed at so far) and yet, despite Brentford committing fourteen fouls to our seventeen, he failed to show one to the home side.
On the other hand, four yellows were shown to Cardiff players and there was also a straight red card for Kadeem Harris, who is, possibly, the last player on our staff I'd nominate as a candidate to receive one. Brentford manager Mark Warburton conceded that Harris might have been hard done by in his post match press conference, but, although I've only seen it the once, I could understand why the red was shown because it did look a bit as if Harris lunged into the tackle with studs showing. I'm not sure Federico Macheda deserved his second yellow though – again after just one the one viewing, a free kick for a foot up seemed sufficient punishment for me.
For the first time in just over two years, City have won three successive away matches and you also have to go back to our Championship winning season for the last time we were unbeaten in five games on our travels. When you think back to what our away form was like when Russell Slade took over back in the autumn, this is one area in which it has to be accepted that he has brought about an improvement. The trouble for our manager is that, whereas we had just embarked on a run of five consecutive home wins when he took over, City have now won just one of our last nine league games at Cardiff City Stadium, with five of the them being lost.
If top of the table Bournemouth (scorers of nine goals in their last two matches) were sent packing on Tuesday night, then critics like me would find it much tougher to be somewhat dismissive of yesterday's result. I'd still make an away win the most likely result, but there's not been one game in the last four months in particular that would have done more to build some confidence within the ranks than yesterday's – I'm sure I wasn't the only supporter who was very pleasantly surprised by yesterday's outcome and, all of a sudden, a win over the league leaders does not quite look to be the impossibility I thought it was.
* pictures courtesy of http://www.walesonline.co.uk/