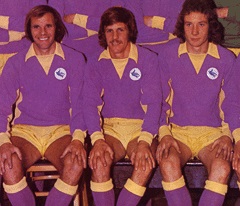 The most important thing about the Development Team's 2-1 loss to Hull at Cardiff City Stadium last night has to be that summer signing from Hearts, Callum Paterson played for the first time in over nine months after he sustained a serious knee ligament injury in a game against Kilmarnock on 27 December.
Paterson was one of Neil Warnock's earliest summer signings and his injury has meant that he has been something of a forgotten man as the team have shot to the top of the Championship on the back of a record breaking five consecutive wins to start the season off.
However, despite all of the excitement caused by the likes of Nathaniel Mendez-Laing and Loic Damour in the first month of the campaign, I think it's fair to say that many observers would think the capture of Paterson on a three year contract for just a compensation fee of £450,000 may represent our manager's best bit of business, provided he can make a full recovery from his injury.
Paterson took his first, very tentative, steps towards that recovery in terms of match fitness last night. Frankly, if he had played like he did in his forty five minute outing and been fully fit, I would have rated his performance at something like four out of ten, but the object of the exercise was to come through his first game back unscathed – Warnock spoke of Paterson needing two or three outings with the Development team before he can be considered for the first team and so reasoned that he wouldn't be seen at senior level until after next month's international break.
Based on everything I've seen, heard and read about him, it's easy to see why our manager likes Paterson, he's big, strong, mobile and gets up and down the right hand side while also being a danger from set pieces – last night, the most impressive part of his game was his ability to hit the occasional clever pass, but he was largely off the pace, pretty immobile and lost the ball carelessly at times.
However, this is someone who was interesting Premier League clubs before his injury, someone who was looking like becoming Scotland's first choice right back and someone, who was, universally, praised by Hearts fans as they thanked him for his service to their club on the messageboard I read – as long as there is no lasting issues with his injury, I'm sure Patterson will be fine and become an important member of the first team squad in time.
City also had some other new faces in their squad, Ciaron Brown was one of the three centrebacks they started the game with and Jahvan Davidson-Miller (who may well have been the trialist who scored an impressive goal in the team's 2-1 win at Huddersfield last week) was up front, while Thomas Gaydu was on the bench.
Brown was all at sea in the first half, but then, to be fair to him, so were his nine outfield team mates, most of whom had the supposed advantage of having played and trained together for the past few years.
I'll be critical of first teamers on here when I think they deserve it, because they are grown men who should be used to criticism whether it be constructive or otherwise, but I try not to be too harsh on the younger lads who face a big enough challenge already as they try to become one of the seemingly ever shrinking number of youngsters on the club's books who go on to play first team football.
However, City were woeful in the first half last night as a Hull side that had just a single draw to show from their first four games were quicker, stronger, more committed and better on the ball than us. Hull were winning all of the fifty/fifty balls (and quite a few of the 40/60 ones as well) and scored twice through Tom Powell on ten minutes, when his shot got a touch off the unfortunate Brown which sent it over the diving Oliver Byrne and into the net.
City's defence was all over the shop then and they were at fault again on thirty four minutes when it looked to me as if three defenders all went for the same ball and only succeeded in setting things up beautifully for Tyler Hamilton who side footed home from ten yards out with the minimum of fuss.
There could have been more Hull goals as City reached the break grateful to be only two down. The club's Twitter feed says Hull keeper Callum Burton "makes a good save to deny City an equaliser" in the fourteenth minute, but I'm damned if I can remember it – the person I was watching the game with and I were agreed at half time that Callum Paterson was still waiting to see a Cardiff City player have a goal attempt of any description in his playing career with the club so far!
The whole forty five minutes had me thinking of what the scene in the dressing room before the game might have been like. What I reckon may have happened is that, as the team were about to go onto the field after hearing the manager/coach's rousing pre game battle cry, the script went something like this;-
Manager/coach; "by the way lads, we're going three at the back with wing backs tonight, not the usual back four"
Captain (Jamie Veale); "You what? Who's in the back three then?"
Manager/coach; "You (Tyronne Duffus), you (Connor Young) and you (Ciaron Brown). You (Callum Paterson) can play right wing back and you (Cameron Coxe) are the left wing back – you'll soon figure out what's needed yourselves.
Puzzled specialist left back (Rhys Abrruzzese); "What about me? Where do you want me to play?"
Manager/coach; "Oh, I forgot about you. Hang on…………………. I know, you just stand in front of the back three and then run about a bit every now and then – you'll be fine."
However, even in the very unlikely event of the above representing something like the truth, you'd like to think that a group of players with the talent to be awarded contracts of some sort by Football League clubs would make a better fist of things than the City team did last night.
Paterson was only ever going to play the one half, so there was always going to be at least one change at half time, but there was a second one made at the break as well. Connor Young had needed treatment on an injury just before half time and so that was probably the cause of his withdrawal, but it said so much about how the three at the back system had fared that, rather than bring on a like for like replacement in Jack Bodenham, Ryan Reynolds came on to bolster the midfield as Coxe switched to right back and Abbruzzese to the position he is far more comfortable in.
Reynolds is a new arrival at the club after his release by Everton at the end of last season and was a member of the Welsh Under 19 squad that recently lost a couple of friendly games with Iceland and, with another member of that squad, Sion Spence, on for Paterson, in what looked more like a 4-4-2/4-4-1-1 type formation, City proceeded to give a far better account of themselves in the second half.
After seeing a possible first team debut on the final day of last season blocked by some form of red tape, Spence has been mysteriously absent from Development Team action this season until last night and you have to wonder about the wisdom of such thinking because, straight away, he and Reynolds helped introduce a sense of purpose and urgency that had been almost entirely absent beforehand.
Hull were being pushed back now, but it had got to about the hour mark before the City had a goal attempt worthy of the name as Burton dealt well with a testing free kick from Veale from about twenty five yards out. Davidson-Miller, who looked useful and worth another look at, then forced the keeper to turn his shot from the edge of the penalty area aside after a sharp turn created some space for himself, but his header from a fine Coxe cross was less impressive as City's best chance up to then went a begging.
Hull then had a ten minute period where they settled down as City began to look like a side that had accepted their fate, but, then, with just under ten minutes left, some lovely work down the right by Spence got the reward it deserved when his low cross to Mark Harris was fired high into the net past a helpless Burton from about twelve yards out.
Spence wasn't too far wide a couple of minutes later after City had patiently probed for an opening with some intelligent passing, but the closest they came to levelling things was when Davidson-Miller set up Harris for a well struck fifteen yard shot which, unfortunately, was too close to Burton.
City's much improved second half had deserved some reward, but, given the extent of Hull's first half dominance, the final score probably represented a fair outcome.
Strangely, Ciaron Brown revealed an ability to bring the ball our from the back and pass it quite well when he was in a centreback pairing that wasn't there when he was one of three at the back – he also looked more assured in his general defensive work when in a back four. As for poor Thomas Gaydu, I can't tell you anything about him – bafflingly, the third trialist was an unused sub!