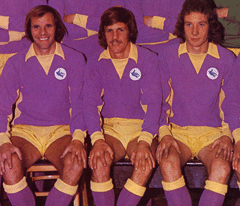 Malcolm Clarke and Brian Myton are a pair of pretty obscure footballers. They played in the late sixties and early seventies and if you Googled their names you would find very little about either of them (neither warrant an entry in Wikipedia). They came up against each other in a Cardiff City v Middlesbrough match in September 1968 at Ninian Park though which for one of them signalled the beginning of the end of his time at a club where his career had been developing very nicely and for the other gave him an unwanted, permanent, place in Football League record books.
If he was playing now, I daresay Malcolm Clarke would be described as a holding midfield player. He moved from his native Scotland to sign for Leicester City in 1965 at the age of 21, but was released by them two years later having just made the one substitutes appearance in the first team. Jimmy Scoular brought him to Cardiff and, within a month of the 1967/68 season starting, Clarke made his City debut and had soon established himself in the side. That season was, without doubt, the high spot of Clarke's career – he featured in fifty one matches, starting forty nine of them, and played a prominent part in the amazing run to the Semi Finals of the European Cup Winners Cup where he was a starter in eight out of the nine games City played in the competition that year.
Injury kept Clarke out of the first two matches of the 1968/69 season which began disastrously with 4-0 and 1-0 home defeats by Crystal Palace and Charlton respectively and matters didn't improve immediately when he got his place back for the trip to Norwich which left City at the bottom of the table without a point after a 3-1 loss. Things quickly got better after that low point though as a 3-3 draw at Bury was followed by wins over Preston, Birmingham and Portsmouth which meant that City went into the Middlesbrough match looking for a fourth consecutive league win for the first time since the 1960/61 promotion campaign.
My memory of Clarke is of a fit, hard working and hard tackling player who had some ability on the ball, while his five goals during the 67/68 campaign wasn't a bad return at all considering that his role in the team was, mainly, a defensive one. With City going so well after an awful start which he had barely featured in, I would guess that Clarke's stock at Cardiff was as high as at any time during the past year, which had seen his career take a significant step forward, but, sadly, it was to be downhill all of the way after his run in with Mr Myton.
If Malcolm Clarke began the game as a first team regular, the same certainly didn't apply to Brian Myton a teenage left back from York who was making his league debut in a Middlesbrough team that was establishing itself as one of the old Second Division's stronger outfits around that time. If Myton had been told beforehand that he would end up doing something that no one else had done on a first appearance before, I should think he would have looked on that as positive news – in fact it was anything but.
An unremarkable match was going nowhere at 0-0 when, as I remember it, Myton fouled Clarke, the City player retaliated and suddenly the two players were trying to hit seven bells out of each other. Back in the days of Ron "Chopper" Harris and Norman "bites your legs" Hunter, it took a lot more for a referee to dismiss a player than it does now, but it was pretty obvious that Clarke and Myton were in for an early bath after what I would say only has the Don Murray/Jimmy McLaughlin episode in a City v Swansea Welsh Cup match a couple of years earlier to rival it as the biggest punch up between two players I have seen at a Cardiff game.
Myton had achieved the notoriety of becoming the first player to be sent off on debut in the Football League's history (with the much less tolerant attitude of today's officials, it is a fairly common occurrence these days with Lee Hendrie, probably, being the most high profile player to earn the dubious distinction), but, on the face of it, losing a raw teenager would have less of an effect on Middlesbrough than the loss of a regular starter would have on City. However, this did not prove to be the case as the team grew stronger and took command, finally going ahead late on when visiting centre half Bill Gates diverted a cross into his own net.
Brian Clark followed this up pretty quickly with a headed second and in the end, City earned a victory which did not look on when it was eleven against eleven. The 2-0 win lifted us up to sixth in the table and set up the first promotion challenge I had seen from a City side since I started following them five years earlier – a great run from late October to mid March saw us get as high as second with seven matches to play, but a return of just one win and two draws from these games saw us fade away to finish in what was still a creditable fifth place.
Malcolm Clarke played little or no part in our, relative, success though – he kept his place for the next match (a 3-0 loss at Huddersfield), but then had to serve a suspension which gave Mel Sutton a place in the team that he would not give up until he was, surprisingly, sold to Wrexham in 1972. Clarke played in just two more games for City (both of which were lost) and was given a free transfer the following summer when he made the short trip to Bristol City. He made just the three appearances for them though and, after a season at Hartlepool, left the game in 1971.
Mind you, Clarke's career doesn't sound that bad when compared to Myton's because at least he had that one good season with us. Myton only tasted victory the once in his twelve appearances for Middlesbrough (against us as it turns out!) and, apparently, on the rare occasions he did play at Ayresome Park, news of his selection was greeted with an audible groan from the home support. After being released by Middlesbrough, there was a short spell at Southend for Myton before he dropped out of football to play for Kettering for a few seasons – I bet he keeps his grandkids entertained for hours with tales of his career in football!
7 September 1968
Cardiff City 2 (Gates O.G., Clark) Middlesbrough 0
City Davies; Coldrick, Murray, Harris, Derrett; Jones, Clarke, King Bell; Clark (1), Toshack; Sub (not used) Phillips
Middlesbrough Whigham, Smith Jones; Gates Rooks Myton; Kear McMordie Hickton Horsfield Lugg.
HT 0-0
Att. 14,225