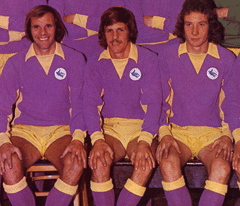 It was no secret that Brian Clark had not been well for some time, but to learn yesterday of his death on Monday evening came as a great shock – 67 is no age these days, but now Brian joins Brian Harris and Ronnie Bird as members of the City team which I remember with most affection who are no longer with us.
Brian joined us in February 1968 for a fee of just £8,000 from Huddersfield having started his career at Bristol City (where his father still holds the record for the most goals scored in a single season) and immediately started paying that modest fee off with a couple of goals on his debut as Derby were beaten 4-3 at the old Baseball Ground. After that, he played a leading role in transforming City into one of the best teams in the old Second Division not just through his goals (in the four full seasons he played for us he scored more than twenty goals in all competitions three times and nineteen in the other one), but by being a team player par excellence (John Toshack paid an emotional tribute to Clark yesterday in which he praised his footballing generosity).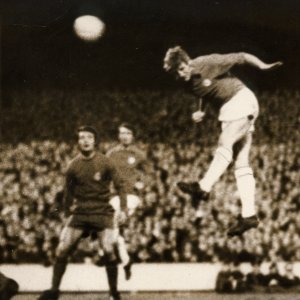 Of course, everyone remembers the goal against Real Madrid, but a special memory of Brian for me was his remarkable goal against Millwall at Ninian Park in December 1968 (if you were there you will never forget it!). There were so many other goals to remember of course and the mind's eye has me recalling headed combinations between Toshack and Clark which ended up with one of them putting the ball in the net. However, I think the fact that Clark came up with twenty one league goals in the 1971/72 season, when City fought a season long relegation battle against a backdrop of supporter's unrest at the sale of Toshack during the previous campaign, shows that he was not just John Toshacks "straight man" if you will. Brian Clark was a substantial footballer in his right – there might not have been anything fancy or spectacular to his game, but he was a craftsman who knew the art of centre forward play inside out.
Much more than that though, Brian just appears to have been a very nice human being who nobody seems to have had a bad word for. At the time he signed for us, our local derbies were against Bristol City and, when you consider the problems one or two ex Swansea players have had when they signed for Cardiff, it could have been a bit awkward for a Bristolian who had played for our rivals to be accepted at Ninian Park. It was never an issue with Brian Clark though and it was a testimony as to how well he settled in this area that he didn't leave it for the rest of his life despite living less than an hour away from his birthplace. I think I am right in saying that Brian was only booked once in his whole career and, in this case, it would seem that a player's disciplinary record on the pitch offered a real clue as to the type of person he was off it.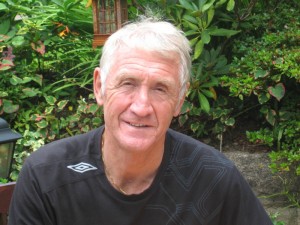 Some supporters want to get to know our players off the pitch, but, if anything, I have always gone the opposite way. I have tended to be someone who thinks that the people who turn out for City should be given some space and left to live their own lives, but, if I am being honest with myself, the real reason I'm happy to just watch our players perform on the pitch is because I think I might well have my illusions shattered if I got to know them any better. The strange thing is though that the two City players I did get to know quite well off the pitch (Colin Baker and Ronnie Bird) were both very nice men who were completely unaffected by their time in the game – I can't help thinking that if, in addition to those two, I had met up with Brian Clark as well a few times down the years, I would have well and truly been shown the error of my ways!
Thanks for some fantastic memories Brian and my condolences go out to your family and friends.