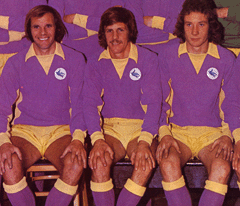 Ten years ago City and Reading were amongst the teams fighting to stay in what is now called League One. City, under the chairmanship of Steve Borley were probably spending more in the transfer market then they should because, essentially, the club was skint (as usual!). However, the consortium put together by David Sullivan's brother Clive was offering short lived hope that better days were on the way – within a month the planned takeover had collapsed though and City then began the process that would see Sam Hammam take over at the club during the following summer.
Reading, on the other hand, had their sugar daddy already in place in the form of John Madejski and they had moved into the stadium named after their Chairman a year earlier. Whereas the City team had cost very little in transfer fees, Reading had a side that had been very expensively assembled by the standards of what I still call the third division and so it was obvious that there was going to be discontent in the Boardroom and amongst supporters at the team's wretched form – indeed, their supporters expressed their disappointment by holding a "pants day" at a home game shortly before they came to Ninian Park in which spectators waved items of underwear at the team to show their displeasure at the way their season was going!
Going into the game, Reading occupied the last of the relegation places with City one place and one point above them, but, with us having played a game more, there was, in reality, very little to choose between the teams.  Therefore, there was never going to be much Christmas cheer out on the pitch in a game that already had the look of a relegation six pointer about it. The pressure of the occasion showed during a disjointed first half which saw plenty of endeavour but very little in the way of entertainment or skill. However, as the half progressed, there were signs that City were beginning to get on top and they came very close to breaking the deadlock when recently signed German player Jon Schwinkendorf went on a fine solo run which took him past several opposing defenders and ended with a shot which beat keeper Howie but cannoned back off the upright.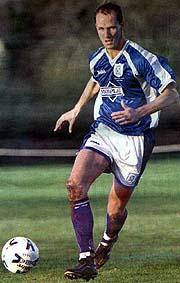 Schwinkendorf's close miss was soon overtaken as the main half time talking point though by an incident which ended the playing career of Reading's ex Manchester United centreback Chris Casper. The visiting player, who was being used in midfield that day, went into a tackle with City midfielder Richard Carpenter and it was immediately obvious that he was in serious trouble. From my vantage point in the back seats of the Grandstand on the Canton Stand side of the ground, I have to say that it looked like a really bad challenge by Carpenter and I was surprised that the referee only gave the City player a yellow card for it.
It later emerged that Casper had broken his leg in two places and, although he attempted to resume his playing career, he eventually had to announce his retirement a couple of years later. The matter didn't end there though and Casper sued both City and Carpenter for loss of earnings with the matter being settled out of court as he received an undisclosed amount in compensation.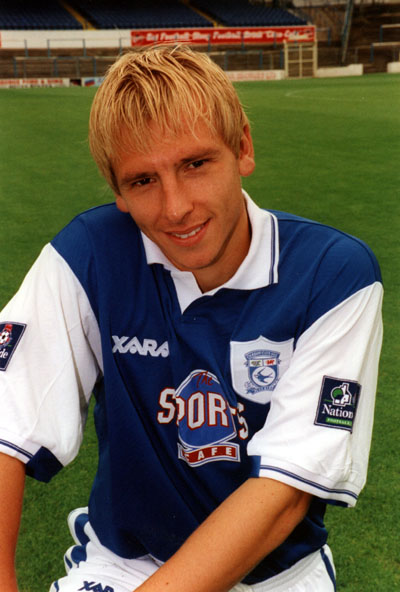 The second half saw City continuing to look the more likely team to break the deadlock, but with only two wins to their name so far from ten home league matches, it was starting to look like they would have to settle for a seventh home draw of the campaign. Reading, with just a win and a draw to show from their previous nine away games were there for the taking, but a common theme of the first half of that season was City's inability to capitalise when they had their opponents on the ropes.
Because of this, I think it is true to say that City's goal when it arrived came as something of a surprise to supporters who had grown used to watching similar types of games over the previous few months. However, this time at least. City were able to make their superiority count as Kevin Nugent glanced in a near post header from a corner on seventy five minutes.
City saw out the game with few alarms after that and when they followed this win up two days later with a heroic 0-0 draw at Cambridge United in which they had three players red carded, there were hopes that they had made a decisive break clear of the bottom four. Instead though, a decline set out in (perhaps brought on by the collapse of the proposed take over?) and, it was to be another thirteen matches before we won again with a 3-1 home defeat by Luton ending Frank Burrows' reign as manager with the new millennium less than a month old.
For Reading on the other hand, the defeat at Cardiff represented something of a turning point and they were only to lose another five matches as they pulled well clear of trouble to finish in tenth place. One of those defeats came in the return match at the Madejski Stadium when Jason Bowen's goal secured a victory which raised hopes that the drop could be avoided. However, a miserable total of five home victories for the whole campaign tells it's own story and relegation became inevitable as far as I was concerned after a woeful 4-0 defeat by one of our rivals at the bottom in Cambridge United with almost a month of the season left.
It wasn't until a 4-1 defeat at Gillingham four games and almost three weeks later that we were officially returned to the basement after leaving it only a year earlier, but the doom and gloom was wiped away within months as the whirlwind that was Sam Hammam blew through the club – but that's another story!
26 December 1999
City 1 Reading 0
City Hallworth; Perrett, Eckhardt, Fowler; Faerber, Middleton, Carpenter, Schwinkendorf, Low; Nugent (1), Humphries (Earnshaw)
Reading Howie; Gurney, Primus, Hunter , Robinson; Smith (Evers), Casper (Brayson), Caskey, Potter; Williams, Scott
H.T. 0-0
Att. 9,791