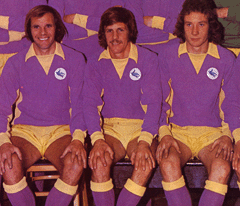 Tomorrow's match will be between two teams who have ambitions of playing Premiership football next season and, with almost a third of the forty six game league campaign completed, such lofty hopes certainly cannot be dismissed as pie in the sky for either of them, but there have been times when Cardiff v Swansea matches were rather less grandiose an occasion!
Take Boxing Day 1985/86 for example when it was only the once mighty Wolverhampton Wanderers that were keeping us and the jacks off the bottom of the old Third Division as twenty second placed City took on twenty third placed Swansea.
Mind you, it was something of an achievement that Swansea were able to fulfil the fixture at all because in the days leading up to Christmas the general feeling was that the game would have to be called off. Now I know that most stories regarding football club's financial problems tend to paint a very gloomy picture as all sorts of disasters are predicted before the club, somehow, cobbles together a "rescue package" of some sort, but, in this instance, there really were grounds for thinking the jacks were on their last legs.
On 20 December Judge Harman had granted a winding up order against Swansea in respect of an unpaid tax bill of £106,000 and this decision had huge repercussions for the club as the following day's home match with Walsall was immediately called off and all club employees (including manager John Bond and his coaching staff) were sacked with the thirty four players at the club all having their contracts temporarily taken over by the Football League. Swansea were put in the hands of the Official Receiver as the club's board stood down but the former directors were looking to organise a reprieve through a share issue in a new company as veteran winger Tommy Hutchinson was appointed as Player Manager.
Survival as a football club took priority over survival in the Third Division at Swansea, and although the former was eventually achieved (they almost went to the wall again in subsequent years though), the latter was never realistic and they were to finish the campaign at the bottom of the table.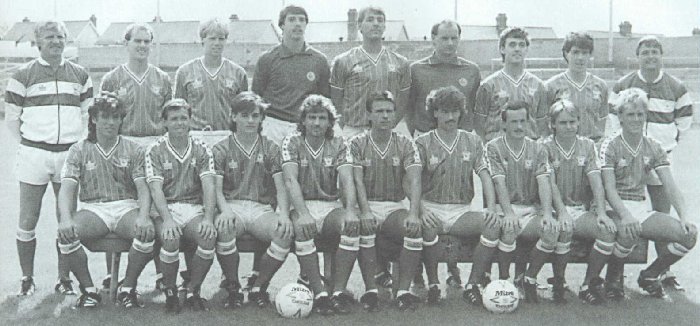 However, there was no reason for City fans to gloat at Swansea's plight that Boxing Day. True, we weren't in as bad a mess as they were, but it was all relative – at that time, City were at as low an ebb on and off the pitch as they had been since I started watching them. Off the pitch, the club were paying for the fact that owners Kenton Utilities appeared to have little or no interest in the football club once former Chairman Bob Grogan had stood down through ill health in 1983 and, even if they were in a position to provide some sort of financial assistance, none was forthcoming to any of the variety of City managers we had during the period 1983/87.
What City got instead was former Olympic sprinter Ron Jones who was hired as Managing Director in the early eighties. Mr Jones' brief was to handle the club's finances and, although it has to be stated that this was a thankless task, City fans could be forgiven for believing that he was employed purely to pour cold water on any optimistic feelings you may start harbouring about your club – on the, very rare, occasions that City put a winning run together and you started to think we might be on the brink of something, there was Ron Jones to remind you that the "something" in question was administration!
That said, there was never much happening on the field in 85/86 to get you too excited. Under the dead hand of Alan Durban, City started the campaign with victories in their first two away matches, but defeat by Chesterfield in their first home game was a truer sign of what was to come as the team went on a run of results which I would guess is as poor as any in their history.
From 31 August when eventual Champions Reading won 3-1 at Ninian Park to 23 November when they were beaten 2-1 at Bristol Rovers, City got one win and two draws from sixteen matches. Included in that was a run of six games where they didn't even score a goal and so, hardly surprisingly, City went into December at the foot of the table as Durban's rag tag collection of Swansea and Shrewsbury rejects, limited youngsters and over the hill journeymen tottered from one defeat to the next.
From somewhere though, City had conjured up four goal away wins at Lincoln and Chesterfield (they were also draw their next game on their travels 4-4 at Plymouth!), so despite an appalling home record which had seen them win just the once (against Wigan) in the league at Ninian Park, there were more grounds for optimism than normal during this period about against opponents who were just as bad as us!
I'll be honest and say that I remember next to nothing about the game that day and that's got absolutely nothing to do with me having over indulged in the Christmas spirit the day before! The match was won by a second half goal from Nigel Vaughan which I have a vague memory of having been scored from close range when he reached the ball just before keeper Mike Hughes, but I might well be wrong in that and am confusing it with another goal Vaughan scored against different opponents.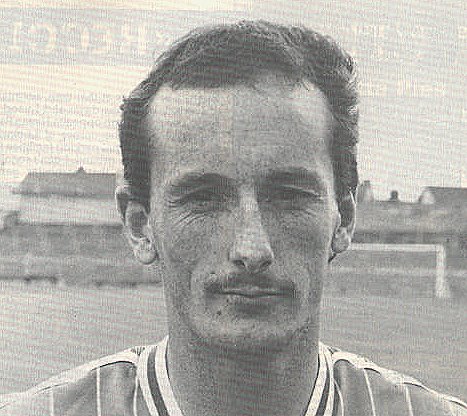 Actually, I thought Vaughan was our best player by some distance at that time. After arriving at Ninian Park in September 1983, Vaughan's ability to make late runs into the penalty area got him a total twenty six goals in his first two full seasons with us which was a remarkable achievement for a midfield player in such poor sides. Unfortunately though, he spent most of the following season in dispute with the club over a new contract with the result that he was only on a deal which saw him paid by the week and his form tailed off a bit as he found himself used as a right back before eventually signing for Wolverhampton Wanderers for £12,000 in August 1987.
City's win took them to twenty first in the table and they got as high as nineteenth by winning once and drawing three times in their next four matches. However, another awful run then followed as just two wins from fifteen  games (Swansea gained revenge for their loss by winning the return match at the Vetch 2-0 during this period) meant that relegation was virtually assured before three victories in their last four matches enabled them to at least finish above Wolves and the jacks as the three of them accompanied Lincoln into the Fourth Division.
The 1986/87 season was to be City's first in the old Fourth Division, but supporters got used to life in the basement over the next fifteen years. Having "guided" us to successive relegations, Alan Durban finally resigned as we replaced  the man who, despite plenty of competition, I rate as the worst manager I have seen at the club with one that I place amongst the best we have had in Frank Burrows and, although we were still crap most of the time, watching Cardiff City began to become a slightly more pleasurable experience.
To finish on a poignant note, two days after beating Swansea we drew 1-1 at Ninian Park against Newport County in a game which attracted another "bumper" crowd – the 7,450 present for the County game meant that nearly 17,000 had passed through the turnstiles over the Christmas period (surely even Ron Jones would have been able to raise a smile at that!). With Wrexham already in the Fourth Division, relegation for City and the jacks meant that County (who finished five points clear of the drop in nineteenth place) were the number one club in Wales just two years before their relegation from the Football League and within less than three years, they had ceased to exist – whereas there was a survival instinct at Swansea which saw them come through the 85/86 campaign intact, it was different at Newport where at times you had to question whether the locals had any affinity with their football team at all.
26 December 1985
Cardiff City 1 Swansea City 0
City Smelt; Curtis, Stevenson, Mullen, Giles; Christie, Ford, Vaughan (1), Micaleff; Turner, Farrington; sub (not used) Wheeler
Jacks Hughes; Hough, Price, Melville, Harrison, Sullivan (McCarthy); McHale, Davies, Hutchinson; Waddle, Gibbins
HT 0-0
Att. 9,375