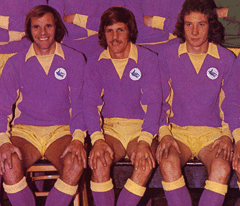 This day last year was a truly depressing one if you were a Cardiff City fan. The writing was on the wall when City were unable to capitalise on a fast start against Ipswich as Ross McCormack missed a penalty for the second successive Saturday and the team collapsed once the visitors went ahead to the extent that, for much of the second half, what should have been a joyful farewell to Ninian Park turned into something of a wake as home supporters looked on in disbelief as the energy, belief and ability almost visibly drained out a team that had been so good for so much of the season.
I wasn't in the mood to stay after Ipswich's easy 3-0 win for the after match "celebration" which the club laid on to mark the closing of our ground, but those who did told of a tacky, all expenses spared affair which the club later admitted they had got wrong. Still, Preston would surely not get the win they needed at Premiership bound Birmingham would they and, although it wouldn't have been in the way all at Cardiff City would have wanted, the Ipswich debacle could be forgotten in a few hours because we would be in the end of season Play Offs. That's how it looked for more than ninety minutes at St. Andrews but then a last minute goal for Preston meant that they could still overhaul us – from the moment Ross Wallace's free kick hit the back of the net, I "just knew" we weren't going to finish in the top six.
A year on and we made the same bright start – there was no missed penalty this time, but, just like last year, the visiting keeper was defying us and then we fell behind, but the contrast in the way the respective City teams reacted after that could not be more marked. It used to be presented as unarguable fact that, firstly, we always ended seasons knackered and out of form and, secondly, we barely ever won after conceding the first goal, but in the ten match unbeaten run which has ensured that we are going to finish in a higher position and with more points than last year's side, such thinking has been consigned to the dustbin. Yesterday, it was the Sheffield Wednesday players who wilted in the sun and, most tellingly, whereas my reaction to going a goal down a couple of months ago would have been"well we're not going to win now", my thoughts yesterday were along the lines of "there's still plenty of time for us to win this game" – when you have won after conceding first twice within the past few weeks, it certainly changes your perspective!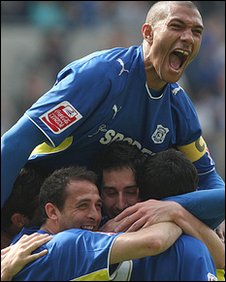 It helps as well of course to have someone in your side who is as good as Peter Whittingham from dead ball situations. Although I rate Lee Grant as one of the better keepers in the Championship, he didn't have the best of games yesterday and some Wednesday fans are blaming him for all three goals, but I think that is a harsh judgement because when he is given an opportunity in a central position about twenty yards out like that, Whittingham is capable of putting his shot in all sorts of areas because the goal looks pretty big to him from that range – in some ways, it was almost like facing a penalty for Grant, although the wall protected some of the goal, Whittingham is good enough to still put his shot either side of the keeper and so it was difficult for Grant to commit fully in one direction as quickly as he normally would.
It was fitting that Whittingham got to twenty league goals for the campaign with such a fine finish and, hopefully, he can keep hold off Gary Hooper and Nicky Maynard to finish as top Championship scorer in the regular season, but, even if he doesn't, his goals alongside the numerous assists he has provided, as well as an improved work rate, means that it has been an outstanding campaign for a player I would gladly have seen us cash in on last summer.
For me, Whittingham is one of four genuine candidates for our Player of the Season. If one of those four, Chris Burke, took something of a back seat yesterday, then the other two teamed up to provide the goal early in the second half which put us ahead. Steve McPhail could be forgiven if his performances this season had been effected by the devastating illness that afflicted him, but, both before and after his cancer diagnosis, he has been showing his best form in a City shirt since the 06/07 campaign and our record in games he has played is very revealing when compared to how we have done in the matches he has missed;
with McPhail
P     21     W     14     D     5     L     2     f     42     a     20     Pts     47
without McPhail
P     24     W     8     D     5     L     11     f     31     a     32     Pts     29
McPhail's lovely long pass to Jay Bothroyd was the stand out feature in a calm and composed display which helped him and an impressive Joe Ledley win the central midfield battle (there was also an encouraging half an hour from Aaron Wildig as well). When you look at our record when he plays and the way McPhail holds everything together in the middle of the park, it is tempting to say that he has become our most important player, but I think most City fans would come up with a different answer if asked that question.
Although he was helped by a goalkeeper who got his angles wrong, Jay Bothroyd's superb first touch was what made his first goal and then when you saw the run and shot which led to his match winner (again helped by a keeper who maybe should have done better) it confirmed that this is a player who has far more to his game than the "target man" he described himself as being last week. Target men in the Championship tend to be strong, good in the air and can be good finishers. Bothroyd has all of that, but is also one of the best technical players at the club, is surprisingly quick and mobile when he wants to be, can hit some tremendous shots from distance with his left foot and has good vision – potentially he is a matchwinner for us in the Play Offs.
In saying all of that about McPhail and Bothroyd's displays yesterday, I think it also needs to be acknowledged that they were helped along their way by an opposing team who offered up what was a complete contrast to what  you would expect from a side who were looking down the barrel at relegation. Instead of the normal in your face aggression and commitment that you would expect from a team in their position, Wednesday very much gave the impression that they had come to take us on by playing football and, with the backing of what I thought was the most impressive visiting support seen at the Cardiff City Stadium so far, they certainly caused us more defensive problems than the three higher placed sides we kept clean sheets against recently did.
However, Wednesday's approach often left their back four without the midfield protection that so many teams to have visited our new stadium have had and it was always on the cards that our recent relative goal drought would end because on, a one to one basis,  so many of our attacking players are better than the defenders they face week in, week out. Therefore, although Wednesday fans may think differently, I believe that we deserved our win purely on the number of scoring opportunities we had – the one criticism I would have about yesterday was that we became a little self indulgent and were not precise enough with the multitude of chances we had at 2-1 and 3-2 up.
In one of those ironies that football never ceases to provide, the manager whose team hammered us 6-0 just over a year ago to start the slump which ended up with Preston pipping us for that last Play Off spot  is now the one who looks to be taking Sheffield Wednesday into the lower divisions –  I thought Alan Irvine had a raw deal at Preston, but, so far at least, his approach isn't working at Hillsborough and I think they are going down. When a side hits the inside of the post in added time and the ball somehow bounces to safety, when they also hit the upright earlier in the game and, most tellingly, twice concede within a couple of minutes of scoring, then they have the look of a relegation outfit about them – I hope I am wrong because a club like Sheffield Wednesday should be in the Championship (at least), but I fear it's visits to the likes of Rochdale, Bournemouth and Brentford next season for them.