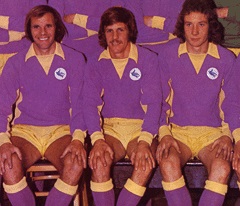 Last weekend it was Cardiff City who had to play after the rest of the Championship had completed their latest fixture at least a day earlier than them. They responded with a 2-0 win at Nottingham Forest which sent out yet another signal to their rivals that this team, which had been rated as mid table also rans by the bookies before a ball was kicked, appeared to have enough about them to maintain their Play Off push until the end of the season. Indeed, on results up to then, an independent observer would have to conclude that they had it in them to maintain an automatic promotion challenge right to the bitter end, let alone a top six one.
Six days ago, it was City who were having to play catch up, now, after they had got their twentieth game of what is becoming a record breaking start to the season (they've never had as many as forty three points from twenty matches since their return to the Championship in 2003), it is their promotion rivals who have to respond after a 3-1 win over Norwich at Cardiff City Stadium in front of yet another disappointing home crowd of 17,033 (six hundred plus of which had made the across country trip to support the East Anglian side).
Actually, two of those promotion rivals were in action at the same time as us, because Aston Villa went to Leeds and returned from Elland Road with a decent 1-1 draw, but it does mean that they now find themselves seven points behind us with a worse goal difference. As for early season leaders Leeds, they currently occupy the seventh position, that Neil Warnock stated in his meet the fans night on Wednesday was the position he looks at as a measurement of how strong our position is rather than third, some thirteen points adrift of us and, once again, out superior goal difference is worth an extra point to us currently.
Later today, Derby should be too strong for Burton in their local derby, but the Brewers are better away than at home lately and County did slip up on their own pitch against Ipswich in midweek, Sheffield United go to Millwall having suffered something of a wobble in their last two matches at Bramall Lane and something has to give at Ashton Gate where fifth placed Bristol City take on eighth in the table Middlesbrough.
As for leaders Wolves, they have to wait until Monday night when they go to Birmingham for another derby game knowing that we are breathing down their neck just one point behind them.
So, having got our three points early, the fixtures work in our favour this time, but the next two weekends see us back in the position we found ourselves in at Forest – we go to Reading for a televised game on the evening of Monday 10th and then kick off at 5.30 in front of the cameras again on Saturday 16th at home to Hull.
Before going on to what happened last night, a few words about our opponents. Last season Norwich were tipped by many for an immediate return to the Premier League after their relegation in 15/16, so a finish of eighth in 16/17 has to be seen as a serious under performance. If there was a consolation, it came in the fact that they were joint highest scorers in the league and no one got close to their total of fifty six home goals.
Those figures offer a strong clue as to why Norwich came up short – they had to have a dodgy defence. Indeed, only Forest and tailed off Rotherham let in more goals than Norwich last season, while it was only the latter who exceeded Norwich's total of forty seven conceded in their twenty three away games.
Presumably, the challenge for new German Head Coach Daniel Farke was to tighten things up defensively with the belief being that the goalscoring would look after itself. Norwich fans must have been very frustrated with their failure to mount an effective challenge last season, but there were all of those goals scored to enjoy – what's happened so far this season though can only have led to much more disenchantment.
A good run going into October had them in and around the top six and, after a couple of fours conceded on their travels early on, there has been that much needed defensive improvement, but they still came into last night's match in wretched form. Firstly, with only two wins at Carrow Road from ten games in which they've scored only eight goals, playing at home must be something of an issue currently – their away record isn't bad, but it's tailed off lately and so they arrived last night with just two draws to show from their last six league games (they also lost at Arsenal in the League Cup during this time).
So, on the face of it, City, with their unbeaten home record and three consecutive wins behind them, had to be big favourites beforehand, but the Championship is not held up as a classic example of a league where any side is capable of beating every other one in the division on their day for nothing.
For about ten minutes at the start, City buzzed around the Norwich goal with purpose as they pressed their opponents into errors deep in their own half. Inside the first few seconds, a terrible pass out from the back had the visitors scrambling the ball out for a corner as the fit again Nathaniel Mendez-Laing was freed down the right and there were other examples of careless passing as Norwich looked exactly what they were – a team with rotten recent form.
However, City were unable to sustain their early dominance and were soon in one of those awful periods which seem to blight the majority of our home games for fifteen minutes or so. I've referred to these portions of games as being ones where we never seem to have the ball properly under control, hence we can offer nothing apart from some effective, sometimes last ditch, defending – Sean Morrison was very good in that department during City's horror spell last night.
So far this season, these periods have had a tendency to right themselves after about fifteen minutes and we have often prevailed eventually, so I try (but don't always succeed!) to remain fairly philosophical about how poorly we are playing, but last night, we really struggled for thirty five minutes and not fifteen, so my confidence in the team did ebb away as the first half went on.
When your team is struggling, it's often difficult to tell whether this is down poor play on their behalf or some quality stuff from the opposition. Last night, Norwich certainly looked slicker than us in their close passing, but then I think every side we play does as well for all of the good it's done most of them so far.
Norwich were able to show that they has some very tidy technical players, but, again we knew that already. Others may disagree, but I thought that, even when they were on top, some of the weaknesses which must be holding them back were there to be seen. For example, although that good defending I mentioned earlier came to City's aid on occasions, there were other ones when Norwich seemed to have done the hard part in opening us up, only to ruin it all with a careless final pass or wrong option taken.
Never was this better illustrated than when, shortly after Marco Stiepermann had put the visitors ahead on forty three minutes with a fine low shot from twenty five yards after a corner had been half cleared, Norwich broke quickly after Joe Ralls was robbed following a City corner when he was stood about the same distance from the Norwich goal as Stiepermann was from ours when scoring.
I can remember both Barnsley and Fulham making scoring look simple last season from the sort of situation Norwich found themselves in – it was just a question of using the numerical advantage they had as they broke at pace from deep efficiently enough to punish us.
By contrast, City were fortunate that Norwich had Nélson Oliveira leading the charge forward and he'd made up his mind that he was never going to pass to any of the two or three colleagues who looked to be better placed to score than him. This shouldn't have come as a surprise because the ex Portugese international and one time Swansea loannee had been adopting a shoot on sight policy all night.
Wes Hoolahan has never struck me as a particularly fiery or quick tempered player, but it looked for a while as if the much better placed Irish international was going to take a swing at Olivera after the inevitable shot sailed feebly into Neil Etheridge's waiting hands and I wouldn't have blamed him at all if he did – Olivera's greediness continued into the second half and, although he is a talented footballer, he wouldn't last five minutes in a Warnock side if he repeated last night's antics.
Norwich's failure to convert what was a glorious chance was to become, possibly, the pivotal moment of the match, but I can remember thinking at the time that City did not have it in them to take advantage of the let off.
I thought City were dire and abysmal in the first half – I really did. However, before anyone who disagrees with me starts having a go, I should point out that those two adjectives are the very ones I've heard Neil Warnock using to describe our performance in the opening forty five minutes -we were so flat (was there some complacency there?) and so clumsy.
It was threatening to be a very bleak sixty ninth birthday for a manager who admitted in the week that he cannot eat anything on matchdays after breakfast because he gets so nervous – for someone who invests so much in the outcome of the game his team are playing, I'm sure Warnock would not have enjoyed the last couple of hours of his special day if the game had been lost, as it surely would have been on the first half evidence.
So, how was it then that, rather than expressing their frustration as their team slipped towards their inevitable defeat, City fans spent a portion of the last ten minutes serenading their manager with a rendition of "Happy Birthday to you" as City closed in on their seventh home win this season out of ten?
There is a famous video (full of effing and beeing) that captures a Neil Warnock half time rant in its totality and when he was asked about what he said during the interval last night, he made reference to it – apparently there were similarities!
One definite similarity was that, just as in Shrewsbury v Huddersfield from all of those years ago, there were two half time substitutions – Danny Ward had managed the only City goal attempt I can remember from that opening forty five minutes with a volley from the corner of the penalty area that didn't look like it went too far wide, but that didn't save him, and the anonymous Craig Bryson, from the half time hook.
With Lee Tomlin and Omar Bogle on as replacements, the transformation was there for all to see straight from the restart – just as in the first half, Mendez-Laing forced a corner within seconds, but, unlike earlier, it was not followed by a gradual fade out, this time there was soon a tangible reward when we were awarded a penalty as a Joe Bennett corner was contested.
Norwich boss Farke was quick to blame the match officials for his side's defeat and railed against this penalty award. However, his protests, and those of others interviewed after the match in the Norwich camp, were made to look insignificant when you consider that Sol Bamba headed in at the far post a second or two after referee Andy Davies had blown for a penalty following Ivo Pinto's push on Sean Morrison. So, whether it was a penalty or not, City would have had their equaliser – which duly arrived as Joe Ralls made it six out of six from him when it came to successful penalties,
Ralls would have had a second within minutes if his shot from ten yards had not come back off the crossbar as City made the sort of surging start to a second half which was a feature of their early season home games.
Bogle, back from his suspension following his sending off at Bristol City, bought a vibrancy and energy to the City attack that had been lacking and, with others picking up on this change of tempo, Norwich were now exhibiting more of the brittleness that had been there at times in the opening stages of the game.
As has been the case throughout the campaign, Norwich were struggling to cope when City upped the attacking tempo and they fell behind when Loic Damour's powerful shot was deflected to Junior Hoilett who scored for the second successive match as his shot looped over Angus Gunn and into the net.
While Tomlin was struggling to match his team mates' pace and tempo, there were some lovely moments of quality from him which were setting Norwich problems of a type they didn't have to confront earlier, but, him on instead of Bryson meant that Norwich still were dangerous attackers as the game became stretched.
With Josh Murphy on the left wing proving to be an awkward, if flakey (it seemed to me that he let the home crowd's booing of him following what they saw as a blatant dive), opponent for makeshift right back Bruno Manga, Norwich were able to have more goal attempts than they managed in the first half, but, just as against Brentford, Etheridge mixed occasional ropey kicking with impeccable handling when the visitors were able to get those attempts on target.
The truth was that City were now looking the more dangerous of the two teams going forward and when a header from Callum Paterson (on for a tiring Mendez-Laing) sent Tomlin racing in on goal, he was adjudged to have been brought down for a second Cardiff penalty.
Had his earlier shot been just a couple of inches lower, Ralls would have been going for a first (and probably last!) career hat trick, but, as it was, he directed his spot kick straight at Gunn this time and the keeper barely had to move his feet to make a very straightforward save – after the match, Neil Warnock said that he had slipped up a bit because he does not normally let one of his players take two penalties in the same match and it would not be happening again.
Any sense that this failure to make the game safe would see the initiative swing back to Norwich was soon dispelled as City exploited the gaps at the back the visitors were having to leave, to score again as Damour, probably the best of our midfielders on the night, sprayed a lovely pass out to Paterson in plenty of space on the right and his inviting low cross was neatly turned in by Bogle who maintained what is a very impressive scoring rate in his early games for the club.
City saw the match out against opponents who seemed to have accepted their fate, thereby making it twelve points from twelve in their last four matches – listening to our manager in the week and again in the lead up to yesterday's match, it comes across that he regards the win at Barnsley as a very important one in our season and I left the ground wondering if he feels the same about a match he and his team had been able to turn around completely.
In these days where we hear a lot about the importance of scoring the first goal in a game, it's the second time in 17/18 that they have won after being 1-0 down (QPR being the other one) while there have been 1-1 draws with Fulham and  Sheffield Wednesday after falling behind – this is another positive from a season that is full of them at the moment.
pictures courtesy of http://www.walesonline.co.uk/