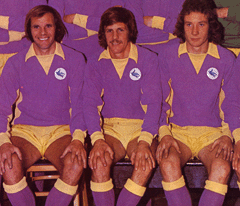 I always like to think that, if nothing else, you get honesty on here, so in that spirit, I'll reveal now that just before Christmas a first happened for this blog since it started in August 2009 – I went to a match where I couldn't find anything worth writing about in a City team's performance and so I didn't bother doing a piece on it.
I felt a fraud at the time, but when you spend a thoroughly miserable afternoon at Leckwith in the teeming rain watching Cardiff City's Academy side lose 2-0 to a pretty ordinary Millwall team in a game where you genuinely cannot remember the home team creating anything remotely resembling a chance, it's hard to find the enthusiasm to dash off a thousand words or so to describe something which was, essentially, nothing!
Many of the City side chosen for this lunchtime's encounter with Crystal Palace at the same ground  were playing on that dank and waterlogged afternoon against Millwall, but the contrast between then and now couldn't have been more stark as the youngsters turned in the best performance I've seen from this group of players by far to win 5-0.
I'll qualify that a little by saying that the marked difference between this and their last home match shows that you can get very inconsistent levels of performance from the same group of youngsters, and given that we are talking about a Premier League team here, I cannot believe that Palace's youth team are as really as poor as they looked today (they were third in the league to our eighth) – City must have caught them on a bad day, but let's give them credit for exploiting this so well.
With their Youth Cup match at Liverpool on Thursday having been postponed, City went into their first match of the New Year with a lot of enthusiasm after a break from fixtures of nearly a month and this was reflected by them having an edge in proceedings from the first whistle.
That superiority wasn't reflected by much in the way of goalmouth action, but Palace were almost constantly having to play on the back foot and when they gave away a free kick in a central position some twenty five yards from goal midway through the first half, it provided City's newest professional with the opportunity to show why he had been offered his first pro contract.
Attacking midfielder Jamie Bird had already impressed with some composed passing, but there was a touch of class, conspicuously lacking in this facet of the game from the first team in recent seasons, about the way he clipped the ball into the top right corner of the net with his right foot to put his side ahead.
With the confidence of a goal behind them, City's dominance now had a cutting edge to go with their superiority in their defensive and midfield thirds of the pitch. Although, Palace were the taller side generally, City had more power and this began to manifest itself in the way they were able to keep their opponents pinned in their own half.
One of the consequences of this was that they had a series of corners which Lloyd Humphries was able to float in menacingly. Interestingly, Palace chose to keep three players upfield for these set pieces and, in fact, most of the corners throughout the match saw them with only five outfield players in their own penalty area.
This unusual approach didn't bear fruit for the visitors because it was usually a City player who got his head to the ball, notably when hard working lone striker Elvis Menayese nodded on to a post.
If I could be critical of City during the first half, it would be to say that a tendency to opt for the "Hollywood" pass over the simple, but effective, one (an understandable fault in players so young and one I was guilty of during my hardly illustrious playing career when I was a few years older than these lads!) cost them at times.
Palace's passing was poor for most of the time, so it came as a surprise when they moved the ball slickly to slice open up the City defence and it needed some swift advancing from his line by keeper Luke Wakeman to prevent an equaliser.
1-0 wasn't a fair reflection of the way the first period had gone, but in the second half City discovered the ruthlessness missing earlier to rack up a winning margin which, off the top of my head, I cannot remember the Under 18s matching in a league match since being accepted into this level in 2004.
The lead was doubled within a minute or so of the restart, but, in the spirit of honesty running through this piece, I have to say that I was in the toilet at the time having been busting for a pee all of the way through my dogs half time walk around the ground!
It was Bird again who scored with another shot from outside the penalty area and minutes later, some fluent passing freed speedy winger Aiden Chappell-Smith who got to the byeline to knock over a neat cross which James Waite applied the composed finish to that it deserved.
From then on, it was really a question of how many City would score with the last quarter seeing the game really open up. Palace forced another good save from Wakeman with a header from one of a series of corners they forced, but these allowed City to show an impressive speed on the counter attack which gained tangible reward when a break, that at one time saw a five on to two advantage for them, ended up with Mark Harris centring from the right to enable Bird to net his third from eight yards.
Sub Ibby Sosani ended the scoring when he shot high into the net to complete the rout and you had to feel sorry for the Palace youngsters as they were denied even a consolation goal when a header bounced back off an upright, thereby ensuring a rare City clean sheet.
All of the City team played well, with Bird being the obvious man of the match, but I'd like to finish by mentioning Scott Young's boy, Connor who impressed me with his anticipation and quiet composure. Also, Cameron Coxe provided a non stop exhibition of modern right back play – you never see such energy and attacking intent from that position in the first team.