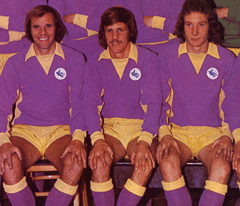 First thing to say is that Swansea have proved to be a better side than Cardiff at Academy level over the course of the season and so they probably would have won last night's Welsh FA Youth Cup Final at Cardiff City Stadium anyway, but, for me, their comfortable 3-1 victory was easier than it might have been because of a City selection policy which I just cannot fathom.
On Monday night the Under 21 side ended their season with a meaningless match against Ipswich Town . The side put out for that game was the youngest I've ever seen at this level and the club's website and CEO Ken Choo both used the opportunity to see this as a positive sign of a thriving youth policy at the club.
Just seventy two hours later, the youth team played what may well have been their most important game of the season (I would have thought that a Cup Final against your local rivals qualifies as being important), but the reaction  outlined above and team selection implies to me that this wasn't what people at the club thought – in fact, it could be argued that what has happened this week suggests that they viewed the Under 21 match as more important.
I make it that more than half of last night's side started the Ipswich match and, from memory, five of them played the full ninety minutes. Now, it must be said that if any of these youngsters make it into the first team and we are still in the Football League when they do, then they will have to get used to such a rapid turnover of fixtures, but, my argument is that they aren't now and that it was hardly as if there weren't alternatives available when it came to Monday's match.
For example, first team squad players like Turner and Dikgacoi played in the Development team match last week because they, apparently, needed games, yet neither have kicked  a ball since then and they were nowhere to be seen on Monday. Jazzi Barnum-Bobb has been a regular selection at right back for the Under 21s, yet was not involved on Monday, while Danny Johnson only played the last twenty five minutes or so as a sub and Theo Wharton, a proven performer at this level in midfield, did not even get off the bench!
Most strange of all though was the treatment of another player who was an unused sub on Monday. When Swansea scored after just over a minute from a free kick that was headed in by an unmarked central defender, I consoled myself by thinking that, unlike the seniors and Under 21s, City's youth team have always had a goal or three in them this season – they may have let in too many, but our matches at this level have, invariably, been high scoring affairs.
However, I quickly corrected that thinking when I remembered that the person responsible for a good portion of those goals, Eli Phipps, was kicking his heels on the substitutes bench! I must say that until pretty recently, I thought Phipps has been a player who stuck the ball in the net  but did little else - a great knack to have of course, but the further you go up the football ladder, the more you need other strings to your bow. However, in recent months, I believe there has been an improvement in his all round game that has not coincided with a decline in his goalscoring rate.
I don't know exactly how many goals Phipps has scored at Academy level this season, but I'd be very surprised if it was less than twenty – he's certainly scored more in a season than any other player I've seen represent us at Academy level in the past ten years. However, this wasn't good enough to earn him a starting place up front – instead, this went to Elvis Menayese. Now, it wouldn't be fair to blame Menayese for the defeat and I'm certainly not going to do that, but he missed a chance in either half of the kind that I would have backed Phipps to put away most of the time – I'm convinced he would have scored at least one of them.
As it was, he didn't get on until Swansea were three ahead having added a couple of further goals from striker Owain Jones. The first came within three minutes of the restart (City sides at all levels have started and restarted matches poorly all season long) and was the sort of typical strikers finish Phipps would have relished, but, it was hard to avoid the feeling that there would have been no City player there to take advantage if such an opportunity had presented itself up the other end before he came on.
As it was Phipps did score a meaningless consolation goal for a well beaten City side late on, but the overwhelming feeling I had as I left the game was that Swansea had not had to play that well to get their win with the sort of muddled thinking that characterises Cardiff City these days in so many ways helping them on their way.