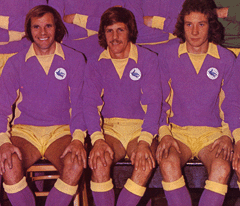 despite a selection which, I daresay, pleased far more supporters than the one at Swansea did and a switch to the 4-4-2 formation which had been called for all season long by some, Cardiff City's home goalless stalemate with Aston Villa last night leaves them closer to relegation this morning than they were before kick off yesterday.
It's probably fair to say that with just four defeats in thirteen away matches now, Villa were the toughest of the five opponents we had before the end of the season in what were being called winnable home games, but, even so, a draw last night has, surely, to be viewed as another two points dropped rather than one gained.
Yet, at half time I thought there were genuine grounds for optimism that we were on our way to a second successive home win – we hadn't made the what was becoming traditional bad start to a game under Ole Gunnar Solskjær and, if dominated would have been too strong a word to use, had been the better side with the Villa woodwork being hit twice in a thirty second spell and  a goal, correctly, disallowed along with some bright and, at times, vibrant football that had the visitors on the back foot for long spells with Brad Guzan undoubtedly being the busier keeper.
It's almost goes without saying that we had yet another obvious looking penalty shout turned down, as, just as he did when he was here for the Sunderland match, Chris Foy chose to ignore a blatant foul on a City striker which he would surely have given if it had taken place outside the penalty area. This time it was a Nathan Baker foul on Kenwyne Jones that got added to the long, long list of strong penalty claims which we've had turned down and it would be very informative to hear why the officials involved didn't consider them to be fouls or handballs. It needs to be said as well mind, that, as well as being the only side in the league not to be given a penalty this season, we have not had one given against us either and there have been a few times when I've thought they should have been.
Amazingly, given the stick he's had down the years from City fans over that Leeds match, Mark Clattenburg's refereeing in games he's taken involving us has been of a consistently higher standard than any other of his so called "elite" colleagues and  one thing I won't miss if we go down are the officials who seem to believe someone has to commit actual bodily harm on an opponent or pick the ball up and walk with it under their arm for ten yards before they point to the penalty spot!
So, forty five minutes in and things were looking good – embarrassingly, we still had just the one goal to show for the twelve first halves where we have attacked the Family Stand this season, but our reputation as a second half team left definite grounds for optimism. Unfortunately, however, it soon became clear that, although the eventual result wasn't as damaging as Saturday's, we were experiencing a Swansea type second half fade out.
I didn't spot anything that Paul Lambert did tactically to explain why it was now Villa, not City, who were forcing the issue, but force it they certainly were and if a draw was probably the right outcome over the ninety minutes, I'd say that by the end of the game it was Villa who were more justified in wondering how they didn't end up with the three points.
Quite why they didn't came down primarily to two more magnificent David Marshall saves, with the one he made from Andreas Weimann in added time being the best seen from him this season in my opinion. However, Marshall couldn't have kept Villa out by himself and there was also some very good centreback play for City fans to applaud.
Steven Caulker and Ben Turner have both struggled in the past couple of months with the latter in particular looking drained of confidence at Swansea where, very unusually for him, he was found wanting when dealing with a dead ball situation for the jacks' third goal. Many expected Turner to be dropped for last night's match, but, in adversity, he showed the character and commitment that City are going to need in spades over the next three months. I was going to say that Turner was back to his form of the autumn when his blood and thunder approach combined with Caulker's more interception based game looked like a very effective combination at this level, but, with a couple of clever short passes thrown in as well, it was actually better than then because his distribution was of a higher standard.
With Caulker also stepping out from the back to give the pass which enabled Kevin Theophile-Catherine's cross to provide our only worthwhile second half chance, City had a solidity down the middle which they have lacked in league matches under Ole until last night and, if the support from full back still wasn't entirely convincing, Theophile-Catharine looked a more reliable defensive option than Fabio had done in his two matches and Declan John stuck to his guns well after a start in his duel with Mark Albrighton which suggested the teenager was going to be in for a very long night.
Overall then, it was much better from a defensive viewpoint, but I'm afraid that further forward it was a lot less convincing. Playing a pretty rigid 4-4-2 like City did does increase the workload on the midfield quartet and with three of them suffering second half fade outs (Zaha, and after fine first halfs, Noone and Medel) which I think went some way to explaining the turn of tide after the break, I can't help thinking that a fluid 4-5-1/4-3-3 is the better option. I say this for two reasons, first to give some more help to the midfield and, second, we lack the predatory striker who can consistently score from the opportunities provided by the target man playing alongside him.
That said, speaking as someone who has been consistently blaming our midfield fives for not creating enough chances for our strikers, I accept that this is by no means a straightforward matter with consideration also having to be given to who is fit and available for the Hull match – Craig Bellamy may have been a little harshly treated, but he's got no one to blame but himself for his suspension and Ole didn't sound too confident about Jordon Mutch's injury in his post match interview, so it could be that people like Whittingham, Kimbo, Gunnarsson and Cowie might come back into contention.
Whatever formation we play though, it's now just three home matches in thirteen in which we have scored the first goal, while, if we maintain our current rate of scoring, we are going to end up with something like twenty six to twenty eight league goals scored in the season. I've not looked it up, but I'm pretty sure that a total in that range would represent a club record low for league goals scored in a season – there is absolutely no way I can see us staying up if that happens.
* pictures courtesy of  http://www.walesonline.co.uk/