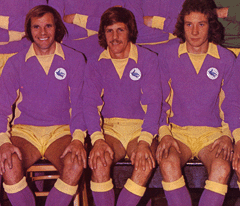 Just a few quick words to wish Riccy Scimeca all the best following yesterday's news that he has been forced to retire from the game at the age of thirty four. I think I am right in saying that, coincidentally, Riccy first missed games through the groin injury which was to force his retirement following the "Chopra hat trick" match against Leicester in January 2007 and, sadly, he has been just a bit part player ever since.
Indeed, some of his time out since then was down to a serious virus which he picked up in hospital while being treated for his groin injury and this played a part in him featuring in only twenty two matches in the last two and a half seasons. The last two of those games could well turn out to be very significant ones though as, hopefully, they represented a move away from the inconsistent stuff that had plagued us for the first three and a half months of the campaign. Riccy definitely made a difference in the home game with Preston as he kept things simple by winning the ball cleanly and then moving it on efficiently. He was also part of the side which played very well in the first half at the Hawthorns as they went in at half time with a deserved lead, but, he was unable to come out again after the break and it was after being told that he needed another operation on his groin that he decided to pack it in.
It's great that my final memories of Riccy in a City shirt will be good ones as he played a prominent part in getting our season back on track, but I will recall him mostly for his outstanding performances at the start of the 2006/07 campaign when he was consistently the best player in a City team full of people playing at the top of their game – good luck to you in whatever you do in the future Ricci and thanks for the memories.