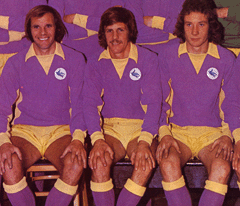 So, the run of draws ends with a win which propels City into seventh position in the fledgling Championship season and our start to the campaign can fall into the good category as we get closer to the first international break.
I can remember people saying we had been handed a very difficult first five games when the fixtures were released in June, with some in the local media claiming we would need to take nine points from these matches for Russell Slade to keep the critics off his back. Well, yesterday's, in the end comfortable, 2-0 win over Wolves gives us six of those points with a visit to Forest next Saturday to come – a win by the Trent next week would get us to that nine point target, but, barring an absolute hammering, I'd say that there are already definite positives to be taken from our league performances in August.
On the face of it, a points return that equated to a win and two defeats from our opening trio of games did not look good, but any damage it might have done was negated to some extent by the fact that so many of our Championship rivals were having the same sort of problems turning draws into wins.
I've not done the research which can confirm or deny this, but I read before the current round of fixtures that more than fifty per cent of Championship matches played had ended in draws. That certainly sounds about right when I think of how many sides were still waiting for their first win after three matches, but what I can say for sure is that Sky's live televised matches over the first three weekends of the 15/16 season certainly tell a story.
Before last night's match, there had been seven consecutive draws in live encounters following Brighton's 1-0 win over Forest in the first game of the Championship campaign – that really shows how tight this division is. What also took my eye about those draws was how good and entertaining many of them were. Last weekend, all three televised games (Burnley v Birmingham, us at QPR and Wolves v Hull) were high quality affairs, while Friday night's Birmingham v Derby match up was compulsive viewing – the best match I've seen at this level for some time.
Now, I came out of last night's game in a good frame of mind and looking forward to watching it again when I got home, but, truth be told, I found it all pretty dull on second viewing – I won't be watching it from start to finish a second time and I would have thought those at Sky who analyse these sort of things will be thinking something like "oh well, we were due a boring one after the exciting and competitive ones we've shown recently".
Right, having said that, let's try to put it into some sort of context. Yes, the first forty minutes were poor and almost devoid of any redeeming features – Joe Mason had a legitimate goal chalked off and forced Carl Ikeme into a decent save, while up the other end, David Edwards hooked an early shot not far over and Ethan Ebanks-Landell probably should have done better with a headed chance after City had, criminally, been caught dozing as Wolves were put under no pressure at all as they worked a short corner.
Apart from that though, the game deserved the "two sides cancelling each other out" comment I made as the procession to the bars and foodstalls for a bit of half time sustenance fully got underway. However, there were plenty who must have missed what turned out to be the game's critical moment because once Kenwyne Jones had nodded in Fabio's cross, it's character changed completely.
I'll return to this theme later, but, now, a few words about the goal. It's always good when you have trouble nominating a City man of the match for the right reasons, but, given his chance by Scott Malone's absence through the bug that affected a few in the squad in the second half of last week, I thought Fabio was our best player and his performance was encapsulated by the quality of a cross which caused absolute devastation in the visiting defence,
As I say, the cross was a good one, but it was the presence of Jones which got the Wolves defence so twitchy. Now, I still believe we should let him go if someone comes in with an offer that sees them paying all or most of his wages, but I have to say that there is no one else on our books, or, possibly, even in this division who would have been responsible for the sort of carnage which arose from the goal.
First, would Ikeme have come charging off his line like he did if it had been, say, Mason or Alex Revell going for the cross? I'm not sure he would have, but, by doing so, he made scoring easy for Jones – easy in terms of getting his head on the ball at least, but with four fully committed players challenging for it, there was always the risk of a pretty serious injury. As it turned out, Ikeme was left to lick his mental wounds as he reflected on an impulsive decision, while the two Wolves centrebacks were left bruised and groggy as they lay on the floor like a boxer taking a count as Jones made for the corner flag to perform one of his trademark somersaults – as I say the goal was devastating in more ways than one.
Boosted by their half time lead, City went on to play their most impressive football in the first quarter of an hour in the second half, but much of this resulted from the distinctly unpromising situation of Jones limping off, never to return. The striker had injured his ankle as he swung at a low cross from Lee Peltier who had got to the byeline after a lovely Anthony Pilkington pass put him through, but only made contact with the back of Ebanks-Landell's foot. However, the withdrawal of the man who had been Wolves' Nemesis in the first half only brought the arrival of someone who was to present them with an entirely different set of problems that they were unable to solve.
It's probably true to say that Sammy Ameobi's first few weeks at Cardiff could be summed up by the term "low key", but, for the first time, City fans were given a look at what he might be able to offer us in the coming months. Right from his first contribution when he gave Ebanks-Landell a couple of yards start, but put the defender under so much pressure that he had to concede a corner, Ameobi lifted the crowd and, it would seem, his team mates. In the aftermath of this incident, the next couple of minutes were played out with a growing feeling that a second goal was coming and after Kagisho Dikagcoi had earlier nodded over a Peter Whittingham corner, it duly did when the South African got his head to another Whitts delivery and Ameobi's close range volley flew in with the aid of a slight deflection.
After that, there was a lovely bit of skill by the sub as he beat two players and shot not far wide (the none too impressive ref missed the deflection on Ameobi's effort) and Ikeme foiled Mason in a one on one in the last piece of action before the final miss, but, just as in the majority of the first half, there was little to get a neutral feeling interested or entertained in the last half an hour.
However, the difference between the humdrum periods at either end of the match goes to the heart of what I said earlier about the game's character being changed completely by the Jones goal.
Possibly because of the subsequent damage done to Malky Mackay's reputation, I've noticed an increasing tendency among supporters to do the achievement of winning the Championship with so much to spare down recently – we were boring, we played "anti football", etc. etc. Now I'll admit that winning the title wasn't exactly as I had anticipated it to be beforehand, but what I remember most from it now was the opportunity to say "oh well, that's another three points then" as soon as we went 1-0 up and be right about 90 per cent of the time.
Such things do not happen too often to the supporters of any club and should be appreciated more then they are when they do. Now, what has happened in the past two years meant that I didn't dare get that feeling until we went 2-0 up yesterday, but, it was there for the first time in ages after that. In 2012/13 we were able to deny good opponents hope when they were facing a deficit and yesterday we did the same to a side that is, deservedly, highly rated and only a week ago gave Hull a hell of a fright before having to settle for a draw. Yet, having talked about "entertaining and competitive" Championship matches earlier, the way we strangled the creativity and flair out of our opponents may not have been entertaining, but it also didn't make for a competitive last thirty minutes either - I believe the side should be complemented for that.
I daresay any Wolves fans will say that their's sides strangely insipid showing was down to their failings as opposed to anything we did and it's true to say that I think yesterday was a good time to face them after they'd thrown away a two goal lead and lost to QPR in midweek. However, I make it that it is nineteen matches since they last failed to score in a game and, not only that, they didn't have a single effort on target – you cannot put those sort of stats down solely to them having an off night.
After the game, Peter Beagrie called our performance "Ipswichesque". I'm pretty sure this was meant as a compliment and I believe he was referring to how difficult we made it for Wolves to develop the high power and pace game which has been so successful for them in the last two seasons. So, we are a team which is happy to concede possession (we lost 55/45 on the possession front), safe in the knowledge we have a shape and attitude that opponents will find very difficult to break down then?
The thing is, judging by what the television pundits have been saying about us lately, they are having trouble pinning down what sort of side we are. In the aftermath of the QPR game, they were purring about our passing game and, in the early stages of yesterday's match, Don Goodman talked about us being a long ball team who concentrated on getting it forward to Jones (or Revell) as early as possible.
I truly hope and trust that the version of the game Goodman talked about has been consigned to the dustbin in recent months, but the serious point here is that if ex pros are, seemingly, saying that we can be pretty effective playing in three, very contrasting, ways, then, surely, that has to be a good sign for the season doesn't it?
We've been quite comfortably the better side in our two televised matches in the past eight days and been entertaining in one of them and efficient in the other – I still hope we can get a couple more players before the window shuts to address a few relative weak areas, but we're not doing bad at all at the moment and I'd say that, although the competition for the award isn't that great, last night's was the most complete home performance since Russell Slade was appointed manager.
*photos courtesy of https://www.flickr.com/photos/joncandy/