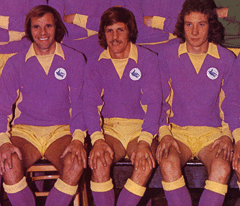 Three wins on the trot, the most number of points of any Championship side in 2017, a reconnection between team and fans and the growing belief that relegation is no longer a realistic proposition and still the attendance figure at Cardiff City Stadium resolutely refuses to hit the 16,000 mark.
Since the Christmas Holiday game with Villa when a crowd of 21,391 saw us achieve what was, certainly at that time, one of our best wins of the season in a fairly entertaining game played in a proper football atmosphere, attendances have dropped, then plateaued, to the extent that you can only conclude that something like twenty per cent of those present following City on 2 January were once a season merchants.
Fresh from scoring five at the ground last weekend, with attractive opponents who brought far more supporters than Rotherham had done seven days earlier and the attendance yesterday was a measly six, yes six, up on last week's figure of 15,650! Those who are turning up are doing their bit by creating atmospheres that are an improvement on what had become the norm since the sacking of Malky Mackay, but you have to ask just what does Neil Warnock, his team and, to be fair to him, someone like CEO Ken Choo have to do to get more walk up support for home matches?
Of course, we are in the middle of that period of six weeks every year where Wales, arguably, becomes a nation which supports our "national game". The Six Nations tournament is being played and so we become something like the country we are supposed to be, if you believe all of the cliches that are peddled about Wales and the Welsh people.
Now, I wouldn't call myself anti rugby really – how can I be when I made two journeys up to Edinburgh for Scotland v Wales matches in the eighties (we lost on each occasion then as well!), but, the twenty seconds or so of rugby action I watched yesterday in the concourse at the ground as I made my way from turnstile to seat takes my total viewing time for the three games Wales have played so far to something like twenty one minutes.
The fact is that I'm not interested in rugby anywhere near as much as I used to be. A combination of the current side not coming close to realising the potential they showed in the 2011 World Cup and Warrenball has made the Wales rugby team far less watchable for me.
I'm not really in the best position to judge when you consider how little I've seen of the Wales team recently, but, based on what I have watched, all of the talk about Wales adopting a more adventurous and attractive approach this season, is just that, talk – they seem as one dimensional and power, as opposed to skill, reliant under Robert Howley as they are under Warren Gatland.
I'll admit there have been times, especially during the Durban years, where the choice between a City home match and a Wales rugby game on the telly has seen me opt for the latter. I'll also say that not every home game under Neil Warnock (e.g. Wigan, Brighton and Burton) has offered rip roaring entertainment, but, based on what you get at your average Cardiff City home match and a Wales international these days, I just don't get the reasoning of those pretty regular football goers who chose to watch the rugby yesterday,
If you fall into that category, I can tell you that, by any criteria that matters when it comes to watching sport, you made the wrong choice because Cardiff City 2 Fulham 2 was a magnificent and memorable game of football. It's hard to make decisions like this with any certainty and, of course, there's always that sense of disappointment when your team doesn't win, but, off the top of my head, I'd say it was the most enjoyable City match I've watched since we beat Man City in our first home Premier League match three and a half years ago.
These post match pieces I do tend to be far more of an overview than a blow by blow account of goalmouth incidents and, more than any other match I can think of in the eight and a half years of this blog's existence, I'm so grateful for this as I type up this report on yesterday's match. It would be an impossible, and very, very long, job to do justice to the match if I was trying to detail all of the occasions when either goal was under threat – you kept on thinking that a quieter, more considered, period where the match would "settle down" had to come, but it never did.
For any sporting contest to be deserving of the adjective "great" you need to have all of those involved performing well and, certainly when it is a one against one or team against team competition, it also helps when there is a contrast in styles involved – boxing is probably the sport which offers the best proof of this, but football is up there as well and what a contrast there was yesterday.
At this stage, I think it's right to mention our opponents because I must say that I thought Fulham were the bravest side I've seen at Cardiff in years - they were a credit to their club and their impressive manager Slavisa Jokanovic. When I say brave, I don't mean physical bravery, I mean the bravery which sees them send out a team choc full of natural footballers, the bravery to use their full backs as virtual wingers away from home (unlike Russell Slade, Jokanovic knows the best way to use someone like Scott Malone) even though they were meant to be playing with a back four, the bravery to stick to their footballing philosophy and the bravery to keep on going for the three points as the away team.
Granted, that attacking approach was forced on them to some extent by their need to make up what was a six point gap between them and Sheffield Wednesday in the last Play Off spot, but, Fulham's goals for record (now the fourth best in the Championship) suggests that they are not a side which likes to sit back and soak up punishment.
There is a, often justified, criticism of passing sides that they can tend to pass just for the sake of it as the ball is recycled in all directions only to end up where they started with the opposition better set up to deal with their attacks, but the single thing that impressed me most about Fulham was that their passing was always with the intention of getting forward – they might have had to take the occasional detour sideways or backwards, but they were determined to not only go forward, but to do so at pace.
I came out of yesterday's match wondering if there are a better side in the Championship when they have the ball than Fulham – I'm not sure there is. However, although their away goals against record is good, on yesterday's evidence, they're some way short of the league's best when they don't have possession – I'd say City are better than them in that department for a start.
Nevertheless, I would love it if my side played like Fulham did yesterday every week, but that's never going to happen is it. It's a bit pointless to wonder if City have the players who could weave the pretty midfield patterns that the likes of the excellent Cairney, McDonald, Aluko, Johansen and broken jaw victim Piazon (it's hard to feel much sympathy for him though when he picked up the injury while committing a cynical and reckless foul on Kadeem Harris which had City fans baying for a red card – I thought inconsistent referee Scott Duncan was right on this occasion to only issue a yellow, but it was a poor challenge) can for Fulham – we probably don't, but we're never going to find out for sure under this manager are we?
After all, Neil Warnock teams play cynical, functional (read boring) long ball football don't they – or, at least that's what I've thought through the majority of his thirty seven year career in management.
One of the side effects of facing a team which plays in the way that Fulham do is that it does tend to emphasise how direct and route one your team can be and we were certainly that for much of the time yesterday. However, although I'm a fan of his, I thought it was both unfair and an over simplification for BBC Wales' Rob Phillips to describe the game as a contest between the Cardiff bludgeon and the Fulham rapier in his match report – yes, we were direct, physical and played a much more basic version of the game than our opponents did, but we wouldn't have caused all of those problems that the Fulham defence struggled to cope with if we had been just been whacking the ball forward and chasing it.
Although both halves saw the teams score a goal each, they were quite different in character and there were times when we were hanging on in the second period. We needed some luck at times and our visitors may have made the journey back to London ruing some of their missed opportunities, but, when it comes to chances which got away, City were the ones who were more justified in thinking about what might have been.
For all of the good things I've said about Fulham, the truth is that the match would, almost certainly, have been over as a contest if City had taken some of the pretty easy looking opportunities which came their way in the game's first quarter.
Neil Warnock was the guest on Sky's Goals on Sunday programme last weekend and when he was asked if Junior Hoilett was a good finisher, his typically honest reply was "not really". Hoilett did well in his unfamiliar number ten role in some respects, but he wasted a couple of gilt edged opportunities before Fulham took the lead and there were times later on when he looked something of a stopgap in a position he has little previous experience of.
Similarly, I've heard our manager being none too complimentary in a jokey way of Sol Bamba's finishing and he was borne out to the extent that the centreback's limitations in that department were seen when he failed to get a decent enough contact on Sean Morrison's header from a corner despite being unmarked on the edge of the six yard box.
While that Bamba chance came from the old faithful that is attacking dead ball situations, I can't remember any others from that source off the top of my head, apart from a second half header from Aron Gunnarsson I think it was which flew narrowly wide with keeper David Button looking beaten.
No, once again, we saw an opposing defence having problems with our attacking pace in open play. With our front four all playing their parts in energetically pressing the Fulham defence and deep midfielders high up the pitch, they all, hardly surprisingly, tired in the last twenty minutes or so, but right to the end when sub Declan John struck the outside of the post from a promising position, City looked dangerous  every time they were able to put together an attack.
So often in the past you have seen us seemingly in control in games, but then you ask yourself what has the opposition keeper had to do during this period of so called dominance and you conclude it was next to nothing. This wasn't the case yesterday as Button made a series of saves that would hardly fall into the world class category, but were nonetheless all pretty good examples of the goalkeeping art.
If Harris, Hoilett and Craig Noone all became less influential as time went on, the same could not be said of the fourth member of the attacking quartet, Kenneth Zohore, who just keeps on getting better.
If you are going to be super critical, I think we saw no evidence that something I mentioned on a messageboard last week (that Zohore was a scorer of great goals, rather than a great goalscorer) wasn't true. Also, there were one or two instances where his touch took him away from, rather than towards, goal. In saying that, you can hardly say that two more good goals that both took a bit of scoring yesterday is evidence that he doesn't score tap ins if he wasn't presented with any such opportunities – given the level of confidence he's playing with, I'd like to think Zohore would have been able to put away some of the easier opportunities his colleagues missed.
Also, those touches which took him away from goal, at least gave Zohore the opportunity to show an improvement to his game in that, on both occasions, he was able to get his head up and remain composed enough to create a chance for a team mate (the cross he put over for John's late chance was a beauty as well).
With strength and pace that his markers couldn't cope with at times, improved aerial prowess, decent touch and vision and a couple of goals as well, Zohore gave what was close to a complete centre forward performance yesterday and it was interesting to hear Radio Wales' Ian Walsh set his figure as to the striker's worth a little higher than the one I'd come up with when estimating his current worth about a minute earlier – I said £5 million.
Whether Zohore can maintain his current standard is questionable, but I would say that even a more low key end to his campaign would not be enough to put potential suitors off now they have seen what he is capable of and so it might be that awkward decisions have to be made quite soon as City receive bids for the man who is fast becoming their most saleable asset.
Any bid for Zohore would have to be set against what seems to be a more ambitious approach in the transfer market at the end of this season compared to what we've seen in the last couple of summers.
The good news that Neil Warnock, along with Assistant Manager Kevin Blackwell and Head Coach Ronnie Jepson, has agreed to extend his stay at Cardiff for another season was made even better with the revelation that the club (i.e. Vincent Tan) appears to be willing to allow the sort of spending Warnock wants as long as he is able to engineer a few cuts on the wages side of things himself.
Therefore, although it would appear that the club are willing to push the spending boat out a bit more, we are still in the position where City would have to seriously consider any realistic bid received for one of their better players – after all this is an approach favoured by most clubs at this level and Fulham, for one, have been able to build an enterprising, attractive and possibly promotion winning squad on the back of it.