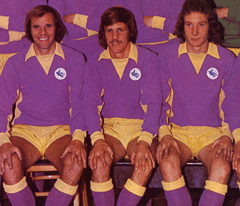 Any list of nominations for the award "best Cardiff City home game of 2014/15″ would be a very short one, so the widely held view that last night's 1-1 draw with table topping Bournemouth was the best and most entertaining first team match seen at Cardiff City Stadium this season is not necessarily a guarantee of it's quality. However, in my opinion, this was a fascinating game of football featuring plenty of talking points – at the twenty second time of asking, I've finally seen an encounter that merits the admission fee.
One of those previous twenty one games was back in September when an under strength Bournemouth side sauntered to a 3-0 win in a League Cup tie with all of the goals coming in the first thirty three minutes. The visitors could have scored as many as they liked that night and, with their pass and move football played at pace, they gave City a football lesson – for me, they were the best opposing side seen at the ground so far this season.
Going to the game last night, I couldn't get the thought "if that was what a shadow Bournemouth side could do, then what are the first team going to come up with?" out of my mind – suffice it to say, I was not confident! In the event though, Bournemouth's philosophy was different in some ways from six months ago – yes, they were able to quickly pass the ball through and around us at times, but, overall, I thought they offered a different type of challenge as they were a bit more direct as they often looked to exploit the pace of strikers Callum Wilson and Brett Pitman by playing long and early balls into the channels.
The visitors also adopted a shoot on sight policy in the early stages with winger Mark Pugh rattling the crossbar before Harry Arter gave them the lead on sixteen minutes with a beautifully struck shot from twenty five yards – if you were a Bournemouth fan it was a great goal, but those supporting City will ask why he wasn't closed down more effectively (we've conceded too many goals of this type this season).
The overriding impression I gleaned from our opponents last night was one of what a huge part confidence plays in football – this is a team made up mainly of men who have played most of their football in the lower divisions and, when you look at their line up on paper, it isn't one that strikes fear into you. Players such as Pugh, Pitman, Tommy Elphick and Arter are all closer to thirty than twenty and so don't fit into the promising youngster category any more – I'm guessing they all have had times in their career when playing at the level they are now would have been just a dream to them.
However, if one player typifies the Bournemouth success story, I'd say it was right back Simon Francis. I can remember him being regarded as quite a prospect when he broke into the Bradford side as a teenager more than a decade ago, but he drifted about in the lower leagues turning out for the likes of Grimsby, Tranmere and Southend during that time, only to now, at the age of thirty, be rated as the most effective player in the Championship when I last looked at the stats a couple of months ago.
The Bournemouth side reflects great credit on their impressive young manager, Eddie Howe and I must admit to some sympathy with his after match opinion that there was nothing wrong with the "goal" scored by Wilson when Simon Moore's clearance rebounded from his back on to the crossbar for the striker to tap in. That said, Wilson had been standing in front of the keeper on a few occasions beforehand and, on at least one of them, his presence led to Moore not clearing the ball as he would have wanted – it was at this time that referee Lee Mason should have acted and penalised the player, not when Moore had, seemingly, connected with the ball as he wanted (the fact that it rebounded twenty yards on to the bar is evidence of how well the ball was struck).
Truth be told though, it was just one of a series of odd decisions by Mason who joined the long list of Premier League referees who have come to Cardiff City Stadium for a Championship match and did a worse job than the "mere mortals" we see most weeks – Howe may have been justified in his complaint, but there were plenty of times when City had good reason to be mystified by Mason's decisions and his novel interpretation of what constitutes a dropped ball restart was certainly a new one on me!
I mentioned Bournemouth's impressive showing on the same ground back in the autumn, but it has to be said that, in a season full of feeble Cardiff showings, in the first half that night City were, possibly, as pathetic as they have been at any time in the last seven months. It was a match that attracted much comment at the time regarding the attitude of some Cardiff players with Javi Guerra and Kimbo being withdrawn well before half time – the fact that City's approach was so much different for Bournemouth's second visit to the ground this season was of paramount importance as to why so many were complimentary about last night's fare.
Having battled so hard to get the three points at Griffin Park on Saturday against huge odds, the City team certainly stood up to be counted again last night – to be more accurate, I should really have said ten of the City side stood up to be counted. Kenwyne Jones, who at his best, is still a Premier League class player, was put to shame by his striking partner Alex Revell who, no matter how well or badly he plays, always gives of his best while creating an impression that he is someone who has made a decent career for himself by making the absolute most of what natural ability he was born with – sadly, with Kenwyne, you never know what you are going to get from one game to the next.
Anyway, the overall impression given by the team re-emphasised the point I made after the Brentford match. No matter what supporters might think of Russell Slade (I was again baffled by the non inclusion of Joe Ralls, he was again proved wrong about fielding two target men and I thought he should have got Eoin Doyle on for Jones about twenty minutes before he did), the side are definitely playing for him currently - I say "currently" because that didn't always look to be the case in December and January.
What we saw last night was much better than what we were seeing then, but, when you take a step back and try to look at last night's encounter in a more detached and independent manner, what it really does is offer more proof of the rapid decline of the team since we won this league a lot more easily than Bournemouth, or whoever else it may be, end up winning it this year.
On Friday it will be a year to the day since we took on a Liverpool side who were playing the best football in the country at the time. Now, we might have been well beaten in the end, but we gave the team many were tipping to win the league a real fright by having a go at them and twice taking the lead.
A year on we are playing at a lower level, we hang on for a draw against Bournemouth (I repeat, Bournemouth!) and people are happy. Now, I know that sounds patronising towards opponents that I have a lot of admiration for both in terms of the football they play and the philosophy that is behind the club, but I'm now in my sixtieth year and, off the top of my head, I would say that for three quarters of that time, we have played in a higher division than them – that is not to decry what Bournemouth (and Brentford for that matter) are doing this season (I'd like to see them both in the Premier League next year), more it's to try and emphasise how much standards and expectations have declined at Cardiff in such a short time.
I noticed Steve Tucker using the term "plucky Bournemouth" in his match report. To be fair to him, he was using the word "plucky" in an ironic way, but I think that, based on last night's match, it's an adjective that is more suited to us than our opponents.
What last night's entertaining encounter most reminded me of was one of those cup ties where the high riding team come up against a "plucky" and dogged lower division opponent who fight tooth and nail not to allow their so called betters to impose their superior footballing ability on them – the work ethic, commitment and bloody mindedness of the inferior side enables them to battle to an honourable draw.
As I mentioned earlier, confidence counts for so much in football and I'm sure that with a bit more of that commodity, our players would be offering more than spirit and hard graft, but could they pass the ball as incisively as Bournemouth did in September and at times last night? Could they heck as like!
Maybe I'm being too harsh on the team? Our manager talks of us having good days and bad days and of us taking "little steps" along the road to improvement – at least there is now a small light at the end of the tunnel on the journey which represents the period of transition our manager has also frequently mentioned. However, I cannot avoid asking how has it come to a situation where, in less than a year, standards are set so low, that a 1-1 home draw against opponents who have none of the so called advantages that we can call on, is almost being hailed as some sort of triumph?
My answer to that question would be that you need to look at how much has been spent on players during the relevant period to see the true picture of our decline. In my view, any meaningful analysis of this season has to be conducted against the backdrop of how much the squad has cost the club in fees and wages over the course of the season – so much is being spent for so little on pitch reward. Whereas the Bournemouths and Brentfords of this world are held up as beacons representing the right way to run a Championship club with their enterprising football and shrewd, cost effective, signings, Cardiff's artless toil and huge wage bill continue to offer a guide to others as to how not to run one.
+ photo courtesy of https://www.flickr.com/photos/joncandy/
* photo courtesy of http://www.walesonline.co.uk/