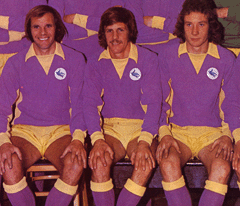 Being a blog that prides itself on it's lack of inside info when it comes to Cardiff City, don't expect the definitive statement (as if!) on whether Craig Bellamy will actually be signing for us later today. I don't have my "sources" working away tirelessly to try and uncover the truth as I rely purely on gut instinct (which often turns out to be wrong) for my "exclusives".
What I can reveal though is that from about mid afternoon onwards yesterday rumours grew at a rapid rate that Bellamy would be returning to his hometown club on a six month loan deal which would be confirmed today. Although the day ended with confusion, which still exists now, as to what was going to happen, for a short while it was looking nailed on that he would be signing for Cardiff, so what happened to to get people thinking that what many thought was impossible was about to happen?
What is certain is that Skybet's odds on Bellamy coming to Cardiff (which had been around the 7/1 mark when I looked late last week) started to come in dramatically yesterday- at one time they reached 1/3 before they stopped accepting bets on the matter with the odds at 2/5. As well as that, there were messageboard posts during the afternoon from people claiming to have been told that the deal was on and these increased in regularity until it got to the stage where Media Wales posted a story on their website (later withdrawn for a more non committal piece) that a signing was imminent. At the same time, the poster on the second most popular Cardiff City messageboard, who his admirers claim gets 95% of his inside info right, was declaring that it was true – Bellamy was coming (he later admitted that the Bellamy for Cardiff claim he had made earlier might just fall into the 5% of "exclusives" that he gets wrong).
It didn't stop there either as another Media Wales journalist (the man who promised to run naked down Sloper Road if the new stadium got built and then didn't when it was and the man who told us in July 2007 that Jason Koumas was signing for us on a permanent basis) appeared on Talksport to tell the world that Bellamy was coming to Cardiff and this had been confirmed in discussions he had with "agents" (not Bellamy's apparently). Later media stories were less strident about where Bellamy was going to end up, but there appeared to be a general agreement that the player was not welcome at Manchester City at the moment and that they had given their permission for Bellamy to train with City from today while he sorts his future out.
So what does my gut instinct tell me about all of the above? Well, that's a tough one. Looking at it from the optimistic point of view, I would say that the "no smoke without fire" argument seems a strong one and that the statement by a "Cardiff spokesman" in this BBC piece is hardly the categorical denial you might have expected if there was nothing to the story (of course it's pure speculation "at this stage"!).
However, to measure against that, you have the cold logic which shouts the question how can a club that has been paying what have seemed like monthly visits to the High Court this year to argue that they not be wound up for non payment of bills and whose officials talked on the day that the club's transfer embargo was lifted of the possibility of another one being imposed within weeks, if not days, possibly countenance a deal which sees the player, who I rate as possibly the best British born performer in last season's Premiership, end up playing for Cardiff City?
Those who say Bellamy is coming, will, no doubt, point to Vincent Tan's billions and say that they make almost anything possible and it's true to say that, when the Bellamy to Cardiff rumours started back in May, I didn't rule them out completely because I wondered whether it would be the way that the Malaysians would make their "statement of intent" when it came to their plans with Cardiff City. That was three months ago though and the intervening period has seen further unpaid bills, staff not being paid on time and another transfer embargo and yet, I also remember both TG and Vincent Tan saying that our debt (which us mere mortals think of as being almost overwhelming) was relatively small – this is a sign of the sort of world they conduct their business in and the cost of any deal for Bellamy would be small by their terms.
What needs to be said about that though is that firstly, without a full explanation from the club as to how the deal would be funded and structured if it did come off, I would have to agree with those supporters of other Championship clubs who would argue that it is morally wrong for Cardiff to not pay their bills and settle with their creditors (many of whom could be small businesses for whom the money they are owed could be the difference between continued trading and liquidation) while finding a huge sum every week (the figure of £45,000 has been mentioned) to pay the wages of a loaned footballer. On top of that, I would have thought any deal for Bellamy would make it impossible for City to play the "I'd like to pay you, but were skint" card again because it would almost certainly mean that the Malaysians would have shown their hand and would have to move towards the takeover of the club that many suspected would happen eventually – if Bellamy signs today, it would surely have to happen sooner rather than later.
Anyway, what was the question again? Oh yes, do I think Craig Bellamy will be signing for us today – sorry, I've not got a bloody clue.