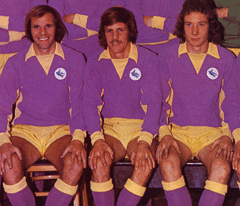 My entry on here for the Palace match last Tuesday detailed how angry I was with City's performance. Now, with the true fickle nature of the football fan for whom the result is everything, I find myself delighted with and optimistic about our prospects despite the fact that the view from manager and players following yesterday's 2-1 win at Barnsley was along the lines of satisfactory, but we still aren't playing that well.
Perhaps part of the reason for me feeling better about things is that the reaction from Dave Jones and his team to yesterday's match suggests almost a disappointment that we are still picking up points more through guts and character than through showing the ability that has most neutrals saying that we are strong contenders for an automatic promotion spot. There is a widespread belief from those at the club that there is a lot more to come yet from the team which has to be reassuring given that we find ourselves in second position going into the second international break of the campaign having now played the ten games which so many say is the point in the season when the true nature of sides strengths and weaknesses can be gauged.
For me, the last few weeks have shown that our squad depth is not as impressive as it was claimed to be around a month ago, but, despite the poor performances, City have been able to win more games than they have lost since they lost getting on far a half of what is probably our first choice team  to injury. Our squad has been tested in a way in which virtually all of our rivals have not been yet and, if it hasn't exactly come through with flying colours, no lasting damage to our promotion prospects has been done.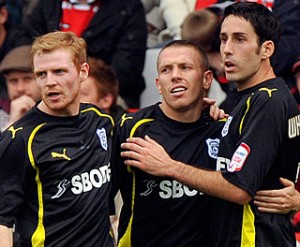 Of course, all of the above might have been reading somewhat different if it were not for the presence on the pitch of the sort of player who can provide that flash of inspiration we were so desperate for on Tuesday. After forty odd minutes of the sort of turgid stuff we had played for much of the previous four matches, Craig Bellamy suddenly marked his return to the side after what seems so much longer than just a five game absence by scoring a magnificent goal. The part played by Jay Bothroyd and Peter Whittingham in putting City's captain into a position where he had a shooting chance should not be ignored, but there was still all awful lot left to be done when Bellamy got the ball – his shot wasn't spectacular, but it was so effective.
Barnsley manager Mark Robins got it exactly right I reckon when he said "His (Bellamy's) was a goal that not many in this division would score." To Robins, Craig Bellamy is  also "the difference between most sides in this division" and although he was joking when he said his right back Bobby Hassall, who was struggling to be fit for the game, ruled himself out when he heard Bellamy was playing, it does give a clue as to how Championship sides feel about the prospect of having to play against someone who is still, so obviously, a Premiership player.
Put simply, my own belief is that if Craig Ballamy is fit enough to play ninety minutes yesterday, then he is fit enough to play for his country during the next fortnight. However, I accept that the Barnsley manager's comments only go to show how important it is that City do everything they can to ensure that Bellamy plays as many games as possible for us over the next seven months and their belief is that the player's short term (and, possibly, long term) fitness will be effected by playing a couple of games before October 16 when we resume Championship fixtures against Bristol City. Bellamy enjoyed an outstanding season last year by being treated as a "special case" with his own, personalised, training regime and Brian Flynn appears satisfied that the same sort of thing will apply at Cardiff (although it will probably be too late in terms of any hope Wales have of qualifying for Euro 2012, I just hope that the likes of Bellamy, Ramsey and Collison will be there for Wales when we play England next March).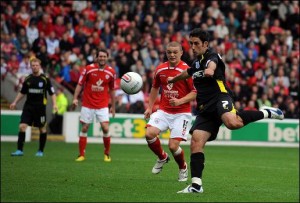 If the news of one of our potential match winners is good, then it's a bit worrying to hear from Dave Jones that Peter Whittingham was "tense" when taking the penalty which was awarded shortly after Barnsley had equalised with a scrambled goal which would have been funny if hadn't been scored against us. It seems obvious that not scoring so far this season is getting to Whittingham a bit – this is quite understandable I suppose, but it's hardly as if goalscoring is all that he gives us – I've already mentioned his part in the first goal and the handball which led to the penalty came from one of his corners being delivered into a very dangerous area.
However, I think it's also true to say that Whittingham is one of a few players of ours who "aren't quite there" yet this season. In Peter Whittingham's case, you can't help thinking that a goal would make such a difference to him, but, unfortunately, the luck which, seemingly, saw everything he hit last season fly in has deserted him completely for now. For example, there was not much wrong with his penalty against Millwall last week while yesterday he decided to go for a blasted shot down the middle (a technique which worked a few times for him last season, including against Leicester in the Second Play Off match), but this time the ball rebounded of keeper Steele's legs and looped over the bar.
Nothing against Seyi Olofinjana who is proving to be a useful source of goals for us with his formidable presence from dead ball situations, but it would probably have been for the best if he not got a touch on Whittingham's well struck shot which was on it's way in for the winning goal without his intervention. With Jason Koumas reduced to the role of non playing substitute yesterday (when's the last time Dave Jones did not bring anyone on from the bench I wonder?), we need an in form play maker/match winner, I think one of him or Whittingham will step up to the plate soon – if they can do that, then the goals will inevitably follow for them, but Whitts really could do with the ball flying into the net off his backside at the moment!