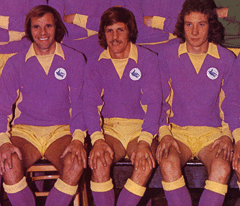 I watched Cardiff City sides play three different matches yesterday and, on an individual basis, they left me entertained, thrilled and frustrated. Yesterday evening, as I contemplated what I had seen, both on the pitch and off it, at the end of what has been quite a momentous week for the club, I had a sense of concern for what the future held for City – it looks like there could well be stormy weather on the way.
Before going on to discuss the football that was played, I should set the background against which it came. There has been some coming and going on the transfer front in the past seven days. Paul Trollope had talked about the need to recruit a goalkeeper, a full back/ wing back (preferably with the ability to play on both sides of the pitch) and a striker before the transfer window closes on Wednesday night and there have been developments on the first two of those fronts in the last forty eight hours.
Bolton goalkeeper Ben Amos joined us on a season long loan deal on Friday and Aston Villa full back Joe Bennett arrived via a free transfer yesterday. Amos, who has first team experience with Manchester United, was Bolton's first team keeper throughout last season and I daresay he would have been this one as well were it not for the fact that, as one of that financially stricken clubs bigger earners, they really needed to get him out on loan or off the books entirely now that they are in League One with it's far lower television money and, presumably, lower gate receipts.
It's fair to say that the on line opinions I've read from Bolton fans about Amos have not tended to be complimentary ones. Now, it needs to be said that they were never likely to be when you consider that he was playing behind a defence which conceded more goals than any other Championship club last year.
However, the problem I have with him is that I cannot forget that, in what I believe are his only two previous appearances at Cardiff City Stadium, he gifted us a goal each time as he was outjumped by Heidar Helguson while playing for Hull in 12/13 and allowed Kenneth Zohore's near post shot to get past him in our 2-1 win over Bolton last season – I'll try to give him the chance I give all new players, but it's hard to get those two goals out of my mind for the moment.
As for Bennett, he was regarded as quite a prospect when he signed for Villa from Middlesbrough in 2012 at the age of twenty two. He was a fairly regular member of the team during his first season as well, but has spent most of the two previous campaigns out on loan at Championship clubs with spells at Brighton, Bournemouth and Sheffield Wednesday.
In fact, Wednesday looked to have signed him permanently during the summer, only for the deal to be blocked at the last minute by Villa owner Dr Tony Xia because he thought his club shouldn't be letting players join possible promotion rivals when they would not be paying all of their wages. Now, you can say that the fact that Bennett has been allowed to sign for us tells a story as to how the good Doctor rates us this season, but the truth is that we were probably prepared to pay all of our new man's wage, hence Villa's willingness to do a deal.
So, Bennett, who it is said can play anywhere on the left, but has never played on the other side of the pitch as far as I'm aware, has not come cheap despite there not being a transfer fee. Again, he does not appear to be too highly rated by fans of his former club, but, as someone who has played an awful lot of football in this league down the years, he strikes me as being a decent addition to our squad.
The reality at Cardiff City for getting on for two years now is that players coming in has to mean that others must go out and Friday saw the announcement that Kagisho Dikgacoi had left us. As one of the three very big earners the club have been desperate to get rid of all summer, you might think that this was very good news, but the addition of the words "by mutual consent" told the story that the player had, in all probability, been given a fair sized payment by the club to help him on his way.
Given how much he cost us in wages and how little he did for us on the pitch, the overriding feeling of this Cardiff fan to the loss of Dikgacoi was one of good riddance, but that's far from the case with the other, almost certain, departure from the club within the next few days.
When the news of Simon Moore's departure to Sheffield United first broke, I consoled myself by thinking that it should at least mean that the club was very confident of keeping David Marshall for at least the first half of the season – not a bit of it I'm afraid.
Sadly, the best player in our squad and the best goalkeeper I've seen at Cardiff missed yesterday's home match with Reading because City have accepted a bid by Premier League side Hull City for him. Paul Trollope confirmed in his post match press conference that Marshall had agreed personal terms and would probably be undergoing a medical tomorrow..
Marshall's imminent departure has to be a very big blow to supporters who I hope and trust will still wish him all the best for a move to the top flight which he undoubtedly deserves  Almost as bad for me though were the reports that a meeting was held with Academy staff on Friday where they were told that there would have to be as many as twenty redundancies (voluntary if possible, but compulsory otherwise).
Now I should emphasis that none of this has been confirmed officially and so there is still the hope that there is no truth to the rumour, but the sources from which it has tended to come from mean that it has the feel of being authentic to me. It's not really fair to be too harsh about this decision, if it is true, without having access to what the club's financial ledgers are saying, but, nevertheless, I can't help feeling that this cost cutting exercise could end up doing far more harm than good.
Anyway, it's high time that I started talking about those three games mentioned above and, having always been someone who has opted for the bad first when asked the question "do you want the good news or bad news?", I'll start with the first team's game!
Trying to be positive, I'll say that the 1-0 loss by virtue of a very late goal by one time figure of fun for Cardiff fans, Yann Kermogant was not as awful as our home defeat (we've already lost as many home matches now as we lost throughout the whole of last season) to QPR a fortnight ago.
For a start, it didn't take us our usual hour to get a shot or header on target, Reading's keeper was forced into action three times in the first half and there were some good headed chances that went a begging during this period.
With a couple of other presentable headed opportunities being missed after the break as well, I find it hard to reconcile Reading manager Japp Stam's claim that his team deserved their win – not when they did so little to work stand in keeper Ben Wilson.
Wilson, who signed a two year contract extension last week, had no chance with the goal, but it must be said that he failed the only real examination he was given as he dealt poorly with a Sean Morrison miskick which looped up into the air and dropped just under his crossbar – City scrambled the resultant shot off the line, but were not so fortunate when wing back Kadeem Harris was left with two opponents to deal with and the resultant cross was swept home by Kermogant with less than two minutes of regular time remaining.
The fact that we lost points thanks to a goal conceded inside the final five minutes for a second consecutive match is a concern, but, for me, it's the fact that our new 3-5-2/5-3-2 formation just isn't working, in home matches at least, that is the most pressing problem.
It all looked so good in theory with three central midfield players, hopefully, ensuring we were not over run in that area as we have been so often before and wing backs on either flank bombing forward to get crosses and shots in.
Unfortunately, the reality has been so different. We are playing the Wales version of the three centreback system which sees players who primarily think like full backs selected as wing backs, so what we play is more 5-3-2 than 3-5-2. To be fair to Harris (who, of course, could never be described as primarily a full back), he did try and make things happen down the right in an attacking sense, but the way our wing backs are being deployed in games at Cardiff City Stadium means that, tactically, we appear to be treating it as an away match.
When your strikers are as limited as ours as are currently, you would like to think others in the team would try to compensate by getting forward as much as they could – our wing backs should be prime candidates to do that, but it hardly ever happens.
You would have thought help would come from central midfield as well, but, apart from the odd early foray by Aron Gunnarsson (who is surely best suited to a deeper role) it never happened. Whatever Gunnarsson, Peter Whittingham and Joe Ralls were doing for most of the match to cause them to offer Anthony Pilkington and the ineffective Lex Immers (nowhere near as influential for us so far as he was last season) so little support, it wasn't trying to work out what to do with the multitude of possession we were enjoying.
Now, I've come around to agreeing that possession of the football isn't as all important as I once thought it was, but, even so, the thirty two per cent possession we "enjoyed" yesterday just isn't good enough when you are playing three central midfielders.
Anyway, that's enough of about the first team for now, let's talk about the far more enjoyable youth matches I watched at Treforest a few hours earlier.
Sometimes you can be at that venue and have a choice of two games to watch being played about fifty yards apart and still think what am I doing here? Not yesterday though, the two matches with Crystal Palace were great value with so much going happening on both pitches that it was impossible to keep track of all of the action.
I spent most of my time watching the Under 18s and before I get around to what happened I should just mention that, for the first time in my half a century and more of live football watching, there was a woman referee in charge. Now, I thought she favoured Palace somewhat, but then I would say that wouldn't I and, at no time, did I find myself thinking "bloody woman referees!" – I wouldn't say she was brilliant, but I've seen hundreds of worse men refs than her.
As for the game, I think the best way to describe it is to use captain Cameron Coxe to show what was good and not so good about the Under18's performance in a match they lost 5-3. Coxe is a full back (he played on the left against Palace, but is usually used on the right), well he's more than that really, he's also a wing back – in fact, he's just the sort of wing back I'd love to see in the first team for home matches because he spends more time contributing on the ball in the opponent's half than he does in his own.
Yesterday, the team were playing a 4-2-3-1 formation, but even though he was supposed to be a full back, he was still playing more like a winger and contributed a fine goal to take his tally for the season to three I believe. There's nothing wrong with such a sense of adventure in full back play in the modern game though – in fact, it's actively encouraged at some clubs.
However, it's usually the case that there are two central midfield players screening the centrebacks while the full backs play so far up the pitch – City only really had one yesterday in Jarrad Welch and he and the two centrebacks had an almost impossible task at times when Palace counter attacked because City often had as many as seven players in advanced positions.
From what I saw, Palace just about deserved to win a match between two evenly matched sides, but the Academy team played better in defeat than I've often seen them play in victory.
Saving the best for last, I now come on to the Under 16s' 6-1 win. I can remember Ken Choo and Russell Slade saying in a meeting with Supporters' Trust.members last winter that we had some outstanding prospects in the Under 16 age group. Certainly, the way the likes of Sion Spence, Keiron Proctor and Sam Bowen were able to seamlessly slot into the Under 18s yesterday  suggested that they were talented players, but that certainly didn't mean that the more ordinary players were left to get by in the younger age group.
Now, I should just say here that I suppose that much that happened could have been down to Palace being awful at the back and it may be that they concede six or more every week, but I very much doubt it! If the Under 18's attacked with a zest, purpose and freedom barely ever seen from the seniors, the Under 16's played the most outstanding and effective counter attacking football I've ever seen from a City youth team.
I must have watched about half of the game either close up or from that distance of fifty yards away and what soon became apparent was that they were absolutely murdering Palace with their attacking pace.
I wish I could put names to faces to play a limited part in giving these kids some of the recognition  that they deserve, but I can't – what I will do though is describe two goals I saw which really testified as to their attacking potency.
The first came in the first half (City led 4-1 at the interval) when one of the centrebacks intercepted, brought the ball out from the back and played a lovely pass through to free our number nine I think it was, who cut in from the right and fired a precise shot from the corner of the penalty area across the keeper and into the net.
If that was a fine goal, then the one I saw from closer up to make it 5-1 was outstanding. The build up was similar to the earlier goal as the other centreback, intercepted, moved forward confidently and sent a lovely pass into the path of the number nine in an inside right channel. The striker still had plenty to do, but made scoring look so simple with a gorgeous chip from twenty odd yards over the stranded keeper to complete what I believe was his hat trick.
If the sort of attacking pace that the seniors can only dream of was behind this marvelous win, it should be said that pace alone will only take you so far even in the modern game which values that commodity so much, but when you've got the talent to go with it, you've really got a chance.
All of this should be a really good news story at a club in desperate need of something to lift spirits currently, but, as so often happens at City, it has to be qualified by that word "but". If the rumours about redundancies are true and these lads really are as good as they looked yesterday, then you have to wonder if we are going to be running a cut price Academy, how many of them will still be at the club when they reach an age where they come into first team consideration?
I think most supporters will appreciate that there is a need for financial prudence (there are things like the FFP regulations to be obeyed after all), but we are currently operating at a level in the transfer market many steps below sides which are not in receipt of the £8 million parachute payment we are having this season.
I would argue that we are currently in the same sort of position as we were for the majority of the Ridsdale years whereby we had to sell one or two of our best players every season in an attempt to remain financially viable.
Say what you like about Ridsdale, he had the knack of keeping supporters enthused every summer by making some eye catching signings, whether it be the veterans Fowler, Hasslebaink and Sinclair in 2007 or bargains like Chopra, McNaughton, McPhail, Loovens and Roger Johnson – add to that an Academy which produced a steady stream of youngsters good enough to shine in the senior team and you had an operation that was able to keep the punters onside when it came to on field matters at least.
Although much of the blame for our current woes lay at the door of Messrs Mackay and Solskjaer, they weren't responsible for rubber stamping the deals between 2013 and 2014 which played such a part in seeing our debt levels rocket despite the huge level of income from television during our Premier League season.
There have been one or two signs lately that they are learning from past mistakes, but I don't think it's unreasonable to suggest that the transfer Committee system has been a disaster for the club given the number of poor or can't be arsed players on huge salaries it has lumbered us with.
I wish David Marshall all the best at his new club, but I can't help thinking that there may be more first teamers leaving before the window closes – the mess we have got into with goalkeepers offers all of the proof you need that we are operating very much on the hoof when it comes to transfer policy.
As things stand, the £3 million or so guaranteed income we are going to get from Marshall's transfer (I understand that the much quoted £5 million is a maximum figure) means that we have had a transfer income of something like £6 million this summer.
With the Lex Immers, Emyr Huws and Joe Bennett signings making quite a dent in that figure I would have thought there may be a reluctance on the part of Messrs Tan, Choo and Dalman to release the sort of funding which would be needed to get us a striker of the quality we so patently need. Hwever, based on what I've seen so far in our home matches in particular, they are, figuratively speaking, dicing with death if they tell Paul Trollope he will have to look at cheap options to try to solve our striking, and goalkeeping, woes.
The money men might not think there is any chance of this squad going down, but combine our lack of firepower, pace and squad depth with the general feelbad feeling there is around the place and, oh yes, we can, and could well, be relegated this season.
Sorry for this being such a long piece, but it's going to be a bit longer yet I'm afraid because Jon Candy (whose high quality photos of matches I've often made use of on here in recent years) has received a letter from the club asking him to stop taking his photos from now on. Now, it seems that Football League rules state that the club is well within their rights to make such a request, but it doesn't half strike me as something of a sledgehammer to crack a nut approach when you consider that, as far as I know, Jon has never sought to make a profit from his photography.
Anyway, I'd like to express my sympathy towards Jon and thank him for his efforts down the years, I, and more particularly, this blog will miss his pictures – the day when this will be a photo free zone, when it comes to match action at least, draws ever closer I'm afraid.