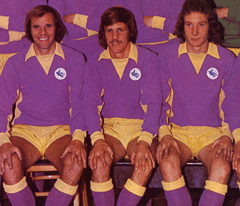 In an interview after the Leeds game on Saturday, John Brayford said he had never understood why playing away was thought of so differently from playing at home – it was just a football game when all's said and done. Now, I'm willing to take our right back at his word and accept that he feels exactly the same about playing in away matches as he does about turning out at Cardiff City Stadium, but, after City's latest away horror show in losing 3-0 at Bolton last night, I can only assume he is the only one in the team feeling like that as they trot out on to the pitch on opponent's grounds.
I should say that I've not even seen the goals from last night's match yet, but, judging by the radio commentary and the match reports I've read, City's miserable away form reached new depths – you thought Blackpool and Millwall were bad, but wait until you see Bolton!
When a side put together with possibly the biggest budget in the Championship, full of players who are probably earning more than many in the Premier League do can only pick up four points and score five goals in their first eight away matches, you know something is seriously wrong and the truly concerning thing is that the same old problems keep on surfacing every time we go away.
On Monday Nathan Blake said on the Wales Online show he does with Steve Tucker every week that if you are in an away side that batters your opponents, yet ends up losing 1-0, you can console yourself with the fact that you are not getting what you deserve and things should start changing soon if you keep that level of performance up. Unfortunately, what we are seeing with City is almost that situation in reverse in that, although four points from eight eight games is a pathetic return for a team that was being touted as favourites to win the Championship three months ago, the truth is it could be so much less.
Having seen the performances we turned in Blackburn, Fulham and Derby, I'd say we got three more points than we deserved in those games and much of what I've read about the 1-1 draw at Brighton suggests the same applies there as well. On the other hand, I suppose that, given the pressure we put Blackpool under in the closing stages, we might have deserved something there, but the defeats at Wolves and Millwall were merited and it certainly sounded like we deserved nothing from last night's match.
So, who is to blame for our feeble away record (both in terms of points and performances)? I see that some already have knives out for Russell Slade. Speaking for myself, although I support his attitude in trying to stick with the same group of players, there is a danger that we have gone from one extreme to another with him – following Ole's incessant team changes, we now have a few players who have yet to repay the loyalty our new manager is showing in them. After last night's game. Slade gave  a very heavy hint that there will be changes for Saturday's match at Birmingham and so I think there has to be when you accuse your team of having a "soft underbelly" like he did last night.
There are understandable criticisms of our manager's decision to play 4-4-2 in away games as well. After the game Iwan Roberts wasn't saying anything that hasn't been talked about by many City fans for months (if not years) when he stated that he didn't think Peter Whittingham could be used in a 4-4-2 because he doesn't have all of the attributes needed to play in a central midfield two these days and in this division. It is also a fact that our two strikers are hardly getting chances galore when playing this, supposedly, attacking formation – we barely threatened the Millwall goal and, by the sound of it, home goalkeeper Andy Lonergan was only seriously called into action in added time when sub Nicky Maynard twice extended him at a time when the game had been done and dusted for ages.
I hope Russell Slade doesn't stick slavishly with a 4-4-2 system that manifestly hasn't worked in his first two away matches, but he can point to the game he watched at Blackpool where a City team playing a 4-5-1 (thereby giving Whittingham the support Iwan Roberts felt he needed) played abysmally for seventy minutes and only woke up a bit when they brought two fresh strikers on and switched to 4-4-2.
With Anthony Pilkington absent through the illness which forced him off at half time on Saturday, Russell Slade did what most managers would do I reckon and went with the "safe" option of Joe Ralls rather than something more exotic like a Ravel Morrison. Again, the manager could defend his decision by pointing out Ralls had done well when he was brought on for Pilkington on Saturday and I noticed that Rob Phillips mentioned him and Fabio as being the only players in his opinion to have performed anywhere near decently.
However, when it comes to the personnel on the substitutes bench, I find it harder to defend the manager – for the life of me, I don't see why we needed Ben Turner, Matt Connolly and Danny Gabbidon (all out and out defenders) there. There have been suggestions that Mats Moller Dæhli is going through something of a rough patch following his mentor's departure, but, if he was in the party of 20 which traveled to Bolton (which is what is being said in the Echo today), why wasn't he (or Declan John) one of the subs instead of one of the three central defenders?
That said, would Dæhli or John have got on anyway? Kimbo didn't – I've been critical of him since his just went through the motions against Bournemouth in the League Cup, but I don't understand why you'd put a player like him on the bench and then not use him despite it being obvious that nothing was happening for the team in an attacking sense.
However, four different people have had a go at trying to cajole a half decent away performance out of this group of players for games in the Championship this season and none of them have really succeeded yet. We can argue about systems and substitutions and point fingers at managers, but this group of players should not be allowed to get away Scot free – telling them they have a "soft underbelly" is a pretty damning indictment for a professional football team, but the evidence of eight away matches suggests it's a valid criticism.
I'm not that keen on that old analogy that football people use when they say they would want such and such a player alongside them in the trenches, but I can't help thinking about it at the moment. The longer this run of dismal away results in games where our performance stinks goes on, the more I become convinced that our problems don't stem from physical or technical failings, but from psychological ones – put simply, a few City players need to man up from Saturday onwards!
* pictures courtesy of http://www.walesonline.co.uk/