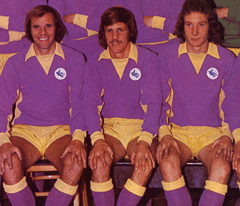 A prior engagement meant I was unable to even listen to last night's 1-1 draw at Brighton on the radio – I've since seen the goals, but no more than that. Therefore, I intend to make a few general observations based on the match reports I've read on line.
First thing to say is that midweek draws at the Amex Stadium are becoming something of a tradition – we've played at Brighton's new ground three times, the games have always been on a Tuesday or Wednesday night and each time it's been a case of a point apiece for the sides. Brighton have been a strong team in the Championship since being promoted in 2010/11 and I believe a draw should always be regarded as a decent result when we go there.
In fact, away draws are generally regarded quite positively by supporters – I suppose that old maxim about winning your home games while drawing away offers an explanation as to why. However, the change to three points for a win instead of two in 1981 has surely made such thinking more questionable than it was.
Look at our away record after last night – if you wanted to accentuate the positive, then you'd said that we'd be unbeaten away from home were it not for a freakish own goal in time added on at Wolves back in August, but, for me, the words "blissfully ignorant" spring to mind there.
What I've read about last night is that we should be very grateful to David Marshall for our point as our captain made a series of fine saves. Having seen all of our previous away matches in the Championship this season, I'd say this was not typical of what's been happening – Marshall has had to make some good saves, but he hasn't been required to perform the sort of heroics which were commonplace last season.
However, it would appear that last night resembled the matches at Blackburn, Wolves, Fulham and Derby in that we found ourselves outplayed in midfield and there were times when we appeared to be hanging on for dear life in the face of almost constant pressure from the home team.
Five games is probably enough to draw a few conclusions about how City are doing on the road – especially when each of those matches would appear to follow a very similar pattern. In our first four away matches, I would say we did well at Blackburn for twenty five minutes or so after the match started, we did okay at Wolves for most of the second half, were adequate at Fulham in the third quarter of the game and played pretty well at Derby for parts of the second forty five minutes. Apart from those spells, totaling no more than about 100 minutes, we've been very much second best.
It reflects well on our defence and keeper that we have only conceded six goals in our five away matches given how much time we've spent being forced back into our final third. Of course, it's not just Marshall and the back four who are defending, so the midfield and forwards have to be given their share of the credit for what is a good defensive record on our travels.
Unfortunately, there's not much else that is good I can say about our midfield players especially so far. With Tom Adeyemi coming in for Craig Noone in the only change from Saturday''s win over Sheffield Wednesday, caretaker managers Scott Young and Danny Gabbidon sacrificed attacking flair and pace for what they hoped would be a bit more defensive solidity as, unlike at places like Blackburn under Ole, they opted to make it three against three in central midfield.  The numbers may have been equal, but a common theme of the reports I have read is how, yet again, we were outplayed in the middle of the park.
I tend to look at things in simple terms and basically I feel midfield players, especially central midfield players, should win the ball and then pass it to a team mate – it also helps if you can deliver good free kicks and corners and/or come up with a goal every now and again.
The possession stats for our ten Championship games so far are just not good enough – according to the BBC, we've only had more than 50% of the ball against Huddersfield. It needs to be said, that it wouldn't be fair to put all of the blame for this on one area of the team, but midfield, and in particular central midfield, should be an area where ball retention would be expected to be better than among our defenders for example. However, for a squad full of expensive, highly professional footballers to average just 36% possession in their away games, like we are doing currently, is pretty awful – it's hard to avoid the conclusion that we give the ball away too often and then struggle to get it back.
Given the way our first four away matches panned out and reading between the lines as to what happened last night, we've done pretty well to take four points from our away matches so far. However, that's only 27% of the points on offer in those matches – in isolation, away draws are acceptable results, but, when they become the norm, then it starts to pile the pressure on when a team plays at home.
To get an idea of what I mean, if we keep on gathering points at our current rate in away matches, we are going to end up with eighteen/nineteen points from our twenty three matches. For a side which is targeting promotion, that is a very disappointing figure – especially for one where a top six finish, and a Play Off spot, would be regarded as failure in some quarters.
If we say eighty points would mean a top two finish (very often it doesn't), we could only afford to drop something like eight or nine points at home throughout the campaign if we were to reach that figure with our current away form being maintained – we've already dropped six points at Cardiff City Stadium after just five home games.
The problem is that. based on what we've seen so far, I don't see us improving on those possession figures in away matches with the central midfielders currently available to us. This situation could be changed without us going into the transfer market in two ways as I see it. First, Russell Slade can get our central midfield players more determined, confident and fitter than they are at the moment and secondly, a player who was good enough to be a regular starter in the Premier League last season, might, finally, start giving us some evidence as to why we signed him – what on earth is going on with Kagisho Dikgacoi?
* pictures courtesy of http://www.walesonline.co.uk/