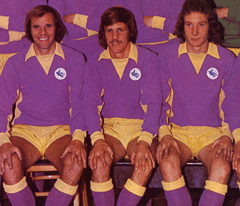 Mario Risoli has written some great books on Welsh football history including biographies on John Charles and Giorgio Chinaglia. I particularly enjoyed "When Pele Broke Our Hearts: Wales and the 1958 World Cup" (the title tells you all you need to know about the subject matter doesn't it!) and I'm really looking forward to reading his latest offering (which is on sale now). Mario has turned his hand to Cardiff City's exploits in Europe between the years 1964 and 1993 and written "From Tashkent with Love"  to celebrate the fiftieth anniversary of our first campaign in the European Cup Winners Cup.
As someone who was there to watch most of City's home games in European competition, I'm really looking forward to reading this book, but that's enough of me rambling on about it – Mario kindly agreed to answer questions about how the book was put together and who has contributed to it, so, without further ado, here's what he had to say;-
What inspired  you to write From Tashkent With Love?
I've always been fascinated by the club's European history and, to this day, remain astonished by some of the results City chalked up in the Cup Winners' Cup as a side playing in the old Division Two.  They reached the semi-finals in 1968, thrashing NAC Breda and stunning Torpedo Moscow – while at the same time battling relegation on the domestic front. That's an incredible story. If you watch the semi-final second leg against Hamburg at Ninian Park, City could easily have won it and progressed to the final. They created a hatful of chances in the first half.  Instead, it all ended in heartbreak in front of the Canton Stand in the dying seconds. Then you have that remarkable 1964-65 run, beating Sporting, the holders, in Lisbon before narrowly losing to an excellent Real Zaragoza side boasting 'los Cincos Magnificos' (the Magnificent Five), at the time one of the most feared forward lines in Spanish football. Add to that the epic clashes against the likes of Real Madrid, Standard Liege and FC Porto, plus the extraordinary 8,000-mile round trip to Tashkent , deep into Soviet Asia, to play Torpedo in 1968, and it was clear this was a story that needed telling.  Even some of the defeats were absorbing to research and write about. City were involved in 24 ties and there was hardly a dull moment. It's a story that has everything – glory, drama, comedy and heartbreak. Other Welsh clubs claimed memorable results in the competition but none achieved the consistent success that Cardiff achieved, notably under Jimmy Scoular. I'm hoping younger fans, who have never seen City play in Europe, will enjoy the book as well as those who actually watched those games. The Cup Winners' Cup is a huge part of the club's history and a part I hope won't ever be forgotten.
How long did it take to write the book?
It took nearly five years to complete. It began in December 2009 with an interview with Don Murray at his home. It ended at the start of this year. If I remember correctly, the last ex-Bluebird I interviewed was Alan Campbell. The book was effectively written and I just weaved in Alan's recollections.
You have interviewed more than 70 former City players for the book. Were some of them hard to locate?
Yes! I already had a decent amount of phone numbers for ex-Bluebirds from my time covering football for the Western Mail – guys such as Don Murray, Gary Bell, Steve Derrett, Leighton Phillips and John Buchanan – but to track down other former players who had moved away long ago, I had to call on former players associations at other clubs. For example, Birmingham City put me in touch with Alan Campbell, Portsmouth helped me with Paul Went and Bolton got a number for Gareth Williams, who now lives in Gran Canaria. It took three years to get that number! I was chuffed to contact Gareth as he captained the club in the first European campaign and I'm indebted to Albert Lord (secretary of Bolton Wanderer's Former Players Association) for putting me in touch with him. Gareth would have been quite easy to find six years ago since he ran a bar/restaurant called Churchills in Puerto Rico, Gran Canaria, but that had gone by the time I started the project so I had nothing to go on. Those great lads in Australia who run the Bluebirds DownUnder supporters group arranged a phone interview with Adrian Alston for me. Adrian was in Sydney at the time, getting ready to watch City's first Premier League game, at West Ham, with Aussie-based City fans. Ex-players were also a massive help. Graham Coldrick used his Newport connections to find Terry Lewis. Derek Showers has kept in contact with Albert Larmour, Freddie Pethard and Bill Irwin, so he passed on their numbers. Bill, who lives in the United States, then put me in touch with Willie Anderson, his Portland 'neighbour', so it was a domino effect.  To interview Willie was especially nice because he's my dad's all-time favourite City player. So many people were so helpful and I'm incredibly grateful to them.
Is there one piece of detective work you're especially proud of?
It was probably finding Bernard Lewis. The biggest challenge was to locate as many of the side that played in the first European campaign (in 1964-65) as possible, notably the first tie with Esbjerg. I really didn't want a book that was top heavy, where there were plenty of player contributions from the late 1960s onwards but not the early years, so I put a lot of effort into getting numbers for the players from the 1964-65 era. After a slow start, it began to fall into place. I rang Greg Farrell in South Africa, then did a Skype interview with Peter Rodrigues while he was travelling across Spain in his motorhome! I interviewed Dilwyn John and Barrie Hole at their homes, then did another Skype special with Peter King, who has retired to Spain. That had to be done over two days because he played in so many European ties. But I was determined to get Bernard as he had played in the 1-0 win over Esbjerg at Ninian Park. None of his ex-colleagues knew where he was and nobody at the club had any idea of his whereabouts. I knew he was from Aberfan so I decided to drive there and ask the locals since Valley communities are tightly-knit. Sure enough, someone knew where Bernard's mother lived. I went to the house and met Mrs Lewis. She told me Bernard was living in Spain and wrote down his number. I then called him and we arranged to do the interview in Aberfan, when he next came over to see his mum. The irony was he remembered NOTHING about the Esbjerg second leg! However, he was very good with the other ties he played in.
Did every former player you contact agree to an interview?
Only one player declined to be interviewed and that was Doug Livermore. He sent me a polite email saying he didn't wish to chat about his City days.  That's fine. You have to accept not everybody wants to talk about their past career.  When you undertake a project like this, you have to allow for some rejection.  I called Brian Attley and arranged a phone interview to talk about the ties of 1976-77 but the chat, sadly, never happened. Brian may have changed his mind or maybe he never wanted to do it in the first place and was too polite to say no. Maybe it was something else. That's OK. These things happen. In the end more than 70 ex-City players agreed to be interviewed so I can't complain.
Are there any ex-Bluebirds you wanted to interview but weren't able to track down?
I wanted to speak to Sandy Allan. 'Handy Sandy' didn't play many ECWC games but he scored a hat-trick in the second leg against Mjondalen in 1969, the first Bluebird to score a hat-trick in the Cup Winners' Cup. Sandy now lives in South Africa but I just couldn't get a number for him. I called the Bristol Rovers Former Players' Association as he was a popular figure at Rovers but they didn't have a number and couldn't get hold of him when they tried to organise a players' reunion a few years ago. There comes a point where you have to draw the line and move on, otherwise you'll never finish the book. I was more than happy with the Mjondalen chapter and had plenty of interviews for that tie, including Terry Lewis who made only four appearances for City, among them the second leg against the Norwegians. I didn't get Sandy but I found Terry – that's how I looked at it. Ironically, I got a contact number for Sandy only a few days ago! Another ex-player I wanted to interview was Chris Pike who scored the equaliser against Admira Wacker in 1992. I've never had a number for Chris and I tried to reach him through various channels but nothing ever came back. I think he prefers to keep a low profile and at the time Gareth Bale, his nephew, was in the process of leaving Tottenham for Real Madrid so that wouldn't have helped. After the Admira game, Chris spoke to the Press about his goal and also the match so at least I had that to work with.
How much did the former players remember of their European experiences with City?
It was remarkable what some of the ex-players recalled. Peter King told me a very funny story about the training session in Augsburg the night before the play-off with Torpedo Moscow.  I won't spill the beans here but let's just say Jimmy Scoular wanted to show off in front of the watching public and it didn't quite go to plan! The trip to Tashkent, via icy Moscow, is vividly recalled by the squad who made that epic journey. Don Murray's recollection of the tortuous flight from Moscow to Tashkent was very interesting and I enjoyed Norman Dean's stories about wandering through the streets of snow-covered Moscow. Remember, this was 1968, the height of the Cold War. Bobby Ferguson came up with some great anecdotes, including one about his friend and roommate, the late Brian Harris, who took Marks & Spencer clothing to Moscow in the hope of trying to sell them behind the Iron Curtain for a big profit. Bobby's view on Scoular's preparation for the game with Hamburg at Ninian Park was enlightening. Again, I don't want to spoil it here.
The lads who travelled to Cyprus to play Pezoporikos of Larnaca in 1970 remembered that trip very well. Look out for Gary Bell's story involving pea soup and Ian Gibson! City had won the first leg 8-0 so the second leg was a formality. Unfortunately for the players, they treated it as a summer break and Scoular went berserk. Dave Carver recalls the day after the second leg wonderfully.
In Izmir, where they played Goztepe in 1969, the stories about the dreadful Turkish pitch are fascinating. The Press compared it to the surface of the Moon, it was that bad. Steve Derrett was a substitute for that game and he said that's the one time he didn't want Scoular to throw him on.  Personally, I enjoyed the anecdotes about East Berlin where City played Dynamo Berlin in 1971. I remember Leighton Phillips saying after the game some of the players left the hotel to go for a drink in a nearby bar. The streets were dark and totally deserted, and all they could hear was the sound of own footsteps. It was a very atmospheric description. The games are all detailed in the book – the build-up, the matches and the post-match reactions – but I also wanted to write about the players' experiences away from the pitch. Many of these lads had rarely travelled abroad and now they were visiting football cauldrons in Spain and Portugal, and going behind the Iron Curtain, to Moscow, Tashkent, Budapest, East Berlin and Tbilisi.
Did recalling those games in Europe prompt different emotions from players?
Decades may have passed but certain refereeing decisions still rankle. I refer, in particular, to the game in Oporto in 1968 and the performance of French official Robert Helies. Those who played for City that night are still angry about what happened in the Das Antas and they remain incandescent about the conduct of the Portuguese police after the final whistle. For those who don't know what happened, Porto fans invaded the pitch and made a beeline for Jimmy Scoular and the City players. The police response was to wield their batons indiscriminately and poor Bob Wilson, the No.2 goalkeeper, returned to the dressing room with blood pouring from head wound. Several other City players were hit. There remains regret over the semi-final with Hamburg and those wasted chances at Ninian Park – what might have been. On the other side, the class of '68 are immensely proud of that amazing night in Augsburg and enjoyed reliving that play-off. Then there was the trip to East Berlin. Those who travelled have never forgotten the fear they felt as they crossed into the Soviet sector, to be greeted by armed soldiers, barbed wire, bombed buildings and empty streets. Alan Warboys, the former City striker, said he was so intimidated by East Germany he couldn't sleep at night.
Was there a chapter you particularly enjoyed writing?   
When I first started the project I thought the high-profile ties, such as the ones against Sporting Lisbon (in 1964), Torpedo Moscow, Hamburg and Real Madrid, would be the most compelling. While they lived up to expectations, I also became engrossed with the lesser-known ties such as Esbjerg, Shamrock Rovers, NAC Breda, Mjondalen and Pezoporikos. I already knew a bit about City's glamour ties in Europe but I knew very little about the clashes with, say, Mjondalen or Goztepe or Nantes, so I was learning something new and I really enjoyed that aspect. As a writer, it's a nice feeling when a tie which has attracted so little coverage – so little you could even say it has been neglected – is then built into a story using information and interviews. For example, not much has ever been written about Esbjerg so it was exciting to write the story of City's first Cup Winners' Cup tie using interviews with eight ex-players who were involved in it. To pick a favourite chapter out of the 24 is very difficult but if I had to pick one it would be 'Battle of the Das Antas' – FC Porto in 1968. The second leg in Portugal was horrendous and packed with controversy. If it happened today, the events which erupted at the final whistle would make headlines across Europe and trigger a UEFA inquiry, no question
Peter King has written the foreword. How did that come about?
Peter was a natural choice. He not only played in the very first Cup Winners' Cup game in Esbjerg but scored the club's first goal in Europe, in the second leg. He's also a true Cardiff City legend. He spent 14 years at Ninian Park and, from midfield, netted more than 100 goals for the club. That's an extraordinary record. When I called Peter to ask him if he wanted to write the foreword, he kindly agreed but was very modest about his writing skills. When he emailed me his foreword, he included a message saying he felt like a schoolboy submitting his latest essay to the English teacher! As it turned out, he had done a fantastic job and it didn't need any changing. It was very heartfelt and insightful, and his analysis of Jimmy Scoular was very revealing.
FROM TASHKENT WITH LOVE: CARDIFF CITY AND THE CUP WINNERS' CUP 1964-1993
By Mario Risoli (St David' Press, £16.99)