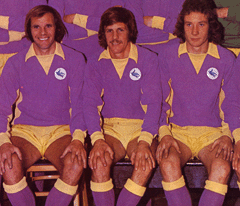 Following the heartbreaking third place finish in the 1970/71 campaign, City spent seven of the next eight seasons battling relegation from the league that we are currently in (it was called the Second Division in those days). The one exception to this rule had occurred in 1975/76 when we got promoted from the Third Division after our relegation a year earlier, so, you can understand why City fans tended to approach each new season back then with the sort of ambition that supporters of clubs like Hull and Burnley have now – that is, if we stay up then the season has been a success.
However, the 1979/80 campaign was greeted in optimistic style by supporters in the hope that we might finally be looking to get out of the second tier by going upwards rather than downwards. The reasoning behind such thinking came mainly from what had happened a few months earlier as City had transformed the 78/79 season from our usual relegation scrap into a top half finish on the back of an unbeaten run of eleven matches (our ninth placed finish that year was not bettered until last season). On top of that, the club had broken it's transfer record during the close season to bring in the highly rated Blackpool midfield player Billy Ronson who had cost £130,000.
It had even got to the stage where a national newspaper had tipped us as "dark horses" to go up in it's preview of the upcoming season, but, such optimism was made to look pretty stupid as City crashed to an opening day 4-1 defeat at Notts County. In truth that scoreline did not tell the whole story of a match in which City had been well in contention until they conceded three goals late on, but, with newly relegated teams Queens Park Rangers and Birmingham visiting Ninian Park in the next week, the optimism I mentioned was already starting to disappear.
The QPR team was a mix of established players like Ian Gillard, Glenn Roeder and Don Shanks and exciting young prospects such as Chris Woods, Clive Allen and Paul Goddard (I was tempted to lump Karl Elsey in with them for a split second!) and were expected to feature prominently in the promotion race over the coming months, but they were unable to cope with the Ninian Park version of Basil Fawlty that night!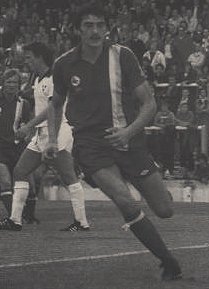 Gary Stevens was a striker who City had signed from non league side Evesham a year earlier and when you consider that he was a tall, dark haired, moustachioed player, it wasn't that surprising to hear him christened "Basil" by supporters after John Cleese's character in what remains the best television comedy programme I have ever seen. If that suggests an affection for Stevens on behalf of the fans then that would be wrong – like a lot of tall players, Stevens was not the most coordinated of footballers and his limitations were often painfully apparent, this made him an easy target for the terrace critics who had much more to moan at in those days than they do now.
Truth is though, that the ungainly Stevens was an effective performer in his time with us (he left to join Shrewsbury in 1982) and it was his second half goal that beat QPR that night and enabled City's season to get back on track. Stevens had got a creditable thirteen goals from his first season in league football and followed that up by being joint top scorer on eleven with Ray Bishop this time around – indeed, his goal against QPR signalled the start of a run which saw him score in five successive league matches.
QPR were never quite consistent enough to secure a promotion place and finished the season in fifth place which was a lot better than our final position of fifteenth with forty points from our forty two matches (there were only two points for a win back then) after a campaign which was the epitome of mid table mediocrity. With only forty eight goals conceded, City were good defensively, but just forty one scored showed exactly where our problems lie that year for this was the season of the "I saw Ronnie Moore score" badge!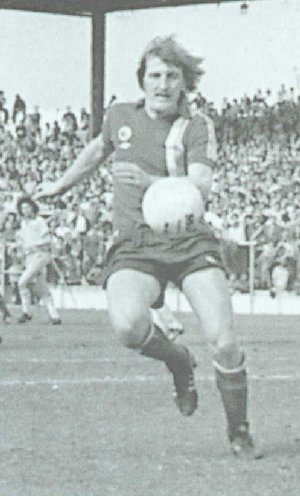 Billy Ronson's big money move had broken the club's previous record transfer fee paid which had occurred at the start of 1979 when we spent £100,000 on Tranmere striker Ronnie Moore. A return of three goals from his eighteen appearances at the back end of the 78/79 campaign had hinted at the lack of goals that was to plague Moore's time at Ninian Park (curiously, his goalscoring record was very good for every other team he played for!), but this was largely ignored as the team had finished the season so well. However, by the time Moore netted his first goal of the new season against Chelsea on 20 October, his very poor goalscoring record had become a real issue.
Sadly, finding the net against Chelsea did not kickstart Moore's season as a goalscorer and, despite appearing in a total of thirty eight matches, he only managed two more goals in successive wins over Wrexham and Shrewsbury in January. The funny thing was that, despite his appalling scoring record, my recollection is that Moore's hard working style and good all round game helped make him a more popular player with the City support than Gary Stevens ever was.
To be fair to our strikers, there wasn't much creativity in the team to provide the chances for them – Ronson was a good signing for us, but his strengths lie in directions other than "playmaker" and this role tended to fall to the talented but ageing Alan Campbell who left for Carlisle in the summer of 1980 having started in all forty two of our matches in 79/80.
I get the feeling that all of this is beginning to read as if I consider the 79/80 campaign to be a failure, but that isn't the case – when put in the context of previous seasons (our relegation struggles were to resume for the next couple of seasons as well), 79/80 was a great success and I found it nice to go through the year without having to contemplate relegation (apart from a few hours before that opening day defeat at Notts County, I never contemplated promotion either mind!).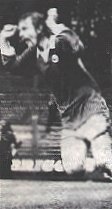 The relative success of 79/80 and the great run at the end of 78/79 was achieved under the stewardship of Richie Morgan who tends to get forgotten when good City managers of the past are discussed, but the one club man who spent most of his playing career as back up to Don Murray didn't do a bad job at all for us and it only started going wrong for him really after the disastrous appointment of Graham Williams as "chief coach" in the autumn of 1981.
The sale of the speedy, skilful but small striker Tony Evans in the summer of 1979 and the reliance on a strike force consisting of six footers Stevens and Moore offers a clue as to Richie Morgan's football philosophy (I first heard the term "Route One" used in a football context when it was used to describe the way we played during our fine run in spring 1979). However, certainly compared to what had gone before and what came after, Morgan's methods tended to work – under him City were limited but effective, a bit like our own version of Basil Fawlty really!
22 August 1979
City 1 Queens Park Rangers 0
City
Healey; Jones, Roberts, Dwyer, Sullivan; Campbell, Ronson, Buchanan; Moore, Stevens (1), Bishop (sub Micallef)
QPR
Woods; Shanks, Howe, Roeder, Gillard; Neal, McCreery, Elsey; Busby, Allen, Goddard
HT 0-0
Att. 11, 656