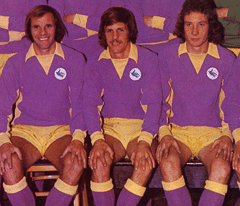 There aren't too many England Internationals who have represented the City down the years, but Bobby Brown was one – albeit at amateur level. Back in the 60s, the FA Amateur Cup Final (which I think was played on the Saturday following the FA Cup Final?) was still going strong and during the previous decade it wasn't unusual to have 100.000 at Wembley to watch the game. The amateur game was strong at the time and so to win a cap for your country at that level was a decent achievement which I would say would rate above winning a non league cap for your country these days.
Anyway, Bobby Brown had begun his league career still playing as an amateur for Fulham before turning professional when he moved to Watford in 1961, but it was as part of Northampton Town's remarkable rise up the leagues from the Fourth Division in 1961 to the First Division in 1965 that Brown really established himself. By the time Brown moved to City for a fee of £8,000 in October 1966, Northampton had begun a descent back down the leagues and they were relegation rivals of ours. That City stayed up and Northampton went down was due in no small manner to the fifteen league goals Bobby Brown scored during a campaign that saw us eventually finish above them by a margin of three points.
Despite the close brush with relegation only a few months earlier, there was the usual optimism around that attaches itself to any club during the month of August when Cardiff City kicked off the 1967/68 campaign. A couple of 1-1 draws at home to Plymouth and away to Bolton at least offered the promise of better things to come when the City entertained Crystal Palace in their first midweek game of the campaign and I daresay that supporters were talking about a possible promotion challenge after a very entertaining 4-2 home win which featured a tremendous goal from Bobby Brown.

If memory serves me correctly, the score was 1-1 with Barrie Jones having scored our goal when Brown fired in his angled shot from out on the left into the Grange End net. Given the distance out (around 25 yards?) and difficulty involved in hitting what was essentially the sort of hooked volley that you normally see strikers put away from within the six yard box, Brown's goal is up there in the top 10 best goals I have seen us score. The goal turned the game in our favour as Ronnie Bird and Peter King added to the scoreline to secure a good win over opponents who had finished seventh in the previous season – I haven't been able to find out the Palace team from that night, but I can remember that John Jackson, who was still playing in his forties some fifteen years later, was in goals for them and ex England striker the late, and rather portly, Johnny "Budgie" Byrne scored one of their goals.
That goal triggered a run of four goals in four games for Brown and, although the goals dried up somewhat after that, 67/68 was shaping up to be a good season for him but that was all to change less than four months after his wonder strike against Palace.
A few weeks ago I wrote about Chris Casper of Reading having his career ended on Boxing Day 1999 , well I'm afraid the same thing happened to Bobby Brown on 26 December 1967 in a remarkable game with Aston Villa at Ninian Park which City won 3-0 despite finishing the match with just nine men. City, who had already brought on their one permitted substitute at half time, were leading 1-0 ten minutes into the second period when Brown challenged Villa keeper Colin Withers for a 50/50 ball. Both players were injured as play continued and John Toshack netted to double the lead, but it soon became obvious that Bobby Brown's injury was a very serious one.
Brown had badly dislocated his knee and, despite attempting to make a comeback in the following months, his career was at an end – he stayed in the game by working on fund raising schemes for City, then by becoming Mike Smith's assistant in his first spell as Wales manager and he did the same job when Smith was in charge at Hull City, but his playing career had ended at the age of just twenty seven.
As for City, I suppose the 1967/68 league campaign has to be viewed as something of a success when you consider that their finishing position of thirteenth represented an improvement of seven places from the previous year, but I suppose it's more accurate to call it a season of consolidation where achievements in a cup competition hinted strongly at the improvement the team was going to make in the next three years.
Perhaps realising that Brown would never return Jimmy Scoular moved quickly to bring in Huddersfield striker Brian Clark and the remaining months of the season saw the beginning of the Bristolian's partnership with the young John Toshack which was to terrorise Second Division defences until Tosh's big money move to Liverpool in November 1970. Goalkeeper Fred Davies also arrived from Wolves as important building blocks were put in place for the promotion challenges which would follow in the next three seasons and a late season win over promoted QPR courtesy of Toshack's goal was a sign of what was to come.
However it was in the European Cup Winner's Cup where City really showed that progress was being made on the pitch as they embarked on an heroic but ultimately heartbreaking run to the semi finals of the tournament.
Wins before Christmas over Shamrock Rovers and NAC Breda (Bobby Brown scored in both ties) meant that City had repeated their achievement of three years earlier in reaching the last eight of a tournament that the winners of the Welsh Cup took part in. Whereas Real Zaragoza had ended our run in 1965 though, this time City made it past Moscow Torpedo after an epic tie which saw them win thanks to a Barrie Jones header at Ninian Park, then go all the way to Tashkent (now the capital of Uzbekistan) near the Chinese border to play the second leg because of the severity of the Russian winter.
Once again, the game ended in a 1-0 win for the home side so, rather than go to a penalty shoot out as would have been the case nowadays, the teams had to replay the game at a neutral venue with Augsberg in West Germany being chosen to host the game. With new signings Davies and Clark ineligible, City were having to use Bob Wilson in goal and Norman Dean (normally a midfield player) as a makeshift striker and they turned out to be the matchwinners on the night as Wilson performed herioics and Dean got the only goal to put big underdogs City, who had Richie Morgan making his debut in place of the injured Don Murray, through.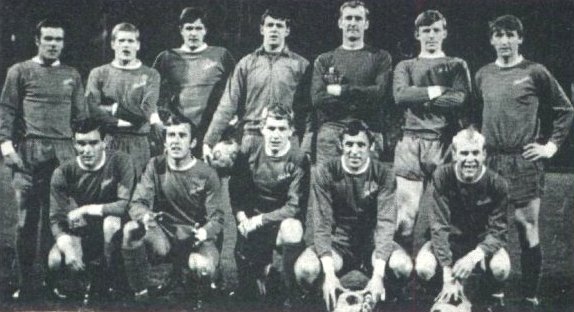 The Semi Final draw paired us with SV Hamburg and again it was Dean and Wilson who starred in the first leg as City came back from West Germany with a tremendous 1-1 draw – Dean put them ahead early on and Wilson then worked wonders to keep Hamburg out until the sixty ninth minute. The second leg proved to be a real thriller, Dean had City ahead in ten minutes, but Hamburg showed their class by responding strongly and they were 2-1 up with half an hour to go only for Brian Harris of all people to equalise with the only goal he got for the club ten minutes from the end. With no away goals counting double rule in those days it looks odds on another replay when Bob Wilson, who had probably done more than anyone else to get City this far, allowed a half hit shot to squirm from his grasp and roll slowly into the net to put the visitors through to a final against AC Milan.
When Bobby Brown's howitzer hit the Palace net on that August night, no one could have predicted what the next few months would hold for either the player or the City team – sadly, it was heartbreak for both of them.
30 August 1967
Cardiff City 4 Crystal Palace 2
City Wilson; Coldrick, Murray, Harris, Ferguson; Jones (1), King (1), Williams, Bird (1); Brown (1), Dean; sub Carver
Att. 14,750