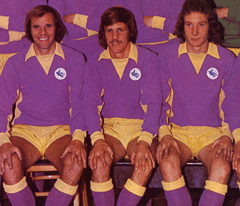 They had their dodgy spells and the last few minutes were more nerve racking than they should have been, but yesterday Cardiff CIty, in beating Sheffield Wednesday 2-1, finally began to resemble a side which may be interested in the top end of the table over the next few months rather than the bottom of it.
Don't get me wrong, City are still a work in progress outfit and I for one am going to need more than a single game before I'm convinced the team can be said to have moved on from the horror shows against Middlesbrough and Bournemouth, but it was good to see some elements of control and organisation to our game yesterday.
After Tuesday's odd experiment with what looked like a 4-2-4 formation, the Gabbidon/Young partnership reverted to the 4-5-1 which had enabled them to return from Derby with a creditable point in their first game.
John Brayford and Aron Gunnarsson were the only survivors from the starting line up against Bournemouth, but, even after nine months of continued and often unnecessary changes to teams, I don't think there would have been too many complaints from supporters this time around – in fact, I daresay that many, not me mind, thought there should have been one more of them with the Icelandic captain also being stood down.
In some ways, the identities of the personnel involved were secondary to the fact that we actually had a side where there were eleven men playing in their natural positions. Okay, you could argue that this wasn't true of Whittingham and Gunnarsson in the deeper central midfield positions, but in front of them, Pilkington and Noone on the wings with Dæhli in between them and behind lone striker Jones had a nice balance to it.
Not that any of this made the slightest difference to what has become the normal sluggish City start to games lately as they were indebted to Fabio for keeping the score sheet blank after just six minutes.
Since the Brazilian limped out of the Norwich match with us 2-0 up at the time, City had conceded eight goals in two and a half games at their own ground while not finding the net themselves and Wednesday would have made it nine if Fabio had not got back to clear off the line after May had rounded David Marshall.
Even without this, Fabio was City's stand out performer in a first twenty minutes in which Wednesday showed the confidence you would expect from a team unbeaten on their travels in the Championship this season. The left back showed an urgency and commitment that was at odds with the majority of his team mates during that time, but, gradually, City worked their way into things and had the better of the game's second quarter.
Kieron Westwood is one of those keepers who always seems to do well against us and he produced a fine save to keep out Gunnarson's header after a good passing movement. A Noone shot from distance which flew not too far wide kept the pressure on and City's improvement drew a tangible reward when Sean Morrison powered in a header from a Whittingham free kick after 39 minutes.
City got to half time with their lead intact, but it was the visitors who started the second period the better. Our first real sight of goal after the break came when Fabio got to the byeline and Westwood was a little lucky to flop on to his cross, but, thirty seconds or so later, the scores were level as City paid the penalty for not covering their left back's surge forward when Wednesday won a series of 50/50 balls to work Maguire into space on their right and his low cross was turned into his own net by Morrison.
With their confidence fragile, how City reacted in the next few minutes to being pegged back was likely to define the game and the early signs weren't encouraging as Wednesday went searching for their fifth away win of the season in all competitions.
With the crowd getting edgy and their opponents regaining the confidence shown early on in the game, it would have been easy for City heads to drop, but, this time, there was a commitment to the cause which helped the team come through their awkward period and emerge into what was probably their best period of the ninety minutes.
The first obvious sign that City weren't going to fold came when Pilkington forced Westwood into another fine save, but, when the two next came into direct opposition, there was a different outcome as the winger became the second player to score his first goal in our colours as he controlled Jones' header, side stepped a challenge from former City man Glenn Loovens and volleyed low past the keeper.
It was good to see Kenwyne Jones rewarded for a performance which included plenty of hard work for his team as he chased down defenders and keeper when they were in possession – the contrast in his attitude between this season and last is remarkable. However, more than that, it was pleasing it was Craig Noone who supplied the cross for Kenwyne – just as at Derby, Noone wasn't a major factor in the game, but players who miss most of a pre season programme tend to find it hard to catch up so to speak and I don't think anyone should be expecting to see the Noone who gave Pablo Zabaleta such a tough afternoon at the Etihad in January any time soon.
Indeed, Noone was withdrawn before the match restarted and Jones wasn't too long in following him off the pitch after suffering an injury in setting up the goal. Frederico Macheda  now became the focal point of our attack, but it was the other player introduced who captured most of the attention for a couple of reasons.
Ravel Morrison's signing on loan from West Ham for three months has had a few City fans asking whether we should be looking to use someone with witness intimidation and criminal damage convictions and faces a court case for common assault in January. I have some sympathy with this view, but the truth as I see it is that football is not an industry where morality plays a strong part. It's not quite the same thing, but just as I saw it as inevitable that Vincent Tan would not consider someone like Tony Pulis for the manager's job, so it was inevitable that some club, somewhere would sign Morrison – football clubs just don't have scruples.
The second issue with Morrison I had was a footballing one in that I thought we had enough players of his type already – it was a midfield organiser with a strong personality that we needed (one win will not change that opinion either).
However, based on yesterday's evidence, I may have underestimated Morrison as a footballer because, in terms of technique and flair, he looked a level better than his team mates in the half an hour he was on the pitch – whether he can maintain the desire and concentration to consistently reach the standards he showed yesterday may be arguable, but, on a footballing basis at least, I would say he is a very worthwhile addition to the squad.
That said, Morrison was on occasions just as guilty as some of his team mates (e.g. Macheda and Pilkington) of blowing great chances to make the game safe at 3-1 by taking wrong options or ignoring better placed team mates (Mats Dæhli must have been wondering what he had done to offend some of his team mates as he waited for the pass which would have left him in on goal that never came) when City had counter attacking opportunities against an undermanned Wednesday defence.
This failure to show the ruthlessness and composure needed to make these chances count was always going to ensure a nervy last few minutes and a couple of needless free kicks conceded deep in own half didn't help matters, but, fair play, apart from that forty five minute horror show against Norwich, we have been pretty solid at the back in the Championship so far and David Marshall only really ever had crosses to deal with as Wednesday flung their big men forward.
So, a very welcome and, I would argue, well deserved win that suggests things aren't as bad as we might have thought they were. Now the team face successive away matches against sides below them in the table. By drawing 0-0 at Forest yesterday, Brighton showed the defensive resilience which will always make them a hard nut to crack, while, with a midweek visit to Middlesbrough, the odds are that Blackpool will still be winless when we face them next Friday– to make yesterday's victory count for anything, we really need to be winning one of these games.
* pictures courtesy of http://www.walesonline.co.uk/