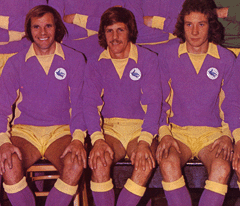 Not even my wildest dreams have ever featured anything as wacky as a Wales side (featuring seven Cardiff City players in the starting line up and another one on the bench) tearing England apart in the first half an hour of a match during which they score four unanswered goals, courtesy of Cardiff players, before easing off after the break as they held out against their demoralised opponent's second half pressure with few problems. That's much too far fetched though isn't it – well, I thought so until I watched Wales' Under 16's playing last night!
Welsh football is in need of some sort of pick me up at the moment and the youngsters went some way towards providing it. Knowing that the squad was dominated by Cardiff City players, I made sure I would not miss Sky's coverage of last night's match because I wanted to see how our youngsters would compare to the "best". While City's Under 18's struggle, mostly unsuccessfully, to avoid defeat every week, Neil Ardley acknowledged on the official site this week that the Under 16's weren't doing badly at all – they certainly looked the part during the forty five minutes that I watched of their 2-2 draw with Fulham a few weeks ago and last week's 5-2 win at Leicester (who are again leading the Under League this season) was a very impressive result.
I had hopes therefore that the City lads would not let their country down, but, I became more optimistic during the pre match singing of the National Anthems because, while the English lads just stood there looking into space while "God Save the Queen" was being sung, the Welsh team put most of the senior side to shame as all eleven sang "Mae Hen Wlad Fy Nhadau" – this offered the clue that the Welsh team were really up for the game whereas England played as if the players wanted to be back home at their clubs.
Wales scored after five minutes through Tom O'Sullivan, before two penalties by Declan John (the first of which seemed to be a harsh decision) had Wales 3-0 up on twenty five minutes before Rhys James scored the pick of the goals as he lobbed the English keeper from twenty five yards. I could go on lauding the performances of three goalscorers, but that would be unfair to the other eight in the side and, in particular, the other four City players, so here is the starting line up for last night's amazing match;-
Corey Stephens (Cardiff City)
Curtis Watkins (Cardiff City)
Josh Yorweth (Cardiff City)
Declan Dalley (Cardiff City)
Curtis Strong (Wrexham)
Callum Holden (Unattached)
Gethin Jones (Everton)
Declan Weeks (Wolves)
Declan John (Cardiff City)
Tom O'Sullivan (Cardiff City)
Rhys James (Cardiff City)
Just a few other points to finish;-
1. An eighth Cardiff City player (Jason Bowen's son Jaye) came on in the second half.
2. I believe Josh Yorweth is Cornish by birth and only qualified for the Welsh team because he is being educated here (I've subsequently learned I'd got this wrong, Ben Nugent is the Cornish born central defender on City's books.).
3. Amazingly, not one member of the last Wales Under 16 team to beat England in 1991 made it into the professional game, but the nature of last night's win makes it hard to believe that the same fate awaits the 2010 side – you would like to think that Cardiff City stand to benefit from such an outstanding win over the next few years.