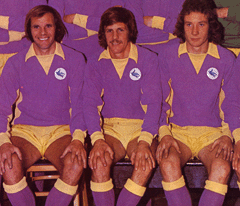 When I started this blog over six years ago, one of the things I decided I'd do was to be generally positive about the matches I watched below first team level – even in the most awful of games I'd try to temper criticism by finding something praiseworthy to say about some aspects of what I had watched.
However, I don't think that task has been any harder than it is after the miserable ninety minutes I spent watching City's Under 21 side lose 2-0 at Leckwith yesterday afternoon to a Barnsley team whose record going into the match was played eleven, won one and lost ten.
I've just watched the two and a half minutes highlights package of the match on the club website and can confirm that, apart from two incidents which would have stretched the whole thing just beyond the three minute mark, the person doing the editing has captured everything worth recording that happened in the game – it was desperately poor stuff most of the time.
I think all I can do in the search for positives is say that three players in the City side should probably be exempt from too much criticism, but, in reality, in only one of those cases would it be because they had played pretty well.
For me, the one member of the team who could be reasonably satisfied with his performance was goalkeeper Luke Wakeman – there were some fine saves among the few that he had to make and he couldn't be blamed for either goal.
Of the others, Eli Phipps only lasted around twenty minutes before going off with an injury sustained as he challenged for a through ball with the Barnsley keeper and a defender and, although he was at fault with the opening goal, I suppose allowances have to be made for Ben Turner who played for an hour in what was his first competitive appearance of the season after injury.
Overall though, it was a thoroughly miserable performance by City. With Barnsley mostly content to sit back and defend an early lead, the almost complete failure to create anything worthwhile in open play despite all of the possession and territorial advantage they enjoyed was, for me, the biggest single indictment in a match full of poor decision making and execution from those in City shirts.
I've seen plenty of players like Robbie Patten, Jamie Veale, Macauley Southam and Tyler Roche in recent years and know that they are capable of a lot better than what they showed yesterday. Patten is a player I like and I think his poor showing could be dismissed as a one off, while Veale's neat technique and impressive vision usually marks him out as someone who can find a pass to unlock a defence. Roche has pace, the quality so many say the first team lacks, in abundance and Southam has an ability to find space in forward areas and can finish well, but none of them contributed anything which suggested they were capable of breaking down Barnsley's massed defensive ranks.
Only Matt Kennedy looked like he might be able to create something, but he spent much of the afternoon running down blind alleys and, without Phipps to aim for, City didn't really have the personnel with the presence and goal instincts to take advantage of the succession of crosses he put in. To be fair, the lack of a natural striker for most of the game made life hard for City, but you would have thought they could have come up with something more to test a defence which cannot have been the most confident given the way the season had gone for them so far.
I don't know how much of the match Russell Slade watched (he passed by me on the way to taking a seat in the stand with about twenty minutes left), but, I would have thought that what he saw would have made him even more sure that his comments about the club's Academy not producing the goods in recent years were justified.
Speaking as someone who has been a persistent critic of his attitude towards youth development, I have to admit that there was hardly anything on view yesterday to suggest our manager was wrong in his opinion, but I would argue that this is one of  those what came first, the chicken or the egg situations. Was yesterday's awful showing simply down to the fact that our youngsters aren't good enough or was it an inevitable consequence of an ethos at the club in which young footballers are not getting the encouragement and, possibly, standard of coaching that they should be receiving as they try to make what has to be the hardest step of all in their careers – into the first team?
What I will say, is that, apart from Declan John (who, for a variety of reasons, has not played many games this season and was absent again yesterday on Wales Under 21 duty), I don't see anyone who is consistently putting in performances which merit consideration for a place in the first team squad.
However, I maintain that the end of last season represented an ideal opportunity to give some of our young players the odd five or ten minutes of first team action here and there which, I believe, would have given them a completely different mindset to take into the new campaign.
Russell Slade talked recently about how sending players out on loan to play first team football was his preferred way of bringing on youngsters on pro contracts. That all sounds pretty reasonable to me and I certainly wouldn't say that our manager is wrong in thinking that, but the performance of one of our players yesterday, who has just come back from a loan spell with a League Two club, illustrates that this policy can prove counter productive at times.
Now, I'm someone who has questioned the thinking behind bringing in Semi Ajayi in the summer, while at the same time releasing a home grown centreback in Josh Yorwerth who is good enough to be a regular starter for his country's Under 21 team. However, I acknowledge that Ajayi has the physical attributes to be a very commanding performer and his Arsenal background has helped ingrain an approach which sees him try to play out constructively from the back – I accept that he has potential and that he was a natural candidate to be loaned out in the way our manager prefers.
Unfortunately, having suffered a head injury while at AFC Wimbledon, which their manager Neil Ardley says affected his confidence, Ajayi was far from the imposing performer I've seen him be in the past yesterday – his decision making was poor, his distribution hurried and ragged and he received the game's only yellow card for a poor challenge which would have seen him being shown a red if the ref had decided to punish him in the same way for a similar foul about half an hour earlier.
I should mention again here that it's easy to fall into the trap of reading too much into yesterday's very poor showing, but I can't help thinking that, as our Under 21s are also known as the club's Development side, are these young players actually being "developed" under the current approach at Cardiff?
Certainly, Semi Ajayi's game has not developed this season, in fact I'd say it's gone backwards. Similarly, Russell Slade has talked of Tommy O'Sullivan's game stagnating at Under 21 level (I agree that he wasn't playing as well as I'd seen him do often in the past), but it's an accusation which, even if you leave yesterday's match aside, could be directed at a few in the team which faced Barnsley.
Going back to Josh Yorwerth, his loan from Ipswich to Crawley has been extended to three months on the back of him playing a central part in seeing that club rise up the League Two table thanks to a run of four wins in the six matches he has played.
Last week, Yorwerth was interviewed about how his stay at Crawley was working out and contrasted the encouragement he has received from his manager at Ipswich, Mick McCarthy, and Crawley boss Mark Yates with what he saw at Cardiff, saying "At Cardiff the manager didn't even give youngsters a chance to go anywhere near the first team, even in training.".
I must say that I was not surprised in the slightest by what Yorwerth had to say because it only confirmed the impression I'd formed over the past thirteen months about our manager's attitude towards young players. Of course, in the interests of balance, I need to say here that my view is formed entirely as an outsider who never sees what happens on the training pitch and that, by its very nature, youth development takes time and so, if changes are being made under this manager, it will not be clear if they've worked or not for some time yet.
Even so, yesterday's game is the tip on an iceberg which, for me, has seen a slight decline in standards on the playing front at Under 18 and 21 levels since Russell Slade was appointed and I firmly believe that any measured and impartial analysis of the job he has done so far at Cardiff would have to conclude that he is coming up short when it comes to getting the best out of the Academy system he inherited, both in terms of utilising the players within it and getting value for money from it.
I suppose I should say a bit about what actually happened yesterday (it won't take long!) before finishing. After a quiet opening few minutes, City's defence went through a torrid spell which saw Wakeman come to Ajayi's rescue as he was out very quickly to dive at an opponent's feet after the defender's underhit and careless back pass. A minute later the keeper did well to turn aside a free kick given for a foul after City had, again, given the ball away needlessly on the edge of their own penalty area, but he was unable to bail out Turner when his backpass gave a Barnsley striker the chance to advance and confidently slot home.
For a long period after that, City offered no goal threat whatsoever, apart from a cross by left back Dylan Rees which gently hit a post after everyone had missed it, but, if they did have a dominant spell in the game, it came in the minutes before half time. Given the lack of creativity on show, it was no surprise that Barnsley only looked like losing their lead from dead ball situations and, when they came under sustained pressure as the interval approached, decent deliveries from Kennedy saw right back Ashley Baker (who has a good record for scoring from free kicks and corners) denied by a clearance off the line and Turner by the whistle of a referee, who always seemed very keen to penalise the attacking side at set pieces, after his emphatic header had found the net.
For the whole of the second half a limited Barnsley outfit had little trouble keeping City out – indeed, the only attacking "highlight" of the half I can remember came when one of the subs ballooned a shot over from about fifteen yards out.
The closing minutes saw Barnsley given more room to exploit as City pushed men forward in the search of an equaliser and Wakeman was forced into another good save before being given no chance with a well placed shot from fifteen yards to seal the victory – there was not even time to restart the match after that and so the fifty or so spectators were finally put out of their misery!