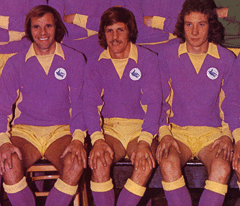 A busy ten days or so at Cardiff City Stadium started on transfer deadline day with the signing of Rickie Lambert, which I covered in an earlier piece, and was followed by a couple of significant off field developments late last week.
On Thursday, Cardiff City Supporters' Trust issued the following statement regarding Vincent Tan's long running plan to turn the debt he is owed by the club into shares (equity).
"As most CCFC fans are aware, in February this year Tan Sri Vincent Tan made a public announcement that he would immediately be converting £68m of the debt due to him by the club into shares and would subsequently be carrying out further conversions over a 5 year period which would convert the balance due to him of approximately £40m. This announcement, at a meeting attended by Trust board representatives, would mean that the club would return to balance sheet solvency for the first time in many years and put the club in a far healthier financial position. The announcement was warmly welcomed by the Trust at the time.
Since February, the Trust board has been in regular and frequent contact with the club's CEO and Chair in meetings and via email and telephone conversations, and this matter has formed part of that agenda. To help prevent any misunderstanding or misinterpretation of the current position, the Trust can report as follows.
The change of such a large sum of money from debt to equity by TSVT requires the approval of the Malaysian regulatory authorities and the process can be slow. Therefore, although this approval continues to be pursued and the club board are entirely confident that the matter is being positively progressed, it is not yet formally complete and so the £68m conversion has not yet been finalised. However, the first of the expected £8m conversions has been approved and put in place and will be reflected as a note to the 2015/16 audited accounts when they are submitted to the football authorities and Companies House.
The Trust will continue to liaise with the club at its board meetings on this matter and provide updates as appropriate."
I'd say the general reaction to that statement from supporters has been a positive one, but, for myself, I'd say it offers mixed news. The confirmation that the first of the five annual conversions of £8 million of debt has to be seen as a positive, but when the scheme was first outlined in February, it was said that the £68 million conversion would be included in the Accounts for the year ending 31/5/16 – obviously, this has not happened.
I find that a little disappointing, but no more than that. Having once worked in part of the Department of Trade where there was a six month plus backlog between filing of application forms and a decision being made on the case (thankfully, it came down to less than a month pretty quickly and stayed there), I can believe and sympathise with the  club's reason for the delay.
If there's no change in the situation in, say, six months then I presume the Trust will want to know more about what is going on, but I see no reason to make a big issue of the delay now, because the expectation should be that conversion of the £68 million will take place in time for it to be included in the 16/17 Accounts (or possibly the 15/16 ones as a footnote?).
Later that day, club Chairman Mehmet Dalman took some supporters to task in this piece for suggesting that club had indulged in a "fire sale" during the summer as Vincent Tan sought to get his money back.
Speaking for myself, I find such claims ludicrous because they fly in the face of the evidence that shows us paying fairly large sums (probably a seven figure one in one or two cases) for players this summer and the confirmation that £8 million of the club's debt has been wiped off.
I believe the basis for these allegations are the sales of Fabio and David Marshall in the last few weeks, but, although it was disappointing and frustrating to see them both leave (it's a reflection of where we find ourselves as a club currently), my only beef with City is that they could, and should, have got more for the latter.
Mr Dalman also touched on something which was gone into in more detail by CEO Ken Choo  the following day. Now I should say here that all football clubs are sometimes guilty of emulating British Governments of both political persuasions by making a big policy announcement on any given day which then is left to gather dust in the months and years that follow.
Maybe all this talk about what has come to be called "the Cardiff Way" will turn out to be just that – talk, but I hope it's not the case. For too long, City have been a club that, both on and off the pitch, lurch from one situation to another – there's not been any sort of continuity or suggestion that there is a clear plan that involves anything more than the short term.
What Messrs Dalman and Choo have said in the last few days could be the catalyst for some real positive developments at the club in the coming years, but that word years is the important one here, because, if the intention really is to develop a Cardiff way of going about our football, then that's how long it's going to take if it is to pay dividends in the way those gentlemen talk about.
Therefore, patience needs to be shown in both the Boardroom and in the stands if things continue as they have done so far this season, because, to be frank, there has been little to persuade supporters to "keep the faith" up to now.
This goes to the core of this whole Cardiff Way thing. I don't think anyone can criticise the desire to implement policies which are designed to foster more coherent links between the age group teams and the seniors and, to the degree that the club began to feel like it had lost it's Welshness as a mixture of Russell Slade's management attitude and a corporate approach which meant you could have been at any other (English) Championship club on match days, I see nothing wrong with emulating the Welsh national team in terms of preparation, fitness work and marketing.
However, the potential problem with all of this I can see is what will happen if the blueprint in terms of how the side will play is wrong? There are two aspects to this as far as I'm concerned – firstly, will we utilise the same formation at all levels throughout the club and secondly are the players we currently have (especially at first team level) suited to the  the approach whereby there is the  "intensity to get the ball back when we haven't got it and a desire to play creative, attacking football when we have." that Ken Choo talks about?
The first question should be the easiest one to answer because there is evidence from the Under 16, 18 and 23 level matches I've seen so far that we are not playing with the same system that the first team uses every week and I'll return to this when I talk about the systems used by the three City teams which played yesterday – suffice it to say for now, that I've seen the Under 23s play twice so far this season and they played with a back four in the first game and a three centreback system in the second.
The second question is tougher because although the age group sides have generally been able to play in the manner Mr Choo describes in the games I've seen, I can't say that the first team have – there's been little evidence of the sort of pressing of the ball talked about and when we try to be "creative and attacking", the whole thing tends to fall a bit flat because of a general lack of pace and an inability and or unwillingness to get numbers forward to support the strikers.
So, to try and put all of this into some sort of practical context, let's have have a look at those three matches played yesterday which gave an impression that the Cardiff Way will involve plenty of high scoring games with not enough of the goals ending up in the opposition's net!
I got to the Under 16s and 18s matches at Treforest against Sheffield Wednesday a little late and the first thing I say was the ball hit the back of the net as the latter fell an early goal behind.
I watched the Under 18s match for a further 15 minutes or so and I'm afraid to say it was a bit of a shambles. Wednesday were the first to everything  and were opening up a shaky defence at will and, when more poor defending enabled them to get in down City's right, the resultant cross was unconvincingly punched out by Scott Coughlan to Jordan Lanchor who volleyed home to make it 2-0 inside ten minutes.
The first goal had been scored by former England striker David Hirst's son, George and he was proving far too good for the City central defence at this stage. The match was barely a quarter of an hour old when he did a passable impersonation of his old man as he showed a combination of pace and power to break clear and fire in the third.
It was a good goal, but it came about a fairly routine long ball was misheaded into Hirst's path by Cameron Coxe and, after that, not for the first time, Jack Bodenham and Connor Young were unable to handle him.
Things were beginning to get embarrassing now as elementary errors began to creep in and within a couple of minutes, Hirst was in on goal again for an opportunity from which he should really have completed his hat trick.
I decided my time would be better off spent watching the Under 16s (who were already a goal down themselves at this stage), but the pitches are pretty close together, so I was still able to watch the Under 18s match and what I saw after that set me thinking that the disastrous start may have been down to me!
Within minutes of me going to watch the other match, Mark Harris had headed in a corner to reduce the deficit to 3-1 and it seemed like every time I looked over my shoulder at the Under 18 game again. I was watching City attacking.
The contrast between what I saw from the twentieth minute onwards of the Under 18 match and what preceded it was amazing. All of the pressure only bought the one goal (scored by Ibby So Sani with a quarter of an hour left), so it was a third consecutive home defeat I'm afraid for the Academy team, but, just like the other two, they could argue that the result was harsh on them, given the balance of play – although I must say I have less sympathy with that argument this time around given the horrendous start they made.
The mention of Boddenham and Young gives the clue that, although they've done it in one of the four matches I've seen this season, the Under 18s did not play 3-5-2/5-3-2 yesterday, so that answers the first of the two questions I raised earlier. As for the second one, I think the Under 18s can play the pressing game quite well and they are also capable of putting together some nice, creative stuff, but they really are wide open at the back at times.
Just as against Palace when they were beaten 5-3, City played a back four which was often a back two in reality because their full backs were so far upfield at times. Therefore, a lot of defensive responsibility falls on the shoulders of the centrebacks and defensive midfielder. To be fair, a lot of this was caused by circumstances yesterday as they chased the game, but, even in those early minutes, it hardly looked like City were playing with  a flat back four.
So, maybe it's okay to play like that in an environment where results aren't the be be all and end all, but in the case of someone like Coxe, who is a Welsh age group international and exactly the sort of player who would be targeted as a beneficiary of this new more Welsh approach, is it making it harder for him to make the jump into the first team in the long run?
To be honest, I don't know the answer to that question. Coxe is an effective attacking full back/wing back at this level and can provide the sort of attacking thrust and pace we're not seeing enough in the first team yet, so I wouldn't want to see that side of his game compromised. but I find it hard to see how he can progress beyond the Under 23s without more evidence that he will be up to the job defensively at senior level. I suppose what I'm saying is that, in the case of someone like Coxe, the Cardiff Way has to include a dose of reality as well.
It's simpler at Under 16s level (who, incidentally, have played with a flat back four on the two occasions I've watched them this season) because there is more time for the youngsters to be taught in the more boring "professional" aspects of the game and yesterday's match was proof of this as an open and entertaining encounter ended 4-2 to the visitors.
An own goal from a City free kick soon had them level and when they hit the post soon after, they appeared to be taking control. However. the first of a pair of high quality free kicks which resulted in goals enabled Wednesday to regain the lead when the ball was headed home before the City keeper could get to it and they then scored a quality goal as a cross was headed down and hooked into the net from fifteen yards to put them 3-1 up at half time, just like their seniors were.
When another cross from a free kick found it's way in without anyone getting a touch, the visitors were three goals clear. City were still creating plenty of opportunities though, but were paying the price for not having a specialist striker in the team – the number nine had a go at it early on without looking too effective and then it was Sion Spence's turn, but it seemed that a decision was made that he would be of more use in the middle of the park. Finally, they tried a big defender up there and, while he did a decent job in terms of all round play, you could see that he was not a natural in the role because he failed to make a clean contact with a number of reasonable chances.
As it was, City managed to get one goal back, but couldn't avoid what I think might have been their first defeat of the campaign. However, the Cardiff Way will undoubtedly succeed if some of our other sides are able to consistently hit the Under 16s did in their recent demolition of Crystal Palace.
Finally, I come to the first team's 3-2 defeat at Norwich. As it was one of those occasional away matches that we have which I don't watch (either live, on TV or online) or listen to, I can only go by the brief highlights I've seen and match reports I've read in making these very brief observations;-
Generally speaking, we seem to be playing better away than at home.
It's now three consecutive matches in which we've conceded goals after the eighty sixth minute).
It seems we are not as strong at centreback as I thought we'd be.
Because of the reservations I have about the goalkeepers we have to choose from currently, I must be careful not to put goals down  to mistakes by keepers as a matter of course, but I don't think Ben Wilson helped his cause with the first goal.
Connolly, Ralls and Immers are not playing to the level they did last season.
Can we really afford to drop Peter Whittingham? After watching him labour against Reading, I had no problem with the decision to leave him out yesterday, but it was noticeable on the highlights that it was him providing the crosses which led to most of our chances late on.
That was a bad miss by Rickie Lambert, but he'll not miss too many like that if we can keep on providing crosses for him like the one Aron Gunnarsson came up with.
 Apparently, Norwich's third goal came after Gunnarsson was fouled, but I doubt if a sloppy Norwich defence would have conceded our second goal if they were one goal ahead at the time.
Nice to see us scoring our first "normal" goals of the season – this is how most of the goals any team score come about, not through own goals or long range beauties.
Kadeem Harris was very unlucky to be left out of the starting eleven
I'll finish by answering those two questions in relation to the first team – we've started every match with the three centreback system. but Trollope has changed things with his use of substitutes in some matches (he did yesterday), so I hope that will mean that he isn't averse to starting with something different at times – I can't think of any other team recognised for playing the game a certain way who do so by sticking dogmatically to one particular system.
As for us having the players to make three centrebacks work at first team level, it really would be good to see some proof of this some time soon. Trollope's cause is not being helped though by him having established members of last season's team not performing to levels we know they can reach – I mentioned three of them above, but Manga is another one who needs to up his game.
I'd also defend our manager by saying that Joe Bennett, Emyr Huws and Lambert (who I would have thought would all be in what Trollope believes is his strongest team) have played very little football for the club yet – the problem I think many City fans have at the moment is that these three are going to have to make a huge difference individually and collectively if the first team are going to start playing in the Cardiff Way any time soon!
*pictures courtesy of http://www.walesonline.co.uk/