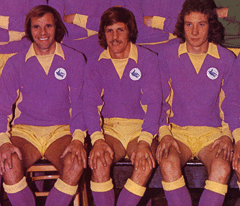 I daresay there'll be plenty who will be pleased to read that this won't be as long a piece as normal- after all, you cannot keep on finding different ways to say, essentially, the same thing indefinitely.
Yesterday lunchtime Leeds became the third ordinary side to come to Cardiff City Stadium and win this season and every time the story has been the same – City are competitive in the first half and could be said to be unfortunate not to be leading at the break, but, come the second half, there's just nothing in the way of a goal threat from the team and our opponents know there'll be chances as they have the better of the last half an hour especially.
So, City have now lost the first two of a series of five matches which were supposed to offer us the chance to turn around what had been a slow, but, hardly disastrous, start to the campaign, but now, with four straight losses, the tell tale signs of a team in crisis becoming more commonplace by the game and a Head Coach whose future is "in grave doubt", according to this report from the BBC, the use of the word "disastrous" to describe our season so far looks less like overkill.
There's little point in me going into much detail about how the game panned out because those of you who watched it on the telly could probably describe what happened more accurately than me, but here are a few observations I'll make:-
1. I thought Leeds were the poorest of the three sides to have gained away wins at our place so far and they started the match very sloppily, but, as is always the case with us, we're not good enough to take advantage when we are on top unless we get an unfeasibly large amount of help from an opposition player.
2. It was very worrying to see how quickly confidence drained from the players. This was especially true after Leeds went ahead, but the lack of belief manifested itself in the first half with two poor errors which handed very presentable chances to the visitors – it was if the team knew it was going to be another one of those days when all of their early pressure came to nothing.
3. It wasn't all bad news, there were some pretty good individual performances. I've not had much that was positive to say about Ben Amos so far, which is a bit harsh really when he hadn't been given a chance to prove me wrong. However, there was little I could be critical about with him on his debut – he didn't do anything that was spectacularly good, but there was a general competence that offered hope that goalkeeper may not be quite as problematic a position for us as many fear it will be. Secondly, Jazz Richards played as well as I've seen him do for us so far and was getting forward from full back more often that he did as a wing back. Finally, I thought Rickie Lambert had a good home debut which suggested that he could become a big influence if we can get players running off him.
4. That last bit may be a problem though. You can change the formation, as Paul Trollope did to a 4-3-3, but you cannot change the truth which holds to this Cardiff squad no matter what system you use – there is just not the pace there to get enough support to our strikers quickly enough or to mount effective counter attacks.
5. One thing that struck me in particular was that so many of our players took poor first touches when in attacking positions that offered some promise – some of this could be put down to tension brought on by the poor run we are on, but it also betrayed that this has always been a squad that compared poorly to many in this division in terms of craft and touch.
6. There has not been a single goal scored at the Canton end of the ground in a Cardiff game this season. That's not all bad because I'm talking about our opponents there as well. Indeed, with us doing a good job of keeping visiting strikers quiet, there's barely been a goal attempt because, yet again, we suffered a complete fade out as an attacking threat after the break with, bizarrely, the closest we came to scoring being when a Leeds defender almost made it three own goals before a Cardiff player finds the net down here this season!
A few words now about Paul Trollope, is his future really in "grave doubt"? My instinct is to say no – he is Vincent Tan's man after all and it would be an admission that our owner had got things wrong again if he made a change now. I also feel it's too early to think of sacking anyone yet, but I say that knowing that two years ago Ole had already gone following a start which was a lot better than this one and the stigma that goes with being at the bottom of a division has often caused the men in the Boardroom to say enough is enough.
I was happy to see that Trollope was willing to change the formation and don't see that as any sort of admission of defeat on his part, but I must say I found it odd that the change of system saw, arguably, the two fastest players in the squad (John and Harris) left out from a side that is consistently accused of lacking pace. The late introduction of Fred Gounongbe was also a revealing moment because it really brought home how one dimensional we are in the striking department with our three target men and a converted winger who lacks serious pace.
I have sympathy with Paul Trollope to the extent that the hand he's been dealt in terms of finances compared to so many other Championship bosses is a pretty poor one, but our complete lack of a speedy front player who can stretch defences and help turn ordinary passes into good ones with his pace does not reflect well on him.
More than in any other recent season, we are stuck with what we've got now until January and, at the moment, we look like a squad that was a work in progress in some areas and plain not good enough in others as the last chance to bring in reinforcements for four months disappeared.
I'll finish by saying that Leeds manager Garry Monk remarked that their fans took control of the stadium during the game. Such talk will hardly endear an already unpopular man to Cardiff fans, but I believe he was right, because the unpleasant truth is that, both on the pitch and in the stands, Leeds didn't have a great deal to beat.
In fact in so many ways, Cardiff City already feels like a beaten club this season. The team seems devoid of the spirit to fight back if things go against them and three years of ineptitude on and off the pitch have ground down a once passionate fanbase who now give the impression of not being too bothered by what goes on out on the pitch – as so often in recent years, there was resignation, rather than anger, from supporters as their team slipped towards defeat and, in this case anyway, the bottom of the league.
I daresay that Messrs Tan, Dalman and Choo will be believing that relegation is not even a possibility today, but I happen to think that it can be a natural consequence for teams that have been run in the manner that Cardiff City has since the decision was made to stop the extravagant spending two years ago.
Even now as we look up at the other twenty three sides in this league, I don't think there'll be many, if any, City fans who would criticise that decision, but a side embarking on such a cost cutting exercise usually needs one or both of a thriving Academy producing youngsters who can handle the step up into the first team or a well thought out and effective recruitment policy that enables them to deal efficiently and well in cut price markets to handle this transition phase safely – sadly, both of these things have been completely lacking at Cardiff since we decided to "cut our cloth accordingly".
Once again, apologies for the lack of match photographs in this piece, but I cannot afford to risk possible court action by using photos taken by companies who do not see an acknowledgement as being sufficient when using their photos.