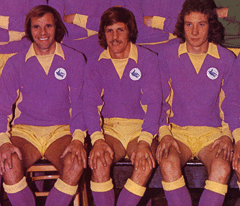 After their deserved draw at eventual Champions Burnley on 5 April, Cardiff City had momentum – they were closing in on the top six and, with just two defeats in their last fourteen matches, the club's stated target for the season of reaching the Play Offs did not seem as far fetched as it had done for much of the previous seven months.
Now City had six matches left which would define their season, it wouldn't be easy, but there was a belief in the squad which backed the suggestion that much maligned manager Russell Slade was finally winning over significant numbers of his critics.
What followed merely enabled the cynics among City fans to exchange knowing glances with each other as the curtain came down on the season at lunchtime yesterday with an undistinguished 1-1 draw with Birmingham at Cardiff City Stadium – they knew that those fans who had allowed themselves to start to believe had been kidding themselves because, at the business end of the campaign, City had, in many ways, pulled a metaphorical sickie!
Those six truly vital games yielded a miserable total of five points – all of these came at home to ensure that City's impressive record of having lost only twice at Cardiff City Stadium was maintained, but they were only good enough to beat bottom team Bolton, who had been playing with ten men for around an hour, thanks to a penalty deep into added time.
Away from home, it was losses all of the way as City subsided disappointedly at Fulham and Brentford and, to all intents and purposes, didn't turn up for the "Play Off showdown" at Sheffield Wednesday which ended in their heaviest defeat of the campaign.
Therefore, with nothing riding on the outcome of a game between two teams were just wishing away a season in which they had both had fleeting moments when they could entertain the notion of facing the Chelsea's, Manchester United's and, dare I say it, Leicester City's of this world, I headed to the ground not expecting much and not much was exactly what I got.
There were some items of interest. For example, in another instance of the improvements being made at the club off the field in recent months, City wore their 2016/17 kit and, even an old misery like me who whinges away at football losing it's soul because of such rampant commercialisation as changing your kit every year and charging a fortune for low quality versions of it with a sponsors name plastered across it, had to admit it looked quite good – better still, the new shirts can be ordered from the club now, so the days of waiting until about November before they appeared in the club shop seem well behind us.
It was also good to see Ben Turner back playing first team football again after an injury ruined couple of years which must mean that there are doubts as to whether he will be offered a new contract by the club when his current deal runs out at the end of June. However, Big Ben did his prospects no harm at all as he was one of our better performers on the day, even if he did find Clayton Donaldson's pace and movement pretty difficult to deal with at times.
Before going on to the match, I should mention one other item of good news as it was announced that the club's transfer embargo had been lifted at 2.30 yesterday afternoon.
As for the game, the BBC's stats made for interesting reading because they showed both teams level when it came to goal attempts, efforts on target and corners gained. So, all of that would suggest that a draw was the right outcome, but when you consider that the visitors hit the woodwork twice and had a couple of efforts cleared off the line, whereas we struggled to create meaningful chances to add to the goal we were gifted, I think it's fair to say that Birmingham's impressive travelling support headed home thinking that their team were the ones who were the moral winners of the match.
One aspect where City enjoyed dominance was in the matter of possession. Unusually for them, City had the ball for as much as sixty per cent of the time, but, as I'm told by Sky's commentators every time one of their matches is televised that Birmingham have the lowest possession figures in the Championship, this didn't come as a surprise.
Speaking as someone who belongs firmly in the camp which wants my team to have as much of the ball as possible because the opposition cannot score without it, I have to admit that it's been a good season for those who think differently to that. Sides who are comfortable with letting their opponents have the ball have prospered and the success of teams like Leicester has shown that this doesn't have to mean that the anti football doctrine of Jose Mourinho has to be slavishly followed when it comes to these outfits who sometimes have you thinking they don't want the ball.
Birmingham have just completed their best season in years and did so by, basically, inviting their opponents to break them down, while looking to break with pace and purpose if the opportunity arises.
As I watched Donaldson leading the Birmingham line so effectively, I found myself wondering what City might have achieved this season with someone like him or Cameron Jerome up front as opposed to the statuesque Kenwyne Jones and the willing but inexperienced, in that position at least, Anthony Pilkington.
However, the way Birmingham were able to snuff out so many of our attempted attacks at source only served as a reminder that you need a complete package to compete at the very top of this league – we could have had, say, Andre Gray or Jordan Rhodes up front, but the lack of a quality final ball from midfield as the fitful Noone, Lawrence and Whittingham flattered to deceive and the earnest but, on this occasion, limited O'Keefe laboured with little effect meant that there would not have been an end product.
When Birmingham were inconvenienced, the cleverness of the fit again Lex Immers usually had something to do with it. Immers wasn't as impressive as he had been a month or two ago, but he still did enough to have me hoping that, with the embargo lifted, the funding can be found to bring him here on a permanent basis in the summer.
Once Immers left the field to be replaced by Kenneth Zohore, who this time gave a performance which backed Russell Slade's cautious approach towards playing the young striker, City became something of a mess.
Increasingly, they offered Birmingham hope that they could take the three points and our season ended with us clinging on pretty desperately for the draw which, in the event, was not enough to hold on to seventh place because, while we were ending our away season with no points from three matches, Ipswich were drawing at Sheffield Wednesday and Middlesbrough and beating Derby.
So, for me anyway, Russell Slade's time at Cardiff ended in much the same way as it went for the majority of his eighteen months with us – playing unconvincing, functional, hard working and one paced football which left fans yearning for that something extra.
Mr Slade also leaves the manager's job having been entirely consistent in his ignoring of young Welsh players who were at the club when he arrived. If we accept that Declan John was an established first team squad member going into the 2014/15 season, then I maintain that Russell Slade has not progressed the career of a single locally born young player who would have felt he had a reasonable chance of playing first team football in the next eighteen months at the time the new manager arrived – for me, the club has never felt less Welsh than it did under Russell Slade.
*pictures courtesy of https://www.flickr.com/photos/joncandy/