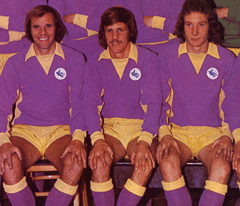 I daresay managers or coaches of international teams on their way to a major tournament don't want their side to play brilliantly in their last warm up game before it starts because history is full of sides who run out of steam and lose form as such competitions progress. Based on the Netherlands' (I've just been made aware that calling that country "Holland" is almost on a par with calling Great Britain "England", so, hopefully, you won't catch me doing that again!) 2-0 win over Wales in Amsterdam last night, Manchester United manager Louis Van Gall has few problems on that score – his team looked unbalanced and somewhat ponderous at the back with most of the real quality it possessed being focused upon the attacking trio of Van Persie, Robben and Schneider.
Although the team's behavior can let them down at times (e.g. the 2010 World Cup Final and the Rijkaard spitting incident in the game against West Germany in 1990), I think it's true to say that most football fans of a certain age will have a soft spot for the Netherlands team – if you are old enough to remember the superb 1974 side and the way that they lost to Argentina in 1978, then I believe most wouldn't be too disappointed to see them crowned World champions in just over  a month's time.
Yes, for me the Netherlands are the best country never to have won a World Cup, but, based on what I saw last night, I would be very surprised if they broke their duck in 2014 – based on what they've shown in the Premier League, the likes of Ron Vlaar, Leroy Fer and Jonathan DeGuzman (who it seems will be a starter against Spain in their first game) are tidy performers, but they are not players who you picture being part of an outfit that wins the World Cup.
So, it would appear that it is not a vintage Dutch side that is heading for Brazil, but, to attribute the lack of sparkle amongst those wearing the orange last night solely to their own shortcomings would be unfair on a Welsh team that put in a promising performance – in certain areas of the pitch anyway.
Going into the game, most of the attention from a Welsh perspective was on the absence of their two best players. Gareth Bale would get into virtually every international team in the world and, based on his form in 13/14, there aren't many who could leave Aaron Ramsey out either, but it is a bit of a concern that, as far as I can gather, the pair of them only featured in the same Welsh team for half an hour in the season just ended. Bale came off the bench to join Ramsey around the hour mark when Wales were 3-0 down to Serbia at Cardiff City Stadium in the autumn, but I don't think the pair of them played together apart from that – with Bale likely to be involved with Real Madrid in the Euro Super Cup Final at Cardiff City Stadium at the time set aside for August international friendly games, it's unlikely to happen before our opening game in the qualifying group for Euro 2016.
You'd like Bale and Ramsey to have had more time together to hone a partnership which is going to be absolutely vital to any chances Wales have of making it to the Finals in two years time, but it was also the absence of a few other established players that had me fearing a big defeat before kick off  last night.
However, it was reassuring to see some evidence that, in terms of squad depth at least, Wales are probably better off than they have been for some time. At the back, the absence of James Collins and captain Ashley Williams meant that Chris Coleman's options at centreback would be severely tested, but an assured debut by Hull's James Chester, which included some good passing out from the back and an excellent combined block with Chris Gunter to deny Robben a first half goal, and a reminder from from Danny Gabbidon that, even at 34, he can be an accomplished defender at this level, offered proof that Coleman has more to choose in that position than at any time since he took over.
It's the same at full back where, in Ben Davies' absence, Neil Taylor again showed he is at home at this level and with Declan John and Newcastle's Paul Dummett also getting some game time, left back especially looks to be well covered. On the right, Gunter does a perfectly adequate job and the injury hit Adam Matthews offers a different type of option when available, while Sam Ricketts can offer cover all along the back four.
In midfield, the presence of players such as David Vaughan and Emyr Huws on the bench last night shows that is an area where we have something of assortment of riches at the moment when you consider that the likes of Jack Collison and Andrew Crofts were absentees from last night's squad. There was an eye catching first appearance by Fulham's George Williams who had impressed as a winger in the London teams run to the final of the FA Youth Cup this season, but it was his ability to go past players in central areas of the pitch which was noticeable against the Dutch, so with Jonny Williams and, hopefully in a year or two, Harry Wilson, Wales suddenly look well covered for players who can dribble past opponents as well.
Yes, it's looking quite good for Chris Coleman in so many ways, but there are a couple of areas where he'd welcome far more competition for places. Boaz Myhill's international retirement means that we are almost completely reliant on Wayne Hennessey in the goalkeeping department, but it is up front where we are seriously lacking in my view. Sam Vokes' very good season at Burnley offers hope that we'll have a striker available who will be playing Premier League football week in, week out, but, if I'm being honest, I'm not wholly convinced he will be up to the task once he regains his fitness, while Simon Church hasn't really fulfilled the promise he showed in that fine Wales under 21 side of four or five years ago.
Bearing all of this in mind, it seemed strange that Coleman chose to bring on the loyal, but limited at this level, Jermaine Easter when Church went off rather than turn to Manchester United's Tom Lawrence who recently made his first team debut in the 3-1 win over Hull. Although his goalscoring record during loan spells with Carlisle and Yeovil wasn't that good, Lawrence looks as likely as anyone for now to provide the goals and all round ability that might make him a good international performer – certainly he would appear to be a better bet than the 32 year old Easter?
The truth is that, as so often happens with Wales, relative strength in some areas tends to coincide with a period of drought in another and this time it's the striking department that is suffering. Twenty odd years ago, Wales were having to move Mark Hughes into midfield to get Dean Saunders into the team alongside Ian Rush (Ryan Giggs came along a year or so later!) – what a difference just one of those would make to the current side.
Mind you, it just might be that the answer to Wales' striking problems lies here at Cardiff City! I'm not being entirely serious there, because I don't think Tommy O'Sullivan will ever become a prolific goalscorer even if he goes on to have a long and successful career in the game, but, fair play to him, he made a tremendous contribution to what was a very encouraging series of performances by Wales' Under 19 side in the past week.
Having reached the Elite qualifying group stage at the expense of the Netherlands earlier in the season, Wales traveled  to Portugal to be paired with the host nation, Belgium and Greece in a group in which only the winners would progress to the next stage. O'Sullivan was joined by City's Josh Yorwerth in the starting line up for all three matches (Tom James was also in the eleven for the middle game with the Portugese)  and got Wales' goal in a 1-1 draw with Belgium. Then, when Wales found themselves 2-0 down to Portugal with fifteen minutes left, it was O'Sullivan who equalised after an earlier own goal had given his side hope, only for the hosts to score a last minute winner which ended Wales' hopes of qualifying. The final match with Greece was therefore something of a "dead rubber", but Wales were able to claim second place in a very tough group by scoring three times without reply in the second half with O'Sullivan netting twice more – you'd like to think that there might be a few from the Under 19 squad who will soon be adding to the strength in depth (by Wales standards anyway) I was talking about earlier.
* Pictures courtesy of http://www.walesonline.co.uk/