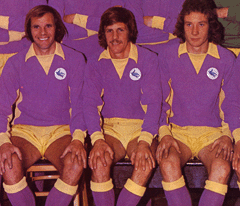 In my last piece on here on Monday I spoke of Dave Jones' wish, expressed in his post match press conference on Sunday, to get at least a couple more players in over the following two days. Well, come Wednesday we didn't manage that but we have brought in Seyi Olofinjana from Hull City on a season long loan deal. Olofinjana is a midfield player who Dave Jones signed from Norwegian team Brann Bergen for £1.7 million in 2004 when he was manager of Wolves, he is thirty years old and has been capped 51 times by Nigeria. After four years at Molineaux where he eventually established himself in the Championship, Olofinjana moved to Stoke for £3 million and then on to Hull a season later for a similar fee.
Although I've not seen enough of him to say for definite, it's probably fair to say that Olofinjana didn't quite cut it at Premiership level over the previous two seasons, but, although he was occasionally accused of being inconsistent by Wolves fans, he has certainly shown that he is perfectly capable of doing a good job at Championship level. In saying that mind, although at six foot four, he is an imposing physical specimen, I am not sure he quite the midfield "beast" that some of our supporters have been calling out for – the PFA Footballers' Who's Who talks of "times when it seemed as though Stoke's style may not have been bringing out the best in the Nigerian International". Therefore, perhaps we shouldn't expect him to go ploughing tackles left, right and centre, (is there really a place for such players in the modern game?), but we might be getting someone who can play a bit and, certainly in his time at Wolves, was capable of getting forward and providing a goal threat. Whether  Olofinjana is the midfield destroyer some crave for or, as I suspect, he turns out to be a bit more than that, our squad is finally beginning to take shape – Dave Jones has talked about, hopefully, bringing three more players in and I would have thought a left back and some back up for Jay Bothroyd are essentials, as for the other one, well I would like to see a bit more quality at centreback.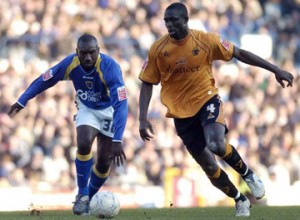 Mind you, I don't suppose we can rule out that third signing being a somewhat chopsy local boy done good because the Bellamy to Cardiff story that first surfaced around three months ago still refuses to go away. In a typically honest and interesting press conference yesterday, Craig Bellamy, who is in South Wales preparing for this evening's Wales v Luxembourg match, said that he doubted whether he would be in Manchester City's twenty five man squad for the upcoming Premiership season and then went on to talk about the possibility of coming to Cardiff – I'm not going to make too much of his comments yet, but Bellamy did say that it would be great for Welsh football if Swansea or "ourselves" could get in the Premiership!