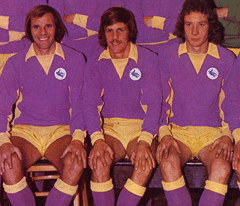 Yesterday was another bizarre day in the soap opera that Cardiff City has become as the following plea from Chairman Peter Ridsdale appeared on the club's official site some time during the afternoon;
Adverts have been taken out by Annis Abraham in the local media asking for our supporters to march prior to this coming Saturday's home match against Middlesbrough. In this advert he is asking the Club to answer questions with regard to the Club's finances.
Annis has a small number of shares and attended last week's EGM. Following the EGM, a presentation was made which addressed each of those questions. Annis already has the answers.
Maybe the true reason that Annis wants our supporters to march is so that you can destabilise the Club. Then what? Are you prepared for the consequences?
We are currently seeking external investment. Will a march against the current management or the Club assist that? The answer is simple. No.
This Club has made tremendous progress over the last five years. A new stadium, an FA Cup Final appearance, the highest league finish since 1971 and positive net assets for the first time for many years.
We have short-term cash challenges like many football clubs. Over the last five years we have had to be self sufficient. We have not had external investment topping up the football club's financial needs. Now we have the new stadium and with positive net assets we have a chance to attract external investment. This will not be forthcoming if they see our supporters demonstrating in the streets, you will merely drive such investors away. Then what?
If anyone agitates for change they have to have an alternative. Annis has no alternative. If he has or if anyone else has, then let them come to put such proposals to us. My door is always open.
It is now time for all Cardiff City supporters to decide whether they want this Club to thrive and move forward or to throw away everything that has been achieved over the last five years. On many occasions Annis has made it clear to me personally that he never wanted to leave Ninian Park. Maybe we have a different vision for the future of this football club.
Anyone who wants to have constructive dialogue can meet with me or my colleagues at any time. We only have the best interests of Cardiff City at heart. I hope that this is a mutually shared objective.
Anyone thinking of joining this march should look themselves in the mirror and ask if they really care about Cardiff City Football Club and its future. If the answer is yes, then come straight to the ground, enjoy the match and support the Club. If the answer is NO, then join the march.
Peter Ridsdale, Chairman.
5th March 2010.
Now normally, I would just post a link to the relevant page on the club's site for people to read, but I can't do that in this case because it disappeared as suddenly as it appeared and has not been seen on there since! I can only think that someone, maybe even the man himself, thought better of what was said and they withdrew it from the site hoping that nobody would notice it had been there in the first place. There was no chance of that happening though as the story was all over the messageboards within minutes and Wales Online had run a story on it.
It is surely not a coincidence that march organiser Annis Abraham is the same person who proposed a vote of no confidence against Peter Ridsdale at the recent EGM and was one of two shareholders who did not support the land deal regarding the building of the House of Sport alongside the ground that was approved at the meeting. By personalising things in his message, Peter Ridsdale gives the impression to me at least of being petty and thin skinned and I can't help thinking that he has done his cause more harm than good in reacting like he did. By the same token, even though I cannot agree with his arguments regarding the  "tremendous progress over the last five years", surely it would have been better from his perspective to have kept the whole thing in place on the site because withdrawing it only makes him (and the club) look indecisive, rattled and accident prone.
Anyway, the march goes ahead and I just hope those involved behave themselves – because of the golden ticket shambles, supporters who feel the need to protest hold the moral high ground at the moment, but they would soon lose that if an ever eager media are given the chance to report on supporter misbehaviour on the march.
Just a couple of other things to mention quickly before finishing. Firstly, the club announced another season ticket scheme this week under the slogan "Let's move forward together" which would have been an ideal strapline to use under the original platinum ambassador/golden ticket scheme if they had just told the truth and appealed to supporters' loyalty at a time when the club really needed their help, but, after what happened (or to be more accurate, didn't happen) in January it just comes across as some kind of sick joke which prompts the response "they just don't get it do they".
Secondly, with all the furore about the march, it has been generally forgotten that we are up in court again in four days time and you would like to think that, after all the assurances and promises regarding the recent land deal, we would have heard something about HMRC being paid off by now – surely they aren't going to be pleading to the Court yet again for more time to pay off the whole amount owed are they?