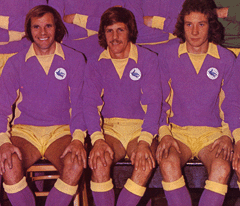 Last week I wrote about me being something of a lucky omen for Newport County this season as my three visits to Rodney Parade has seen them victorious each time, but the opposite is true when it comes to Cardiff City's Academy side who were beaten for the third time in the four matches I've seen them play this season when they were beaten 2-0 by Ipswich this lunchtime.
After away wins at Brentford and Nottingham Forest in their last two games, this was a disappointing return to familiar territory for the Under 18's who, while they were a little unlucky to come off second best in a fairly uninspiring battle between two evenly matched sides, never really did anything to suggest they could win the game.
I know we keep being told it's all about player development and not results at this level, but I have to say that I've seen little sign of an improvement in standards with our promotion to the Premier League. Now, I realise that, at all sorts of levels, this is a bit of a daft thing to say – after all, how can a promotion for the first team six months ago be expected to lead to our Under 18's suddenly becoming a team of world beaters? However, I bet the Ipswich lads pleasure at their victory today was heightened by the fact they'd beaten a "Premier League team" – just as it would have been for the Millwall and Coventry teams I've seen beat us recently.
Whether its fair or not, with higher status comes higher expectations and, with four wins and five defeats in their ten league matches so far, the 2013/14 Under 18 side looks like being exactly the same sort of lower mid table outfit that the large majority of their predecessors over the past nine seasons at this level have been. Worse still, and sorry to any member of the team or their family who read this, but I'm finding it hard to "get into" Academy matches this season – perhaps it's because I cannot identify so many players in this season's team?
Maybe I'm spoiled with the free admission and team sheet for Development team matches this season, but I'd feel I could give a much fairer account of these matches (which I still enjoying watching) if I was able to tell who was who. On that score, it would be good if the official site did away with the inane background music they favour for some reason this season in their Academy team highlights section and, instead, provided the commentary that has been the norm up until now. Also, some biographical details of this seasons first year scholars and a match report for each game listing our team wouldn't be too much to ask for either would it – sadly, promotion to the Premier League for the senior side has coincided with a marked decline in the quality of coverage the Academy kids are getting from their club's official website this season.
Anyway, on to the match and, continuing the rather downbeat tone of this piece, I thought today's defeat owed something to the ongoing determination of the Academy coaching staff to get their team to play out from the back at all times. I've been watching City Under 18 sides dice with death at times by sticking to the principle of passing from keeper to defender to midfield player etc. for nine seasons now and I'm afraid there surely have to be times when a more basic approach is required? Don't get me wrong, I'm all in favour of of trying to develop players who feel comfortable on the ball, but,surely, part of a player's development is knowing when and when not to play out from the back?
Using today as an example, Ipswich were twice almost presented with goals in the first half when City's keeper took too many touches and nearly let in an opposing striker – ten minutes later, the keeper had to come to his team's rescue with a couple of smart blocks when Ipswich pressed City's backline as they tried to pass their way out. Apart from these two incidents, Ipswich did little to suggest they would score in the first half, but the lesson wasn't learned and, just as City were enjoying their best spell of the match early in the second half, the keeper took a short goal kick to a team mate who was immediately put under pressure and played a none too convincing backpass which put the keeper under even more pressure. This time, he had no choice but to try and welly the ball clear, but, predictably, didn't get enough on his clearance and the visitors were left with an opportunity which gave them a man over at the far post – they worked the ball efficiently to the spare man (their impressive number seven) who took a touch and scored easily.
After this, Ipswich gained confidence and showed some impressive speed on the counter attack when their goalscorer broke quickly and fired in a shot from twenty five yards which was well saved and the City keeper then made an even better save shortly after to foil the visiting number eight. Ipswich weren't to be denied though and another quick break ended with City's number six turning a low cross into his own net with about fifteen minutes left to complete the scoring.
The irony was that the own goal scorer was one of City's best players and, in a team which struggled to create much, instigated some of his sides most dangerous attacks. In fact, in a low key first half, it was defenders coming forward in open play who provided virtually all of City's goal threat – their centre half went past a couple of opponents and then saw his effort turned aside when he was set up on the edge of the penalty area, while his central defensive partner was instrumental in setting up a chance which saw a well struck effort from a similar position deflected narrowly wide and, finally, the right back shot from further out and forced a good save out of the Ipswich keeper.
Lone striker Abdi Noor was the main threat during the good spell in the second half I mentioned earlier – doing well first of all to work some space for himself only to fire straight at the keeper and then, a minute later, hitting the upright with a fierce fifteen yard effort. Within minutes though, Ipswich had the lead and, although captain Southam flashed  a dangerous low cross across goal without anyone getting a touch and our number six created  a decent chance for one of our subs which was blasted over, they never really looked like losing it – I'm off to Villa next week, so, hopefully, the Academy kids will be able to beat Leeds at Leckwith without me!