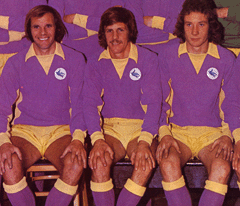 The previous time Wales played Italy at Under 21 level they had been beaten 8-1, but last night Brian Flynn's gifted youngsters were able to completely turn the tables over the Azzurri with a thoroughly merited 2-1 win at the Liberty Stadium.
Just as in their 4-2 win against France two years ago at Ninian Park, it's wasn't just the result that was so impressive with the Under 21s, it was the performance as well. Although Wales did utilise the long ball at times to take advantage of Sam Vokes' aerial dominance, for most of the game they preferred to play the flowing and attractive passing football that had seen them qualify for the play offs for the last European Under 21 Championship where they gave England such a fright before losing 5-4 on aggregate.
Wales got off to a great start when Christian Ribeiro, who had looked such a good prospect before getting the injury which kept him out for virtually all of last season, scored from close range after Italy had failed to clear a corner and were looking pretty comfortable for a while before the visitors started to show their class.
Wales were forced back for long spells and it wasn't really a surprise when Paloschi (who is on AC Milan's books) headed home an equaliser from a fine cross from the left. However, Wales' response to being pegged back was impressive and gradually they worked their way back into the game until it got to the stage when Italy must have been pleased to hear the half time whistle as increasing pressure from the home side threatened to restore their lead – none more so then when Vokes outjumped keeper Fiorillo on the edge of the penalty area only to see his header fall agonisingly wide.
The early stages of the second half saw the Italians dominating in terms of possession and territory, but, just as throughout the whole game really, they rarely hurt Wales where it counted. True, they should have had a penalty when Neil Eardley blatantly grabbed Paloschi's shirt and keeper Maxwell was called on to make some pretty routine saves, but Italy's attacking threat was encapsulated in the performance of the much hyped "wonderkid" Mario Balotelli of Inter who, on the basis of this performance, would appear to have an ego to match the size of his reputation! Balotelli got lucky when his free kick from getting on for forty yards deflected off the wall to lead, indirectly, to Italy's equaliser, but, apart from that, he seemed to spend most of the night looking for free kicks for non existent fouls and his misery was complete when his complete miskick sent a free kick in a dangerous position deep into added time at the end of the game miles wide.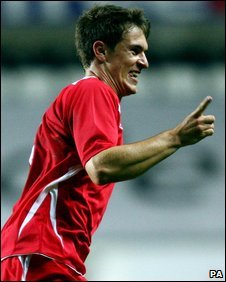 Wales, of course, now have a wonderkid of their own and, just around the hour mark as Wales were starting to reassert their authority, Aaron Ramsey, who had been impressive but rather on the edge of things up to then, decided to take a bigger part in proceedings. I could go on for ages about the quality of Ramsey's goal but I'll just say have a look at this link below which also includes the games other goals – Welsh players aren't supposed to score goals like this!
I just wonder what the reaction in the national media would be if Jack Wilshere (who I think is a cracking prospect) scored a goal like that to win the game for England Under 21s against Italy – a tad more coverage than Ramsey's goal will get I would imagine!
Having got themselves in front again, Wales saw the game out impressively as they retained possession well and wound down the clock in a professional fashion. Substitute Ched Evans had already gone very close with a header before Vokes nodded a Ramsey corner against the crossbar and I certainly never thought I would be as relaxed watching Wales beating Italy 2-1 going into added time as I was last night – I certainly wasn't seven years ago!
Besides Ramsey, who was a deserved man of the match, I liked the look of Taylor the Wrexham left back, Ribiero, King of Leicester and the front trio of Vokes, Church and Evans. As for the City contingent, Darcy Blake may well be a bit part player who has had to be loaned out at Cardiff , but he again showed that he is an integral part of the Wales Under 21 line up – Blake made Ribeiro's goal with a near post header and looked comfortable against Balotelli before appearing to tire a little (apparently he may have been injured) and was replaced by Aaron Morris who slotted in at centreback with little fuss to do a capable job.