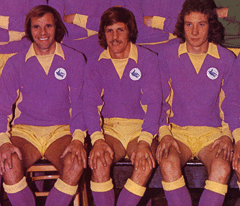 In the last couple of years I've begun to suspect that I've been falling out of love with football to some extent. I watch far less live televised games than I used to and with me being about 95 per cent sure that I'm going to ditch my Sky subscription when my contract runs out with them in a few months time, I'll soon be watching even less of it.
The truth is, returning to a diet of Match of the Day with, hopefully, Football League highlights continuing to be shown on one of the old style terrestrial channels, plus the odd live match thrown in doesn't bother me – it's how I used to watch football on television before Sky Sports channels came along and I think I'll miss their cricket coverage more than the football.
On further reflection, it's probably more true to say that I've fallen out of love with modern day televised football coverage (not sure I was ever in love with in the first place mind) – this very funny sketch encapsulates all that is wrong with it in my opinion..
No, thinking about it more, I'm not falling out of love with the game of football – how can I when it has this incredible, never ending, capacity to flummox you, frustrate you and also make you look a right idiot!
Early in my piece on Cardiff City's fine 2-0 win at Leeds on Saturday, I confessed that I was finding it hard to "construct" my report, while also making the observation that people seem to find it easier to write and speak about their team's defeats than their victories.
However, in the end, I was quite pleased with what I came up with as I used the Leeds game and the previous one with Norwich to give what I was convinced was an accurate assessment of Cardiff City's strengths and weaknesses as the season moved into it's final stages.
Yes, I was feeling a little smug as I concluded that we had rediscovered last season's defensive competency, but our lack of creativity, along with the absence of a regular goal scorer was, in all likelihood, going to consign us to the mid to lower reaches of the 2016/17 Championship, but, at least, relegation should cease to be a possibility.
I'd got this City team sussed alright as I settled down to listen to their game at moneybags Derby County. I'd predicted a draw a couple of weeks ago, but was now thinking that the three points against Leeds had given us a bit of breathing space and so was edging towards a low scoring loss with honour, similar to the ones we suffered recently at Brighton and Reading, against a home team desperate for the three points as their season showed signs of becoming another one where all of their transfer spending (surely in breach of the FFP regulations?) was not going to deliver promotion.
So, what do we end up getting? An amazing 4-3 City win featuring a comeback from 2-0 down and a penalty winner in added time, that's what! This is why I'm sat here at one o clock in the morning typing this piece – there are things, not health related, going on in my life at the moment that can lead to nights where sleep doesn't come easily, but they're not why I'm wide awake at the moment, I'm wide awake because I've still not come down from my team winning a football game in a manner which I thought was beyond them.
In fact, given our perceived shortcomings in the attacking side of the game, I was of the opinion that the game was beyond us as early as the seventeenth minute as Derby, with generous help from the defence that had so impressed only three days earlier, cantered into a two goal lead.
Something I've been convinced of for a few months now is that we are not a team that gets thrashed, but I wasn't so sure about that after Sean Morrison sloppily gave away a corner from which he was beaten by his former Reading colleague Alex Pearce (he'd also show that same puzzling weakness in the air when defending, that was present through much of the first half of the season, again for Derby's third goal) as Allan McGregor's fine save did not get the reward it deserved, because no one was close enough to Julian de Sart to prevent him from tapping in.
If Derby's second goal had a strong element of luck to it as Tom Ince's mishit shot turned into a defence splitting pass, from which Darren Bent could not miss, the room given our former transfer target just outside the penalty area and the way Matt Connolly allowed Bent to get goalside of him were further examples of the sort of defending I thought we'd left behind us sometime around Christmas.
McGregor had to make another good save to prevent Ince making it 3-0, but City were also beginning to get some encouragement that there could still be a chance of them getting back into the game.
Before Saturday, a Derby defence that had conceded just twenty two goals in their first twenty nine league games would have been very confident about doing enough during the remaining seventy three minutes to ensure they would win with something to spare. However, while the three second half goals they scored on Saturday to maintain their record of not having lost at home since September captured the headlines, the fact that Bristol  City had scored three of their own before half time and had spurned plenty of chances to add to their tally, offered the clue that Derby's previously rock solid backline were going through something of a crisis of confidence.
City initially began to get some joy down the flanks as Kadeem Harris, carrying on from where he had left off against Leeds, showed he had it in him to get by his marker. The winger, who is enjoying his best spell at Cardiff since his arrival five years ago, forced Scott Carson to save well and, with the rejuvenated Craig Noone becoming a factor on the right and Kenneth Zohore putting in his now customary hard working shift through the middle, it was possible to detect, even on the radio, that the atmosphere within the stadium was starting to change.
For a few years now, Derby have had to try to cope with something that City have barely experienced this season – a sense of expectation from their fans.
Although they can look mightily impressive at times and give the impression that they are coping just fine with the pressure of being expected to win every time they play on their own pitch, Derby can also look completely weighed down by it at other times and City were now doing enough to provide a stiff test of their host's character.
Perhaps, the second half would have turned out to have been a comfortable one for Derby if Harris had not scored, with the aid of a deflection, four minutes before the interval? Somehow though, I doubt it, because one thing I did get right in my Leeds piece is that this is now a City squad with the belief and spirit that was so lacking five months ago as a Derby side, that were near the bottom of the table themselves, came to Cardiff and did much as they wanted in recording a 2-0 win.
In the event, City were level within two minutes of the restart. This time, Harris' goal was a routine one as he took advantage from close in of Derby's inability to deal with an Aron Gunnarsson long throw, but it could be worth so much in terms of belief to someone who has the ingredients to be a very influential player at this level.
All evening the right footed Harris was being used on the left by City, with the left footed Noone patrolling the right. Regular readers of this blog's Feedback section will know that there are some who'd much prefer to see our wide players being used on their "natural" side of the pitch and I tend to agree with them, but successive City managers have often prefered to see Noone cutting in from the flank so that he can get shots in with his preferred foot and Neil Warnock must have been congratulating himself ten minutes later as the winger curled in a beauty from twenty yards when doing precisely that to, unbelievably, put us in front.
Undoubtedly, it looks great, as well as easy, when Noone gets it right and the ball flies into the net. One can only hope that with him being another City player who has reacted well to being recalled by Warnock after a spell out of the team, that it will be happening more frequently in the coming weeks than it has been up to now.
The BBC's stats show that City had fifteen goal attempts to Derby's eighteen, but on target efforts were eight to five in our favour and this tends to confirm the impression I was getting one hundred and fifty odd miles away from the radio that we were just as likely, or maybe even more likely, to score the game's sixth goal.
In fact, while I always find it harder to feel comfortable about a City match I'm listening to compared to one I'm watching, that was how I was starting to feel as the match was going into it's final quarter of an hour, so, of course, Derby duly went ahead and equalised within a minute!
In his post match press conference, a bubbly Neil Warnock spoke of how he would willingly have got on the bus home at 3-3, but when in the future I say, as I'm sure I will, that he is a defensively minded manager, I need to be reminded of what he did at Derby on St. Valentine's Day 2017, because his substitutions told the story of someone assuredly going for the three points, as opposed to the one he already had.
How else can the replacement of Greg Halford by Rhys Healey be seen – a sitting midfielder off and a striker on says it all and then the like for like replacement of Noone by Junior Hoilett only re-emphasised the attacking intent. The final switch whereby Harris came off to be replaced by Declan John might have been seen as a "settle for what we've got" decision, but I'd think our manager may see Declan as much as a winger as he does a full back and the "safer" move would have been to get Joe Bennett on.
That said, you get the impression from his press conference that Warnock wanted Healey to be a bit less attack minded than he was when he burst on to a Zohore header (when I watch the game on the club website, it will be interesting to see if Kenneth did better in the air than normal because he certainly won a couple of headers that had a huge bearing on the game) in time added on. Pearce was deemed to have brought Healey down as he closed in on goal and there were few protests from the home players against the decision.
For a second time in a month, City were faced with taking a spot kick without any of what I would call their preferred penalty takers on the pitch. At Reading, Joe Ralls took the responsibility and scored without looking truly convincing, but it was to his great credit that he was able to nervelessly put this penalty away when there was so much riding on it.
Derby were never going to come back from that and so we find ourselves on forty two points, eight short of Warnock's figure to avoid relegation. Amazingly, when you consider where we were four months ago, we are now in the top half of the table. Our manager has earned the right to have the sort of funding he wants this summer made available to him and his players have earned the right to expect bigger home crowds from now on – Rotherham are the kind of opponents we have struggled to break down this season and I still think it will be something of a grind on Saturday, but let's hope a few thousand more than the normal lot think City are worthy of their support again.
*pictures courtesy of http://www.walesonline.co.uk/