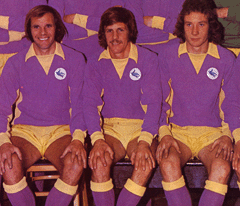 Rather than read my ramblings on last night's FA Youth Cup home defeat at the first hurdle by a limited but hard working and well disciplined Barnsley team, subscribers to Cardiff City World might just want to watch Neil Ardley's post match reaction on the official site (which can be seen here) because that is a very accurate summing up of the game as far as I am concerned.
For those who aren't subscribers to the official site though, here are my thoughts on the game;
City must have had about 60/65% of the possession in the first half but used it to no great effect. The youngsters are brought up on a philosophy which strongly follows the mantra "let the ball do the work" so they pass, pass and then pass again. Now I don't have that much of a problem with that philosophy as long as there is a recognition that it is sometimes worth playing the percentages and somebody takes on the responsibility of making something happen rather than passing it on to a colleague.
That's what Barnsley did with their two first half goals, as players took on their opponents in one on one situations and gambled on winning the dual. For the first goal, Barnsley's right winger did left back Jon Meades up like a kipper as he breezed past him on the touchline, but you have to ask where was the cover from our left sided midfielder and also why the Barnsley player was allowed to run about twenty five yards without someone coming out to meet him as he cut infield and got to the byeline to knock over a low cross that was easily tapped in. In the one minute added time before the interval, Reuben Noble-Lazarus, who is the youngest player in Football League history having made his first appearance for Barnsley last season at the age of 15 years and forty five days, brushed off a weak challenge from Alex Evans to fire a fine shot over keeper Ottley to give City a mountain to climb after the break.
All of City's possession had seen them only threaten twice in the first half when the under used Billy Taylor's shot was headed off the line and when Luke Cummings' fine long range effort was spectacularly turned over by Dean the visitor's impressive keeper.
City, with Leigh Smith and  Adam Davies on for Steffan Jones and the disappointing Mamadou Diallo, were better after the break as Ibby Farah pulled a goal back with about quarter of an hour to go but when you consider that Barnsley players were dropping like flies in the last twenty five minutes as more than half their side suffered from cramp, then that isn't really saying much. Dean was kept busy towards the end as he made good saves from Taylor, Nat Jarvis and Farah and Evans and Jarvis missed decent chances, but, despite this, it was the visitors who came closest to scoring when Ottley made a tremendous save from a close range header and then did even better to arch back and stop the ball from crossing the line as the Barnsley players and bench started to celebrate a goal.
An unmarked Jarvis had a good chance to equalise deep into added time, but he was unable to keep down a cross which came into him at an awkward angle and so Barnsley ended up winners and, by playing to their strengths better than City did,  they probably just about deserved their victory.