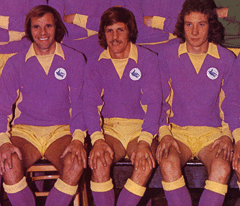 It was all looking depressingly familiar as City's Development team laboured away in search of an equalizer, having conceded the game's first goal as their performance tailed off after a first half in which they had been the better team. The fourth official had signalled three additional minutes which was all but up and then it happened!
Fifty six days after the 2016/17 season got under way, a Cardiff City player scored for the first time at their home stadium and, not only that, the Canton Stand end saw it's first goal of the campaign – unfortunately, there was only the guy who had to go and retrieve the ball after errant shots in there at the time to savour it!
While it would be a bit much to claim the goal was worth the wait when it finally came, it was another good one from a player who has a knack of scoring fine goals. Apart from a shot from twenty yards that did not miss by too much a few minutes earlier, Jamie Bird had been fairly anonymous since his introduction for Theo Wharton around the halfway point of the second half, but now he volleyed fiercely into the corner of the net to secure a 1-1 draw for his side against Sunderland in their first game of the new Premier League Cup competition.
Besides Sunderland, City are in a group with Blackburn and Burnley, with the sides playing each other twice and the top two progressing into a round of sixteen when the tournament reverts to a knock out format.
So, it may be that Bird's goal will be the one that prolongs City's involvement in the competition come February, but, in truth, they really should now have been celebrating a significant step towards qualification after beating a Premier League team's Under 23 side.
Although, as mentioned earlier, the match bore some resemblance to all of those first team games that we lose by conceding goals and giving away penalties after having held our opponents to 0-0 for two thirds of the game, the Development team were certainly not deserving of the merited criticism their seniors have attracted this season.
This was the fourth time I've watched our Under 23s play this season and, for me, they played better than in the previous three. In fact, during a dominant first half, they gave what is almost certainly the most effective demonstration of the three centreback system seen from a Cardiff side this season.
In their last home game, in which they were well beaten 4-0 by an impressive Birmingham team, goalkeeper Luke O'Reilly had been a lone candidate for the Man of the Match award, but here he was a virtual spectator.
The keeper was well protected by the combination of captain Tom James, Jordan Blaise and Ashley Baker, while MaCauley Southam and Rhys Abbruzzesse were an impressive pair of wing backs who were both able to prove that the art of taking on, and beating, a full back on the outside is not a lost one at the club. Robbie Patten was his normal reassuring and effective presence in front of the defence and, in stark contrast to the seniors, the central midfield trio of Marco Weymans, Theo Wharton and Tommy O'Sullivan were able to move the ball accurately and crisply as they got the better of their Sunderland counterparts – Mark Harris was also an effective presence up front in what was probably his first home start at this level
Both before and after the game people in the Sunderland camp talked about City being physical and direct. Now, maybe I'm being a bit over sensitive here, but that strikes me as a tad condescending and, based on what I've seen of this group of players in the last year or so, somewhat inaccurate.
In the first half in particular, nearly all of the good and progressive football was played by the home side and the few moments of mild anxiety they had came more from a tendency to overplay a bit, rather than anything Sunderland did with the ball.
While it would be wrong to say that City were peppering their opponent's goal in the first half, the play was overwhelmingly towards the Sunderland goal, with Southam especially prominent on the right. When he crossed in the opening minutes it was good to see the other wing back being far enough forward to receive the ball as Abbruzzesse fired in a shot that flew not too far over – oh for something similar from the first team when they used wing backs at home earlier in the season!
Blaise then clipped the crossbar with a shot from the corner of the six yard box as City turned the screw and when some neat passing gave Abbruzzesse the room to run at his man, he skipped past him and delivered a low cross which Harris skillfully backheeled on to a post.
The first team have not enjoyed such a dominant spell in a home game so far this season, but it made no difference in the end because, with no visiting defender to do a Shane Duffy for us, half time arrived with yet another nil against City's name.
City were unable to find the same fluency after the break as Sunderland began to impose themselves somewhat, but only to the extent that the match became more of a midfield battle with not much of note happening at either end of the pitch. Southam recovered from a poor touch when promisingly placed to get to the byeline and put over a cross which rolled so invitingly towards the penalty spot, but this time there was no midfield runner coming on to meet the ball – that and a few off target shots from either side apart though, there was nothing to suggest that we might see a goal.
When the quartet of sides that have won at Cardiff in the Championship took the lead, there tended to be a feeling that a goal had been coming, but when Sunderland netted on seventy six minutes, it came as a complete shock. City were guilty of some sloppiness as they were ill prepared for a short corner and they were made to pay when a shot came in from the corner of the penalty area that was touched home by Asoro.
The script for games at Cardiff City Stadium has been that we may as well all go home as soon as the opposition goes 1-0 up and our team meekly accepts it's fate, so it was pleasing to see how, by contrast, the Under 23s raised their game in response to the challenge arising from them falling behind.
Bird, obviously, made an impact coming off the bench, but the part played by the other two subs in City's strong finish should be acknowledged as well.
It was a combination between Lloyd Humphries and Dylan Rees that enabled the former to get in a shot from the latter's cross which flew straight at the Sunderland keeper. Humphries then let fly from distance a minute or two later, but again the keeper was able to save – there was nothing he could do when another Rees cross found it's way to Bird in the ninety third minute though.
So, as has been the case throughout this season, the age group teams are the ones to watch if you are looking for an enjoyable and entertaining game. They certainly don't win every one of them, but they have a go and don't give the impression that they are scared stiff of making a mistake – sometimes the young uns can teach the old uns a thing or two.