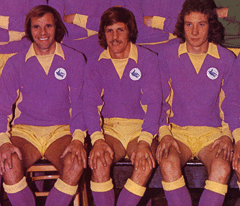 I suppose your reaction as a Cardiff City fan depends on whether you believed Neil Warnock was right when he said that, with his side having reached, and then exceeded, his survival target for the season of fifty points, he still felt that one or two more points were needed to be absolutely sure that we would avoid relegation.
Assuming that you were one of those who believed our manager was correct, then last night's 0-0 draw at Barnsley has to be seen as a good result – especially when you look at the results of those sides in real danger of accompanying Rotherham into League One.
The draw puts us on fifty two points and was particularly significant because twenty third placed Wigan's 3-0 loss at Ipswich leaves them needing to win all of their remaining six matches to equal our points tally – our goal difference is significantly better as well, but, presumably, that could all change if Wigan were to win all of their remaining matches and we were to lose all of ours!
Does anyone really think that is going to happen though? I don't and, after last night, if anyone reading this is still worried about the possibility of relegation, they can partially comfort themselves with the knowledge that it's now 99.9% certain that there are two sides in the bottom three now who cannot catch us.
With Bristol City crashing to a 5-0 defeat at Preston (a very worrying result for the wurzels who looked to be well on the way to getting themselves clear of the drop with their 4-0 thumping of Huddersfield in their last home match) and Forest losing 1-0 at Wolves, even the sides just outside the relegation places are, realistically, going to have to win at least four of their remaining six games to stand a chance of overhauling us.
Blackburn's 3-1 loss at Reading leaves them in twenty second position needing four wins or three victories and three draws from their six games left to equal our tally – they'll cling to the fact that they've still got matches against the two teams above them to come, but that's good news from City's perspective because it means that it's impossible for the three side who would need to finish the season like trains to stand a chance of getting past us to get eighteen points from their final six games.
So, if the thought of possible relegation still keeps you awake at night, maybe you were able to get a decent night's kip after being buoyed by how the latest round of games went, but for the rest of us living in the real world, the game at Oakwell was a lot of fuss (well, actually, there wasn't much fuss!) about nothing.
Doubtless Sky would have bigged up last night's encounter between the league's thirteenth and fourteenth placed teams beforehand as much as they could if they had the misfortune to have been televising it. However, games in April between sides with virtually no chance of going up or down are always decent options for betting men or women looking for possible goalless draws to place their money on.
Neil Warnock may have spoken about the need for those one or two extra points before the Wolves game, but his team selection for our last two matches tells the story of someone who thought we were already safe. This especially applies to last night as Sean Morrison, Jazz Richards, Joe Ralls, Kadeem Harris and Junior Hoilett, who I'd say were all members of what would have been classed as our first choice starting eleven since the turn of the year, found themselves dropped/rested – Warnock has never struck me as one for new fangled ideas such as squad rotation, but it's hard to think of what else to call last night's selection.
Back in December, Barnsley came to Cardiff and really looked like a decent outside bet for a Play Off spot as they edged a seven goal thriller with their winner coming deep into added time. That match offered a fascinating contrast of styles and Barnsley impressed me as one of the best sides to have visited our ground so far this season, but, in saying that, City's barnstorming fightback to 3-3 in the closing stages made it a game that they were very unfortunate to lose – it was the type of match where defeat was a bit easier to take than it normally is because you knew your side had played well and they would be okay if they kept on performing like that.
You have to feel for manager Paul Heckingbottom and the Barnsley fans when you see what's happened to their team since then – January saw important players sold as a side with one of the smallest budgets in the Championship found themselves the target for under achieving "money bags" sides such as Aston Villa and, to a lesser extent, Sheffield Wednesday.
So, the post January transfer window period has seen Barnsley drop down the table as a result of a spell of one win in their last twelve (it's eight matches now since they last won).  Put that sort of form together with a Cardiff side showing increasing signs of end of seasonitis and you just knew that there was very little chance of last night's match coming anywhere near emulating the mini classic of four months ago.
Occasionally, you get a 0-0 draw full of thrills and spills at either end of the pitch, but, mostly, such matches end up with the scoreline they deserve and this was definitely the case last night it seems, but, even dreary stalemates can have their plus points if you look hard enough for them and, for me, there were two last night.
First, when your clean sheet record is as bad as ours has been this season, any game where you stop your opponents from scoring has to be seen as a positive and, secondly, Brian Murphy, brought on at half time for an injured Allan McGregor, made a few decent saves which added to a feeling that he has done enough in his first team appearances in 16/17 to suggest that he should be our back up keeper next season. I had said on a City messageboard this week that we would need two new keepers this summer, but I did so thinking that Murphy had only signed for us on a one year deal – it turns out he's contracted for next season as well, so, although I still believe we need someone who can come in and be our obvious first choice between the sticks, Murphy can be a more than capable back up for him.
That apart though, there was little to get too excited about in City's display and it must be some time ago since we played ninety minutes and had as few even remotely promising attacking situations. Also, it appears that none of those brought into the line up did enough to demand that they be included on Saturday against in form Brentford.
Declan John (again, rightly in my view, being used as a winger) was withdrawn just past the hour mark, Matt Connolly did okay just by being his normal, unflappable self, Greg Halford, just as he always is for us, was solid without being remotely spectacular, Craig Noone had one of those nondescript days that give opposing full backs a nice, quiet ninety minutes and Anthony Pilkington, apparently, put in a lot hard work which achieved little in the way of an end product.
Worst of all was to hear Keven Ratcliffe say during the Radio Wales coverage of the match that some of the City players didn't look particularly bothered out there. Yes, I know Ratcliffe is not rated as a summariser by many, but I tend to think that it's pretty easy for someone who had played as many matches as he did to spot when professionals are, for want of a better expression, taking things a little easy.
To repeat myself on something I've mentioned a couple of times on here recently, once an individual or group believe they have achieved the target they had been working towards for months, it's to be expected that many of those involved will ease down on their commitment levels.
It's easy, as well as understandable in many ways, for supporters to get annoyed when some of their players are accused of not trying – in fact, in many cases when it happens, it's absolutely unforgivable . However, I find it harder to be too critical of anyone whose commitment may drop a little in the current circumstances which, to all intents and purposes, sees us becalmed in mid table with a month of the season to go.
If you look back through my comments on here since Neil Warnock was appointed back in October, you'll find very little, if anything, that is critical or questioning of him, but I do wonder whether his constant references to what we'll be doing in the summer and what we are hoping for next season are having an effect on some of the players who are still here.
I'm referring in particular to those players who are being put forward as candidates to leave in the next few months. Three of the five bought in last night are among the names often mentioned when there is any debate as to who we would be happy to let leave the club this summer and I can see that it must be hard to come into the team as it is now and put on a committed and effective performance.
When there is so much talk about how different things will be next season, you have to wonder how those who are struggling to get much game time at the moment will react when given an opportunity which, in truth, bears all the hallmarks of end of season experimentation – indeed, Mr Warnock has suggested that this is what he will be doing between now and the end of the campaign.
Under such circumstances it must be hard to, firstly, motivate yourself to be in a frame of mind whereby you can force your manager into changing his opinion of you in one game and, second, if you do have that motivation, to play well enough in it when intensity levels in general are bound to be a little lower than normal.
Of course, all of this should be judged against a background whereby the club's plan in recent close seasons has been to get rid of players that they no longer had any need for. The trouble City have had when it comes to this approach is that many of the players concerned have time left on contracts that pay so well that they are unwilling to leave on a permanent basis. Additionally, with prospective buyers, understandably, being not willing to pay the same wages as we do for players who are, in most cases, not first team regulars at Cardiff, you tend to gravitate towards a situation whereby City have to make a contribution to his new club towards the cost of a player's loan or permanent transfer.
So, I suspect the reality is that, even though there are definitely players City would like to see taken off their hands this summer, it is, in many ways, a buyer's market and so I think that even moreso in this summer where we are being told that the club may be willing to spend more than in the past two years, we should not rule out at least one of City's "big guns" moving on in the close season.
Neil Warnock has categorically stated that Kenneth Zohore will still be here next season, but will the club's resolve be so strong if a bid of a size that enables Warnock to spend the £6 million that's been talked about on new players, while also giving us a handy contribution towards coping financially in the season when our parachute payment ends is received for our top scorer?